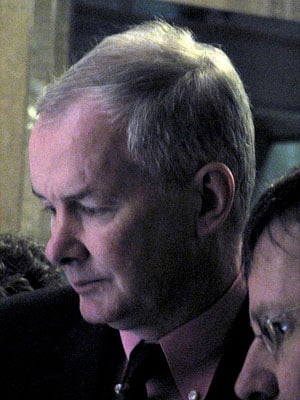 On the annual International Olympic Day, the former chief executive of Vancouver's 2010 Winter Games revealed in B.C. Supreme Court that his wife left their Olympic Village apartment while he slept in a desperate effort to save his reputation.
Deborah Sharp Furlong, who died after a 2013 car crash in Ireland, roamed Vancouver streets and filled his 4x4 with copies of the Sept. 27, 2012 Georgia Straight. The issue contained reporter Laura Robinson's exposé that alleged Furlong abused gym class students in 1969 and 1970 at an aboriginal elementary school and that his 2011 Patriot Hearts memoir was riddled with inconsistencies. The woman he married that summer was gone three hours, he said.
"She felt she made a contribution," Furlong said June 23 under cross-examination by Robinson's lawyer Bryan Baynham in the high-profile defamation trial against Furlong.
Baynham and Furlong went back and forth for much of the day. Baynham in a firm tone. Furlong impatient and sometimes evasive, looking uncomfortable in his chair in the witness stand. He often raised his voice in anger, but continued his emphatic denials and also continued to claim Robinson defamed him -- even though he was being tried on Robinson's January 2014 countersuit. He never scheduled a trial against Robinson before dropping his November 2012-filed lawsuit against her in March.
Robinson's story, headlined "John Furlong biography omits secret past in Burns Lake," made it widely known that Furlong actually came to Canada for the first time in 1969 as a Catholic missionary, not in 1974 at Edmonton, as he claimed in Patriot Hearts and numerous speeches. He returned to Dublin in 1972 -- a Prince George newspaper reported he was assaulted and his life threatened while refereeing a soccer match -- but came back to Canada as a landed immigrant in 1975. "The date, frankly, is irrelevant," Furlong told the court.
"You didn't arrive in Canada as a landed immigrant until 1975," Baynham said.
"I'll give you this," Furlong said. "I won't say it was 1974."
That was also the year his cousin Siobhan Roice died in the May 17 terrorist bombing in Dublin, perhaps the nadir of The Troubles. Furlong's book claims his father identified Roice's body. Irish newspaper reports say it was her father Ned and she was "mercifully intact."
"Siobhan was blown apart," Furlong said, claiming "my version of the facts is true" because, he said, Siobhan's actual condition was deliberately withheld from her grieving, disconsolate mother. Under Baynham's questioning, he couldn't recall his last conversation with the Roice family.
Furlong claimed Robinson had a personal vendetta and her contacting of officials at the Vancouver Whitecaps, Own the Podium, Rocky Mountaineer, Whistler Blackcomb and Canadian Tire to ask whether they still supported him caused further harm to his reputation.
"She was defaming me everywhere she could," Furlong said. "She was trying to destabilize my relationships with the companies."
Though his public speaking career collapsed, he confirmed that he had not lost any of those positions since Robinson's story.
Claims that Robinson went to RCMP unproven
Furlong tried to brush aside questions about Patriot Hearts' contents, saying it was not an autobiography. Baynham showed that his publisher, Douglas and McIntyre, marketed it as an autobiography.
Furlong said it was "my belief," based on what he heard from the RCMP, that Robinson brought ex-student Beverly Abraham's abuse complaint to the RCMP in July 2012. The RCMP eventually dropped the case in 2013, but Furlong couldn't offer evidence to support his claim while on the stand.
"It wasn't true," Baynham said.
"It was true to me," Furlong said.
Justice Catherine Wedge intervened occasionally, asking Baynham and the animated Furlong to avoid talking over each other. At one point, Baynham read Furlong's quotes from examination for discovery transcripts in a higher-pitched voice, while Furlong's lawyer John Hunter stood beside his client.
Baynham asked Furlong about a Prince George Citizen story from 1978 that quoted him saying "I played in the Olympics twice."
"I never said it," Furlong said, adding it had been a dream unfulfilled to help Ireland's national basketball team qualify for the Olympics.
Baynham frequently reminded Wedge that Furlong did not amend his claim against Robinson to add more allegations and that he opted for a public relations blitz in fall 2013 instead of facing-off with Robinson in court.
Baynham ended cross-examination by asking Furlong about the allegedly defamatory "Enough is Enough" statement from October 2012 that remains on his website. Furlong replied: "I don't know what's on my website at all."
Former VANOC chair Rusty Goepel later testified that Furlong was originally hired for the Vancouver 2010 Bid Corporation in 2001 by chair Jack Poole, who died in 2009. Goepel said he learned that Furlong had worked in Burns Lake when phoned in April 2012 by Robinson, who unsuccessfully sought a copy of Furlong's curriculum vitae. Goepel said the abuse allegations mentioned by Robinson did not change his opinion of Furlong: "That's not the John Furlong I know."
Court also heard that Robinson provided her research material, including archival photographs and affidavits from alleged victims, to Furlong's lawyer Marvin Storrow on July 17, 2012. It was a last ditch attempt to get comment before the anticipated Toronto Star/Georgia Straight joint publication of the story, to coincide with the opening of the London Olympics. The Star withdrew and the Georgia Straight published it in late-September 2012.
Furlong also sued the Georgia Straight for defamation, but dropped that lawsuit in October 2013.
The trial continues.