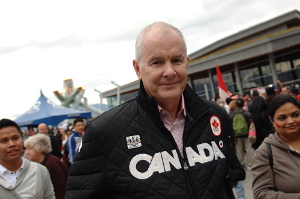 Former Vancouver 2010 Olympics CEO John Furlong said under cross-examination June 22 that he dropped his defamation lawsuit against Laura Robinson because he felt "vindicated in the court of public opinion," but did not say why he never sued over allegations of sexual abuse.
Bryan Baynham played CBC news reports from September 2012 and October 2013 that included allegations of sexual abuse by former student Beverly Abraham that were not in Robinson's Georgia Straight story. 
"You never sued CBC for the allegations of sexual abuse, you never sued [Ontario aboriginal newspaper] Anishinabek News at all, you never sued Laura Robinson for publishing allegations of sexual abuse," Baynham said in B.C. Supreme Court in Vancouver. "You didn't add that to the claim, did you?"
Replied Furlong: "I sued Laura Robinson for her behaviour and conduct in the whole matter." 
Furlong later explained that the three lawsuits by people claiming to be ex-students of his took precedence. "These three which were far and away the worst things said about me in my life, which she had advanced and had been involved in my view all the way along. I had been completely vindicated in the court of public opinion and it was time to move on in my life."
He added that "we were exhausted, it was expensive."
Abraham withdrew her lawsuit in late 2014, citing stress. Two others never made it to trial.
Tragic Ireland escape
Furlong had sued Robinson and the Georgia Straight for defamation in November 2012, two months after Robinson's expose that alleged inconsistencies in his post-Olympic memoir Patriot Hearts. Robinson's story also relied on eight affidavits by ex-students who claimed Furlong abused them in 1969 and 1970 while he worked as a gym teacher in a Burns Lake Catholic elementary school for aboriginals. Furlong has always claimed his innocence and the RCMP dropped its investigation in 2013. 
He dropped the lawsuit against the newspaper in October 2013 and against her in March of this year. Furlong had never scheduled a trial against either defendant, but Robinson counter-sued him in January 2014, claiming he falsely accused her of being an activist who was involved in an extortion attempt.  
Furlong's lawyer, John Hunter, opened the defence case by saying that Furlong acted without malice under qualified privilege to defend himself against Robinson's "smear campaign." Hunter said he would argue that Furlong did not need to prove his public statements against Robinson were either true or reasonable, only that they were relevant to the accusations he faced.
During his testimony, Furlong indirectly blamed Robinson for the April 11, 2013 death of his wife. Deborah Sharp Furlong died in hospital after a head-on car crash on a road in rural Ireland. She had been driving on the wrong side. Furlong said it had been his wife's idea to go to Ireland to escape the damaging allegations. 
"We were in Ireland, when we should have been here," he said. 
Furlong claims his motivational speaking career collapsed because of Robinson's story. The negative publicity led organizers of an April 2013 YMCA fundraising convention in Vancouver to replace him with Rick Hansen. 
Robinson declined comment outside the courtroom, but Baynham said: "They went to Ireland, she died in a car accident, that's got nothing to do with my client writing a story."
Furlong's cross examination in front of Justice Catherine Wedge continues June 23, which is, coincidentally, International Olympic Day. 
Hunter said he plans to call Furlong companion and ex-VANOC communications vice-president Renee Smith-Valade, ex-VANOC chair Rusty Goepel and RCMP Sgt. Quinton Mackie among his witnesses.