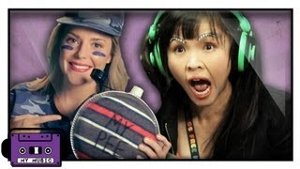 For years the media told us 2012 was the end of the world as we know it. They were close. It looks like 2012 is the end of the media as we know it. Who knew those wacky Mayans were predicting the end of television?
The last time I was at the Banff International Television Festival back in the pre-iPhone era in the spring of 2007 everybody was buzzing about how media would "converge" in the future world of Web 2.0. and the inescapable buzzword of the festival was "monetize."
Today as over 2,500 media makers (a.k.a. "content providers") and broadcasters, narrowcasters and online outlet reps (a.k.a. platform providers) from around the globe meet at the Banff Conference Centre to whine and dine, do deals and maybe even create something we'll be watching on some as yet unimagined device next year, the future is here and the word of the week is "branding."
Heck, speaking of branding, the TV festival isn't even a TV festival anymore. They ditched that name last year when they joined forces with NextMedia -- a tiny event about what was up on the interweb that took place a few days before the grown-ups arrived to talk TV. In 2011 the two converged to become the Banff World Media Festival.
Are we sure The Onion isn't making this up?
If there was any doubt the business is changing faster than a teen with ADHD can scroll between porn sites, it vanished when the festival's marquee guest, CNN icon Larry King, cancelled his flight to Alberta at the last second because he was "unable to travel" and the emergency replacement invited to fill the headliner's slot was Steve Hannah, president and CEO of the satirical online, The Onion.
The fact that the most familiar face representing traditional TV was supposed to be a semi-retired talk show host on the edge of turning 80, and that the default assumption when people heard he'd cancelled was that he'd had his 400th heart attack, seemed like both a plausible Onion parody news item and a fairly unnerving metaphor for the state of TV nation. But it could have been worse, they could have flown out Piers Morgan.
It was also telling that most people probably found out about King's no-show courtesy of the twitter feeds at #Banff2012.
With King abdicating, the biggest TV celebs in attendance are a couple of showrunners: Chuck Lorre, creator and executive producer of The Big Bang Theory and Two and a Half Men, and Glen Mazzara, the exec producer who keeps the zombies animated on AMC's horror hit, The Walking Dead -- but as cool as showrunners are to people like me who work in TV-land, these weren't the names that excited the taxi driver who was wondering, "if there were any famous people here."
And I thought... Where's Obama Girl or the Star Wars Kid when you need them?
Netflix and Hulu and YouTube, oh my
Monday night's big Banff bash -- a post-conference party -- had three hosts on the ticket, but the name in big block letters at the top of the list was Netflix, which has joined Hulu in the jump from hosting content to creating it. Meanwhile YouTube is in attendance as they prepare to launch their first sitcom.
It doesn't seem right to be burying TV when the medium -- especially dramatic programming -- is at the top of its game and even a lot of the cheese is closer to brie than processed cheddar. Is this really the time to replace Don Draper with Double Rainbow Dude?
At a panel discussion hosted Tuesday by Telefilm Canada, representatives from some of Canada's most successful content providers talked about what they're up to now and what's happening next, but mostly they talked about alternative platforms, transmedia and, of course, branding.
Brian Hamilton, vice-president at Vancouver's Omni Film Productions -- whose shows include the reality series Ice Pilots and its fictional spinoff Arctic Air -- says "We started our company as filmmakers and now we think of ourselves as brand-makers."
John Ritchie, one of the partners at Vancouver's Force Four whose current shows include Cupcake Girls and the Canadian version of The Bachelor, said "Brands are what everybody's talking about these days and the business we're in is creating brands of our own and Canadian versions of other brands."
Alex Gault, vice president of Mobovivo cited recent stats from Yahoo and Neilsen claiming that 86 per cent of mobile Internet users are using some sort of digital device while watching TV and 31 per cent of Internet use takes place in front of the TV.
Mobovivo is a pioneer in a new tech -- and possibly next year's buzz term -- "Secondary Screen Apps." These are apps that allow you to interact with what's up on screen to make the Internet an extension of your television experience. But looking at all the shiny places to point and click on his demo app, and thinking about how many people still don't know how to use half the buttons on their iPhones and Androids, it hits me that Gault knows that as soon as there's a tablet in every house, television will simply be an extension of our Internet experience.
As I walk outside the conference centre and look around the Canadiana postcard come to life that is Banff, there's a song I can't shake, a song I haven't heard in years, by the Buggles. It was their one hit. You know the one, "Video killed the radio star...."
And as the karaoke version thrums in the back of my skull I'm absolutely sure the Internet killed the video star except for one confusing and contradictory reality. The brass ring for every web series is still a slot on network TV.