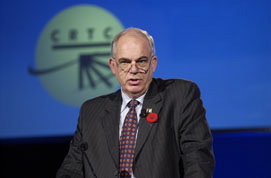 I recently found my way into a media and technology industry conference where I 'accidentally' bumped into the chair of the CRTC, Konrad von Finckenstein, who was surprisingly charming. Our conversation couldn't have been more different from the experiences I've had at CRTC hearings, where commissioners bear down on you with condescending glares, like feudal lords against the backdrop of a row of flags, the CRTC logo hanging overhead in place of a medieval coat of arms.
What's more, Konrad also seemed pleasantly surprised to see me. When I pressed him on his thoughts regarding the community media hearing he avoided answering in detail, but in a polite and comical way. Our interaction conveyed to me that this man knows what the CRTC is: a politically contested space.
Many media commentators, myself included, have been critical of the CRTC over the years. At times they seem to see themselves as a mediator between industries rather than a public watchdog. When they do make a decision that incorporates the public interest they often do so with a conflicted and weak-willed approach. Case in point: The 2009 net neutrality ruling, while a huge step forward, puts the onus of internet openness enforcement on consumers.
There's also the 2007 Diversity of Voices hearing, on the plus side, they rebuffed calls to weaken media ownership rules and instead strengthened them to prevent further cross ownership, but then deliberately avoided affecting the high concentration of ownership already enjoyed by big media corporations in Canada.
Mobile internet openness, a big win
If the CRTC's weak nod to the public interest in the above decisions doesn't inspire confidence in the institution, two very recent rulings should. On June 30 the CRTC extended its Traffic Management (Net Neutrality) rules to mobile wireless data services. This ruling was made in response to requests by OpenMedia.ca through its partner The Canadian Internet Policy and Public Interest Clinic (CIPPIC) -- two public interest organizations. This is a huge win. As Canadians increasingly connect to the internet using mobile devices, it's impossible to overstate the importance of this ruling for ensuring we have access to the open internet regardless of the devise we are using to connect.
Over the last couple years there has been a positive trajectory towards internet openness with many milestones, but this is a big one. There is more work to be done to ensure enforcement, but the CRTC has shown a willingness to listen to the public when we speak with a united voice. You can bet this latest decision and initial traffic management ruling is not what the big telecom carriers were pushing for.
The case of Fox News North
On June 15, media giant Quebecor announced the launch of a 24-hour right-wing news channel modeled after the Fox News network in the US. It appears the plan for the station was hashed out last year when Prime Minister Stephen Harper and his then communications director Kory Teneycke sat down for a secretive meeting with Rupert Murdoch and Roger Ailes, the president of Fox News Channel. Teneycke is now leading this Canadian right-wing news network, to be called Sun TV.
Rather than accepting the need to compete on a level playing field like Al Jazeera English and other broadcasters do, Quebecor applied to the CRTC for a coveted Category 1 License -- meaning cable operators across Canada would be forced to carry this Fox-style channel, which would amount to a subsidy of millions, maybe even tens of millions, of dollars.
As OpenMedia.ca blogger Jesse Betteridge noted, for the CRTC to give into Quebecor it would have had to go back on its own principles and precedents, including a ruling denying Category 1 carriage for a proposed channel focused on diversity and multiculturalism called Canada One TV. Despite the involvement of a key Conservative operative, and the political pressure that inevitably comes with that, it appears the CRTC is listening to the public interest community. In July the CRTC sent a letter to Quebecor denying them Category 1 carriage until at least October 2011. Quebecor is not likely to give up, but for the time being this decision prevents them from getting special treatment and the subsidy.
Public engagement is key
When I bumped into another not-so-friendly CRTC commissioner recently he quipped that the CRTC makes its rulings and the government overrules them if they don't like them. "That's how it works," he said. This was an interesting and unsought admission from what is supposed to be an independent regulatory commissioner -- that he accepts the government's ability to undercut the authority of the expert body that is intended to regulate our media.
So indeed the CRTC recognizes its own limitations within a highly contested space, and feels political pressure from the Conservative government, which is very cozy with big media and big telecom companies. These companies also bombard the CRTC with their own arguments and narratives. Commissioners attend their conferences, the firms have a small army of lobbyists, and indeed there is a revolving door between the CRTC and industry that means many decision-makers come from the industry they are supposed to regulate.
But recent rulings suggest that the CRTC can do the right thing when faced with public pressure. It is our job to engage the CRTC, to be a force within the highly contested space of media policy, so as to give them the energy to push back against industry and the Conservative government that often acts on its behalf. If the public is engaged en masse, the CRTC can be transformed into the public institution it is supposed to be.