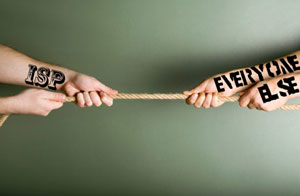 The release last week of the Canadian Radio-television and Telecommunications Commission's report on Internet traffic management -- known as the net neutrality decision -- attracted national attention. Canadians, Internet service providers, and politicians debated whether the regulator had struck the right balance in addressing how ISPs manage Internet traffic.
While some headlines seemed to suggest that the CRTC has given Canada's ISPs the green light to do as they please, the reality is that the decision establishes several notable requirements and restrictions.
First, the commission adopted a new test to determine reasonable traffic management practices. Where a consumer complains, ISPs will be required to describe their practices, demonstrate their necessity, and establish that they discriminate as little as possible. The CRTC added that targeting specific applications or protocols may warrant investigation and slowing down time-sensitive traffic likely violates current Canadian law.
Second, the commission rejected arguments that the market would ensure ISPs provide adequate disclosure on how they manage their networks. Instead, it mandated full disclosure of traffic management practices, including information on when they occur, which applications are affected, and their impact on Internet speeds.
Third, the CRTC banned the use of personal information obtained through deep-packet inspection for anything other than traffic management purposes. By also prohibiting the disclosure of such information, the commission ensured that inspecting user traffic cannot be parlayed into marketing opportunities.
These conditions ensure that traffic management is not a free-for-all. The days of ISPs arguing they can do whatever they please on their networks -- as some intimated during the summer hearing -- are over.
Over to you, Minister Clement
With the CRTC framework in place, it now falls to Industry Minister Tony Clement to become more engaged on the issue. Both the Liberals and NDP have expressed support for net neutrality and some groups have renewed their demands for new legislation.
Yet Clement can advance the issue in several meaningful ways without tabling a bill. Critics of the CRTC approach rightly note that the onus falls to consumers to compile evidence of traffic management practices that run afoul of the commission's test and file complaints.
When asked about the issue last week in the House of Commons, Clement stated that he is "watching those providers very closely and I do not want to see a situation where consumers are put at risk in terms of their access to the Internet." He can go several steps further by asking the CRTC to conduct regular compliance audits of ISP traffic management practices and by providing financial support to consumer groups who wish to conduct their own investigations.
The federal government also can play a significant role in establishing neutrality for wireless Internet access. The CRTC acknowledged that many of the same issues arise in the wireless context and that it expects wireless carriers to follow the same guidelines. Within the next two years, the federal government will conduct another spectrum auction as part of the digital television transition. Clement could incorporate net neutrality requirements directly into the bidding process, effectively mandating neutrality into new wireless services.
This market needs freeing up
Finally, Clement should acknowledge that net neutrality concerns are largely a function of an uncompetitive marketplace that allows ISPs to leverage their positions without fear of losing customers. The best way to address net neutrality is therefore to give priority to increased competition in the Canadian Internet marketplace.
Multiple studies have concluded that Canadians pay higher prices for slower speeds as compared to many other countries. If Clement can solve that problem, he'll likely go a long way to addressing net neutrality in the process.