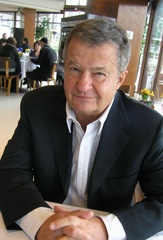 A year ago, OpenMedia.ca and Canadians for Al Jazeera, along with several other groups, rallied people from across Canada to contact the CRTC in support of Al Jazeera English's (AJE) application to broadcast in Canada. Of the approximately 2,800 public comments submitted to the CRTC, all were in favour of bringing the broadcaster to Canada, except 40 parties who filed comments in opposition.
Last fall, open media advocates celebrated the approval of the AJE application. The CRTC directly cites the citizen input it received to back up its decision, showing once again that we can push the regulator to do the right thing.
While Canadians looked forward to accessing this new independent public broadcaster, many worried that AJE would be unable to convince cable and satellite companies to carry the station. After a much anticipated wait, AJE officially began broadcasting on Bell TV, Rogers, and Vidéotron, on May 4, 2010. The best offering is from Videotron, which is giving customers a three month free preview of AJE from May 4 to August 4, and offering AJE in every package. Cable and satellite customers can learn more on how to order the new channel by visiting IWantAJE.net.
Why support AJE?
Some of the best talent from public broadcasters such as the CBC and Britain's BBC are now on staff at AJE. Avi Lewis, formerly host of On The Map and CounterSpin, now anchors AJE's lead program, Fault Lines. Managing Director of AJE is Tony Burman, who was editor in chief of CBC News from 2002 to 2007. He is blunt in describing the network's goal: "We simply want people to understand the full story, not a narrow one. Every angle. Every side. Regardless of the consequences."
AJE offers high journalistic standards and diverse perspectives. It has a tendency to cover issues like war and peace, the environment, and the economy, from the vantage point of average people and grassroots organizations. AJE also tends to be critical of powerful institutions, government officials, and business leaders.
As big media seem increasingly unable or unwilling to invest in hard news and investigative journalism, this development couldn't have come at a better time. AJE will open a Canadian bureau in Toronto in June, and senior producer Jet Belgraver, and correspondent Imtiaz Tyab, have already been hired.
Huge potential
If AJE captures enough audience, it may nudge the CBC and even the private broadcasters to design and buttress their own citizen-framed, investigative news. Ex-CBC television host and current host of AJE's Front Lines, Avi Lewis, thinks AJE could push the CBC and other public broadcasters to "up their game internationally". And for those of us Interested in media, we might even find some coverage of the Canadian media environment from AJE's Listening Post.
While adding a fountain of diversity and quality information to Canada's concentrated media ecology is enough to celebrate, how AJE pursues this market will make a big difference on its net effect. For example, if AJE pursues collaborations with Canada's independent media outlets, it could provide a powerful leg up for organizations like Rabble.ca, StraightGoods, TheTyee, TheMark and others.
Imagine the power of a partnership where these online indie news outlets help AJE reach Canadians online, while AJE helps get these organizations out to TV viewers across the country. This sort of cross-pollination could provide a new critical mass of readers for online independent media. If AJE takes on this role, it could really reinvigorate Canada's media landscape. There is reason for hope; Avi Lewis me that AJE is indeed interested in media partnerships.
More access required
This is a great win but unless you're a Videotron customer, you'll need to go out of your way to specifically order and pay extra for AJE. Rogers is only offering AJE à la carte in a test phase for $2.79/month (claiming it will consider packages once there is high customer demand); AJE is also not included in any of Rogers' themed packages nor do they offer a free preview of the channel. AJE is available at Bell TV à la carte for $3/month, is also part of an international news package (though Bell is not advertising this inclusion). For those on the West coast, Shaw is not carrying it as of now, and Telus and AJE are still in negotiations.
Distributors (excluding Videotron) should take a number of actions to allow Canadians access to improved quality and diversity of news coverage by:
1) Offering customers a free preview of Al Jazeera English;
2) Offering Al Jazeera not only via à la carte or stand alone, but as part of themed packages such as news and learning, multicultural, and other general and special packages; and
3) Advertising the existence of the new channel on their website and other marketing endeavors.
It does not make sense to force Canadian TV subscribers, who already pay for a huge number of channels, to pay extra for AJE.
People from across Canada should demand from cable and satellite companies provide fair access to AJE. To send a letter to cable companies visit: http://openmedia.ca/aljazeera.
Media Links is a syndicated column supported by CommonGround, TheTyee, Rabble.ca, and VUE Weekly and is licensed under a Creative Commons Attribution-Noncommercial-No Derivative Works 2.5 Canada License. You must attribute this work to Steve Anderson, Common Ground, Rabble.ca, TheTyee, VUE Weekly (with link).