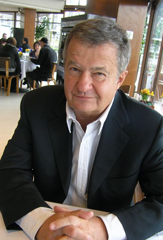 Tony Burman has taken flak before for being a Palestinian toady, an anti-Israeli putz afraid to call a terrorist a "terrorist." So it's no surprise that the former editor-in-chief of CBC news became a target again as the new managing director of Al Jazeera English.
National Post editorialist Jonathan Kay opined last year that even he thought it was too much that his dad had a bumper sticker that declared "Who needs Al Jazeera when you've got the CBC?" But now that Burman's gone over, Kay figures his dad will have to print up a few more.
Fortunately for Burman, who's been stumping across Canada in an effort to get Al Jazeera on Canadian cable networks, a few worms have turned since U.S. missiles fell on Al Jazeera bureaus in Afghanistan and Iraq, since Bill O'Reilly called Al Jazeera a "terrorist organization."
As the only news network with reporters on the ground in Gaza in December and January, during the aggressive Israeli attacks that resulted in more than 1,300 mainly civilian deaths, Al Jazeera has received big-time exposure in North America. It's made Gaza video available for free to other networks, and American traffic on its website has increased sixfold. Its English news station, which has been on air for a little more than two years, draws comparisons to the BBC World Service. The paranoid, reactionary climate that existed after 9-11 has subsided. Apparently, there's also a new president in the United States.
North Americans are getting a chance to reconsider the media phenomenon that in 2004 was named by Brandchannel as the world's fifth most influential brand, after Apple, Google, Ikea and Starbucks.
Of course, Al Jazeera history is not without missteps. For example, last year the head of Al Jazeera Arabic's Beirut office called Samir Kuntar, jailed in Israel for a botched kidnapping that resulted in several deaths, a "pan-Arab hero" and organized a birthday party for him. Al Jazeera apologized for its employee's violation of its code of ethics.
However, the network's fascinating history can hardly be contained by such failings, no matter how much its critics wish to make of them. Certainly the best way for the North American public to judge Al Jazeera would be to watch it. Burman thinks we're going to get more of a chance. Al Jazeera needs a Canadian sponsor to take its case for widespread access to Canadian TV audiences before the CRTC, but he figures that the network could have such a sponsor within a week and broader access within the year. Until then Al Jazeera English broadcasts are available online.
Burman spoke to The Tyee last week while in Vancouver for an appearance celebrating the 10th anniversary of UBC's journalism school. Here is what he had to say...
On what the recent Gaza conflict has done for Al Jazeera:
"It's been phenomenally important. Gaza will probably be for Al Jazeera what the Gulf War was for CNN. People forget, CNN was created in 1980. What did they call it, the Chicken Noodle Network? It was ridiculed really until 1991 when the Gulf War happened. It all of a sudden became an important part of American media culture. Our coverage of Gaza is a reminder to a lot of people that there are a lot of important aspects to a lot of stories, not just the Middle East, that are being denied them."
On why Al Jazeera is available in as many as 140 million households in 100 countries, but is barely seen in Canada and the U.S.:
"The American and Canadian situations are somewhat different. In order for a channel to be distributed in Canada it needs the approval of the CRTC. In 2003, there was an effort by Videotron in Quebec to get permission to run Al Jazeera Arabic. The CRTC allowed it but with so many restrictions that cable companies were scared away. The debate in 2003 raised by some interest groups was that Al Jazeera was anti-Israel, and therefore Canadians shouldn't be allowed to see it. The CRTC -- let them describe why they did what they did -- chose to grant permission for Al Jazeera to broadcast but they said they would hold the cable distributors responsible for the content. That's a bit like holding a newsstand responsible for what the New York Times or the Economist prints.
"Once you get outside of North America, the Al Jazeera brand is wildly popular, it's successful, it's respected. There wasn't that kind of debate in Europe and Africa. Now, Al Jazeera English is a different channel, it's been on the air for two years, it's one of the most popular news channels in Israel. There's now a track record on the part of Al Jazeera English that more or less proves to anyone who cares to watch it that all of the accusations that were attached to Al Jazeera Arabic do not apply to Al Jazeera English.
"Once people have chance to watch Al Jazeera and become familiar with the range of programming, the way it handles issues including the Middle East, people will have no reason whatsoever to conclude that this is a biased channel. It's an award-winning channel that a lot of people compare to the BBC and CNN. I oversee a staff from 45 countries. The leadership comes from the CBC, the BBC and many of the established and respected European networks."
On how Al Jazeera English is different from Al Jazeera Arabic:
"The Al Jazeera organization is not that different than CBC Radio Canada. It's a particular language for a particular audience that's in a small geographical place, whether that's the Middle East or Quebec. So its audience is totally different. It's English, it's 10 provinces. Our concern is Africa, Latin America, Asia. Our audience is scattered across the world. Our coverage of issues can be and is different."
On when will Al Jazeera Arabic will be widely available in North America:
"I don't know. The interest of Al Jazeera is to start with Al Jazeera English and then we'll see what happens. Al Jazeera Arabic is available to Canadians through the grey market. It's available in the States through the Dish Network. It's not inaccessible."
On the intimation by Fox News's Frank Gaffney Jr., who said a "propaganda arm of our enemies ... should be taken off the air, one way or another," that Al Jazeera paid for terrorist attacks in Iraq:
"That's nonsense. It's ridiculous. He can't cite anything that would bear that out."
On the notion that Al Jazeera Arabic encourages hatred of Israel:
"Al Jazeera Arabic reflects its audience. You have a lot of very heated debate on Israeli TV about Arabs and Muslims. That's the nature of this conflict zone. I work closely with the editorial leadership of Al Jazeera Arabic, and most of them are ex BBC. They're respected journalists, they adhere to the Al Jazeera code of ethics, which is not unlike the code of ethics at the CBC.
"The burden should be on the critics at some point, whether it's Al Jazeera English or Al Jazeera Arabic, to put on the table some support for the kinds of ludicrous accusations that they've made. And they don't. Al Jazeera both Arabic and English are two of the most popular stations in Israel. Israeli government spokespeople appear on Al Jazeera more than any other network outside Israel. The largest bureau that Al Jazeera has is in Israel. We cover it with care and comprehensiveness."
On whether all the issues discussed so far are indicative of myopic, self-centred North American ideas about what Al Jazeera is and should be:
"Yes. But also in fairness to everyone this is what happens in a vacuum. If people don't see the channel in their living room and realize that myths about Al Jazeera are untrue then in that vacuum you create whatever fiction you want to choose."
On Al Jazeera as a difference maker in the Arab world:
"I think it's had extraordinary impact in the Arab world. Al Jazeera was created in 1996. It was created to take on the kind of restrictive media environments that particularly Arab dictators were creating. And it was at loggerheads with virtually every Arab government. Al Jazeera has been thrown out of a multitude of Arab countries at one time or another. Until 9-11, it was the poster child of Western and American governments for the kind of fearless desire among Arabs to create an environment that was conducive to democracy and freedom of expression."
On the demonization of Al Jazeera:
"When 9-11 happened, there was incredible anxiety in the United States. The U.S. started bombing the Taliban in November of 2001, and they were claiming there were no civilians being affected by the bombing. Not unlike the situation in Gaza in the last couple of months, the only news organization that was in Afghanistan at the time was Al Jazeera. And Al Jazeera simply reported that contrary to what the Americans were saying, there were a lot of civilian deaths in Afghanistan. That outraged Donald Rumsfeld and George Bush so much that they targeted Al Jazeera from then on.
"And from then on it became marginalized, at least in the eyes of the Republicans, as the Osama Bin Laden network, as the terrorist network. Yet only four or five months prior, they were the embodiment of Arab freedom. Al Jazeera English and Al Jazeera Arabic are 24-hour networks, they're history on the run. They're not perfect. But I think there's a lot of high-quality journalism."
On whether the debate over Israel's role in the Middle East more vigorous and balanced in Israel than it is in Canada:
"Definitely. Definitely. I think the positive response within Israel to the reporting they see on Al Jazeera English is a great example of that. I think Israelis learned long ago that their security depends a great deal on their ability to understand their environment. Al Jazeera proudly covers all sides of the story. I think a lot of Israelis find that incredibly informative.
"I think to have in Canada a very narrow window into that kind of story does everybody in Canada a disservice. And it certainly does the Middle East a disservice. A lot of North Americans, particularly Canadians, want a balanced, fair-minded view of what's going on between Palestinians and Israelis. And they simply do not get that any more on their television stations and the newspapers that are available here in North America."
On Canwest Global's role in limiting our perception of and debate regarding Middle East issues:
"You know, I think, you know, I think I can't kind of evaluate that. There's a reluctance on the part of a lot of media organizations to deal with these issues in a comprehensive and fair way. Their audiences are poorly served because of that, and I think they get a false sense of what's going on.
"This creates an opportunity for Al Jazeera. I think we're in a very special time. With the election of Barack Obama and the end of the Bush years, we have an America now that's far more outward looking. I think Obama really wants to in a very constructive way engage with the outside world. As a result I think a lot of Americans are going to be far more eager to understand what's going on in the outside world. That comes at a time when a lot of American news organizations are cutting back on foreign bureaus almost every week.
"I think the response on the part of Americans to Al Jazeera's website and its live streaming [of news from Gaza] is an indication of how hungry a lot of Americans are for a fuller portrait of the world. I think there's an even greater hunger in Canada. The issues of the Middle East, the issue of Israel, the issue of Palestine, these are incredibly delicate issues that are fraught with emotion, but the only way we are going to navigate through the issues and come up with a fair and just peace is to understand each side. That's what Al Jazeera tries to do. It was the only international news organization covering both sides of the Gaza conflict."
On whether he is aware that CanWest Global is suing two Vancouver artists for trademark infringement for lampooning the Vancouver Sun's coverage of the Middle East:
"No. You're kidding. [Laughs] I'm not sure if I say this sadly or not, but I'm somewhat cut off from these debates. I miss Canada, but I don't miss those debates."
On what he believes Al Jazeera Arabic's signature accomplishments are in the Arab world:
"It is far and away the leading Arab news channel in terms of audience and respect. And I think it has that audience and respect because it's seen by Arabs as being quite fearless and groundbreaking in taking on the kind of restrictive media environments that you find in much of the Arab world. When Al Jazeera debuted in 1996, it was the first time that Israelis appeared on television in front of an Arab audience. Israelis were never allowed to speak on behalf of their own positions. That was a revolutionary breakthrough. That changed the whole tone within the Arab media about how seriously one should take the Israeli point of view in the region.
"The Al Jazeera brand in the Arab world is just phenomenal, and I think overwhelmingly it's earned it because of the constructive way it's fought on behalf of its audience.
"Have there been excesses, have there been mistakes? The answer for Al Jazeera undoubtedly is the same answer I'd apply to the CBC, the BBC or CNN. Of course."
On the nature of Al Jazeera's worst mistakes:
"I'm simply not the person to answer that, because I've been with the organization for just eight months. I'm not in a position to comment on that because I don't know. The only things I could tell you about are things I've read about."
On Al Jazeera's profitability:
"My understanding is that the vision on the part of the Emir of Qatar is that he would invest in it for a number of years with the objective that eventually through advertising revenue and program sales it would become, what's the word, cost-effective. I don't know what that period would be.
"One of the assumptions early on was that they would get a lot of advertising from within the Arab world. Because of the tension between Saudi Arabia and Al Jazeera, because of Al Jazeera's fearless reporting about the Saudis, Saudi Arabia essentially created an advertising boycott of Al Jazeera. My understanding is that's coming to an end. But I can only speak to my part of the organization."
On what those challenges say about media ownership:
"Al Jazeera is a public broadcaster. I have no problem with the idea that societies that see news media as a central part of their political and cultural lives do not trust market forces, commercial forces, to exclusively provide media. There's only one country that does that now, that effectively has no public system, and that's the United States. It's got a very small public television presence in PBS and a somewhat larger radio one with NPR. But there's a pride in the U.S. in saying most of our media is due to commercial companies. The result of that is that you have a lot of awful journalism being done in the U.S. Throughout Europe, Canada, in Britain, you have strong public broadcasters. The people of those countries have the opportunity through their taxes to ensure that at least there's one broadcaster that's working on their behalf.
"If the people of any country rely solely on private companies to provide essential information, the lifeblood of democracy, then you're really risking it. I think countries like the U.S. have done that to their peril. Americans, God love them, are one of the most uninformed people on the planet. A lot of it has to do with the failure of their media to keep them informed. Canadians should be very proud of the historical origins of public broadcasting. I think from afar that Canadian politicians are dropping the ball. Many of them think the American model is one to be emulated."
On how a nice white boy from Montreal ended up working for the Arabian eye on the world:
"I'd been involved with the CBC for 35 years. My hope was to continue to be involved in international journalism in some way. It's a small world, the international news channel world. I talked with Al Jazeera about a variety of tasks and ultimately it ended up as a job offer for managing director.
"For me there are a lot of similarities between the CBC and Al Jazeera. They're two public broadcasters funded by their respective governments. In Qatar, there's a firewall really, between the government of Qatar and Al Jazeera. There's no interference. There's a public service nature to the work at Al Jazeera that anyone at the CBC would find familiar.
"On a personal level my whole career has been coverage of the world for Canadians. I'm incredibly involved in international issues. Being involved in Al Jazeera at this point in the 21st century would be quite exciting for any journalist. This was the opportunity that was put in front of me that I found most appealing."
Related Tyee stories: