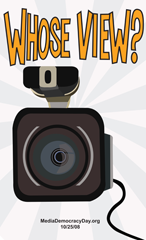 Saturday is Media Democracy Day, a big day for people who think Big Media should be a Big Issue.
"Media and communication are just really important issues and it's good to have a day to just focus on them," said Steve Anderson, national coordinator of the Campaign For Democratic Media and the general coordinator of Media Democracy Day.
The eighth annual Media Democracy Day will draw together people interested in social media, open source software, Net neutrality, copyright reform and fighting big media, Anderson said.
The roots of Media Democracy Day lie in the mid-'90s, with Conrad Black's purchase of the Southam newspaper chain, a move that left Black with control of more than 40 per cent of Canadian daily newspaper circulation.
The Vancouver group that formed to fight Black's media control lived on to host the first Media Democracy Day, in 2001. A similar group in Toronto held a similar event in the same year.
This year, there'll be MDD gatherings in Vancouver, Toronto, Kingston, Ottawa, and Montreal.
Anderson says the event is gaining steam.
"I think there's more of a movement maybe than a year ago," he said.
Net neutrality seizing attention
Anderson said the idea of Net neutrality, which turned into a surprise political issue earlier this year, got a lot of people interested in media democracy issues.
The concept of Net neutrality is simple: all traffic on the Internet should be treated equally. It is, to the supporters of Net neutrality, a question of free speech.
So when big Internet service providers began shaping, or "throttling" Internet content last spring, there was an uproar that reached into Parliament and the mainstream media.
"I think we woke a lot of people up to these issues," says Anderson. "I spoke at a Net neutrality rally on Parliament Hill and, first of all, who would have thought that would ever happen?
"There were young people who skipped school just to go. For sure there are people who never really thought of these issues who are now kind of engaged and are probably learning a bit about the political process -- the way big business affects policy."
Greenpeace co-founder to keynote
In Vancouver, Media Democracy Day will include a media democracy fair -- "a chance for you to meet local media makers, technology innovators and civil society workers." Two dozen organizations, including The Tyee, will take part in the fair.
The fair, panel discussions and speeches will be held at the Central Branch of the Vancouver Public Library from noon to 6 p.m. Admission is free, but seating is limited.
Keynote speaker Rex Weyler, a co-founder of Greenpeace, will talk about "Memes, mindbombs, and media that matters." He'll discuss how the media can tell the truth "in a world of spin, marketing, greenwashing, official obfuscation, and outright deceit."
Matt Thompson, campaign consultant for FreePress.net and principal organizer of SavetheInternet.com, will talk about "Net neutrality, the future of media reform, and the secret war over Canada's digital soul."
Thompson is also the co-founder of SaveOurNet.ca, a Canadian coalition fighting for Net neutrality.
Tyee among many participants
In a panel discussion titled Big Media Clamp-Down: Taking Stock and Fighting Back, academics and activists will talk about "resisting Canwest's attack on free speech, fighting conservative copyright legislation that would handcuff media consumers and media makers, and taking on big media within major policy battles in Ottawa."
Another panel discussion, Journalism in a Time of Big Media Domination, will look at the prospects of independent media in a landscape dominated by large corporate outlets. The panel is chaired by Georgia Straight editor Charlie Smith, and includes Vancouver Observer editor Linda Solomon, CJSF radio host Sylvia Richardson, journalist Deborah Campbell and Tyee editor David Beers.
Also included are a workshop on open source journalism and a panel on new media and open communication.
Related Tyee stories: