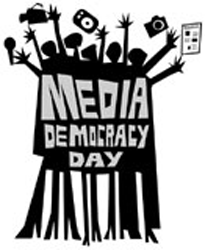 It may not get as much publicity as, say, the Fraser Institute's Tax Freedom Day, but Friday is Media Democracy Day in Vancouver.
Sponsored by a number of organizations, including The Tyee, Media Democracy Day aims to draw attention to the current state of Canadian media and to alternatives to mainstream media.
The day was inspired by Earth Day and has three themes, said organizer Steve Anderson:
Education -- understanding how media shape our lives.
Protest -- speaking out against commercialized media.
Change -- calling for media reform in the public interest.
Anderson, a grad student in communications at Simon Fraser University and the coordinator of Canadians for Democratic Media, said part of the aim of Media Democracy Day is to make people aware of media options that exist outside of the corporate mainstream.
More than 30 groups will have tables at a Media Democracy Fair Friday afternoon at SFU's Harbour Centre campus.
There will also be a screening of A Little Bit of So Much Truth, a movie about the Oaxaca uprising, in which Mexican protesters took over 14 radio stations and a TV station.
The day will also feature a talk by sociologist Saskia Sassen, author of The Global City: New Frontiers/Strategic Sites.
Triggered by Conrad Black
Media Democracy Day began six years ago as a reaction to trends in media ownership.
"I think the big thing that started it out was the Conrad Black deal for Southam," Anderson said.
Figures compiled for a Senate investigation into the state of the Canadian media show that Black's acquisition of the Southam newspaper chain in the mid-1990s gave him control over 42 per cent of all Canadian daily newspaper circulation.
In 1999, the high-water mark for newspaper concentration, the top five Canadian ownership groups accounted for virtually all daily newspaper circulation -- 93 per cent.
In 2000, Black sold off the Southam papers to various other chains. The biggest chunk went to the CanWest Global television network, which went in one stroke from owning no newspapers to controlling the largest share of circulation of any North American newspaper chain.
As communications scholar David Taras wrote:
"Global's takeover of Black's holdings gives Global extraordinary power in most Canadian media markets. In Vancouver, for example, a single company now owns the two major newspapers, the Province and the Sun, as well as a major TV station....
"The question is whether one man or one company should have so much control over the information available to citizens. The capacity to intervene in and even alter public life and public consciousness is nakedly apparent. The question is an agonizing one, and it is one that is fundamental to democracy."
Media keeps concentrating
Because Black sold his papers to several buyers, the level of newspaper concentration actually dropped after the sale -- the top five conglomerates went from controlling 93 per cent of total circulation in 1999 to controlling 79 per cent by 2003. But, as Taras suggested, the overall concentration of the Canadian media -- as opposed to just newspapers -- got much worse.
CanWest owns the country's biggest newspaper chain and CTVglobemedia owns the biggest private TV network and the Globe and Mail. And the trend to concentration continues.
As it does, Anderson sees an increasing need to challenge the big corporations' media "stranglehold."
Media democracy, he said, means "a diverse media system with diverse points of view and a plurality of ownership types."
It's not enough, he said, that there are many different media outlets available. What's also important is that there should be "a diversity of owners and ownership types, rather than just big-media for-profit corporations."
The media system should include small, independent for-profit media, non-profit media like Vancouver's Co-op Radio, and community media, Anderson said.
Opening up the media
A democratic system, he said, would also feature an open communications network and net neutrality, with "strict regulation" to curb media concentration and ensure that media act in the public interest.
Friday's media fair will include an array of different organizations, including Free Geek Vancouver, which is concerned with open source software and computer recycling, and Vancouver FreeTheNet, a group that's setting up free wireless Internet access.
The fair, Anderson said, "is a good event for people who have an idea that something's wrong" with the current media system but aren't aware of some of the alternatives.
"They know there's a reason why independent media is important. They can go here and see the different types."
Related Tyee stories: