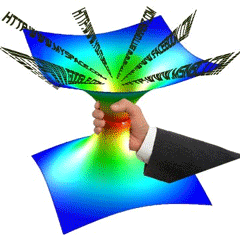 Sometimes all it takes to create a political issue is a whole bunch of little things happening at once.
Take net neutrality, the idea that all content on the Internet should be treated equally. It sounds kind of geeky, but activists argue that the issue is about nothing less than free speech.
More than a year ago, The Tyee noted that, while net neutrality is a hot topic in the States, "public debate on the issue in Canada has been a non-starter."
Well, it looks like the debate's finally starting.
The issue's been raised in Parliament. The mainstream media have picked up on it. And now it appears that the CRTC may hold hearings on it.
CRTC invited to step in
Steve Anderson, national coordinator of the Campaign For Democratic Media told The Tyee that he expects an upcoming CRTC report on new media to refer in general terms to the net neutrality debate. That could in turn lead to the topic's inclusion in hearings on new media, he said.
The CRTC has also been asked to step into a dispute involving the practice of shaping, or "throttling," Internet traffic. It's this controversy over throttling that's helped make net neutrality an overnight political issue.
The Canadian Association of Internet Providers is a group of small independent Internet service providers who buy "wholesale" broadband from big ISPs and resell it to individual customers. Last month, the group discovered that some of its customers were experiencing extremely slow Internet service. Bell Canada had begun throttling, or cutting the speed of, the wholesale ISPs' service.
The wholesale throttling is just one part of what University of Ottawa law professor Michael Geist has called a "perfect storm" of events that has put net neutrality on the public agenda.
Meet the throttlers
Bell and Rogers Communications have been throttling traffic on their own networks for some time. They do it, they say, because practices like BitTorrent's peer-to-peer file sharing protocol clog their networks, reducing speed for other customers. To keep most traffic flowing at reasonable speeds, the companies say, they need to be able to slow down traffic using BitTorrent.
The practice got a lot of publicity when the CBC decided to use BitTorrent to distribute an episode of Canada's Next Great Prime Minister. Many people found that the show took hours to download.
(The CBC's stake in the net neutrality issue was anticipated in February by the federal standing committee on Canadian heritage, which urged the government to ensure that the public broadcaster is not hurt by the policies of ISPs belonging to private media corporations.)
The Next Great Prime Minister debacle highlighted the fact that BitTorrent, which had been associated with illegal file sharing, is increasingly being used to share legitimate content.
At around the same time, Rogers announced a new pricing schedule with caps on usage and fees for going over the limits.
Info 'monkeywrenching' alleged
"A lot of little things kind of came together," the Campaign For Democratic Media's Anderson said.
As they came together, the National Union of Public and General Employees demanded the federal government protect net neutrality.
New Democratic Party MP Charlie Angus asked during question period what the government planned to do to "ensure that consumers who paid for access are not going to be ripped off, that badly needed competition will not be squeezed off, and send a message to the telecom giants that they have no business monkey-wrenching with the free flow of information."
As well, the Campaign For Democratic Media has launched a "stop the throttler" campaign, complete with Facebook group.
Anderson said the group plans to continue to pressure Industry Minister Jim Prentice, who to date has described the issue as a matter between consumers and their ISPs. Prentice has said the government is monitoring the situation.
Bill expected
Anderson said he also expects to see a private member's bill on net neutrality come before Parliament soon.
As well, he says, there's that CRTC new media report, which the Campaign For Democratic Media was consulted on. He said he expects it to contain language recognizing that net neutrality is an issue, without taking a position.
The report, expected in late May, could lead to new media hearings that would address net neutrality, he said.
"It's a slow burning issue," said Anderson. "It just takes something for people to say, 'OK, this is really happening now.' It's like a spark. I think that people at a visceral level find these issues important."
Related Tyee stories: