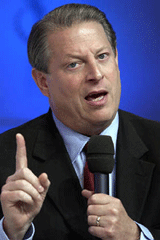 Al Gore's Oscar-winning film contains some "errors."
Whether that's the same as containing errors -- without the quotation marks -- is a more complex question than you might imagine.
The confusion was inevitable. Two days before Gore shared in the Nobel Peace Prize last week, a British high court judge ruled that Gore's film, An Inconvenient Truth, contains nine "errors." The court also observed that the film was "political."
News stories reported that the judge found the movie to be "riddled" with errors. Some accounts said the judge found nine mistakes, others said 11. Climate change deniers, who have found themselves increasingly ignored over the past year, tried to use the judgment to rekindle a debate over whether there is such a thing as man-made climate change.
For Gore's supporters, the decision became what ABC News called "an inconvenient verdict."
The resulting spin and counter-spin have temporarily derailed the question of what is to be done about climate change. Instead of arguing about ways to cut greenhouse gas emissions, the media and the blogosphere have been debating the proposition that Gore is a dangerous nut who is not intimately acquainted with the truth when it comes to global warming.
This is where it might help to actually read the judgment.
'Political indoctrination'
The legal proceedings were started by a fellow named Stuart Dimmock (the ruling spells his name "Stuart," but most media accounts spell it "Stewart"). He's a Dover resident, a truck-driving father of two and a school governor, who objected to British schools showing Gore's movie in classes. Dimmock wanted the court to ban the film from schools on the grounds that it amounts to "political indoctrination."
Dimmock's fight against the British education ministry, according to the Observer, was financed by "a powerful network of business interests with close links to the fuel and mining lobbies." While that's an interesting comment on what has been depicted as a David and Goliath struggle, it doesn't really affect the court decision.
Justice Michael Burton watched An Inconvenient Truth and found it to be a "powerful, dramatically presented and highly professionally produced film."
He also found it to be "political," a word that has been thrown around a lot ever since.
Justice Burton said:
It is now common ground that it is not simply a science film -- although it is clear that it is based substantially on scientific research and opinion -- but that it is a political film, albeit of course not party political.
Its theme is not merely the fact that there is global warming, and that there is a powerful case that such global warming is caused by man, but that urgent, and if necessary expensive and inconvenient, steps must be taken to counter it, many of which are spelt out.
Justice Burton went on to say that, in its main points, the film is supported by the scientific evidence -- a point glossed over in some accounts and ignored in others.
The judge agreed with the following statement, offered by the lawyer for the British education ministry:
The Film advances four main scientific hypotheses, each of which is very well supported by research published in respected, peer-reviewed journals and accords with the latest conclusions of the IPCC [Intergovernmental Panel on Climate Change]:
(1) global average temperatures have been rising significantly over the past half century and are likely to continue to rise ("climate change");
(2) climate change is mainly attributable to man-made emissions of carbon dioxide, methane and nitrous oxide ("greenhouse gases");
(3) climate change will, if unchecked, have significant adverse effects on the world and its populations; and
(4) there are measures which individuals and governments can take which will help to reduce climate change or mitigate its effects.
Said the judge:
These propositions, [which the government] submits (and I accept), are supported by a vast quantity of research published in peer-reviewed journals worldwide and by the great majority of the world's climate scientists.
Nine 'errors' counted
Justice Burton goes on to say that:
There are errors and omissions in the film, to which I shall refer, and respects in which the film, while purporting to set out the mainstream view (and to belittle opposing views), does in fact itself depart from that mainstream, in the sense of the "consensus" expressed in the IPCC reports.
He then considers nine statements in the film that he describes as "The 'Errors.'"
Some of these statements, the judge found, are backed up by insufficient evidence or by no evidence that could be produced by the government's lawyer. Other statements are "distinctly alarmist, and part of Mr. Gore's 'wake-up call.'"
The judge ruled that it is OK to show An Inconvenient Truth in British schools, as long as teachers are alerted to the nine "errors" he identified.
Some of those who have waded into the issue argue that, when he put quotes around the word "errors" in his judgment, Justice Burton meant to say that the nine controversial statements aren't wrong -- they just lie outside the mainstream scientific consensus.
The judgment, however, makes it clear that the judge meant more than that. He says two of the "errors" are "apparently based on non-existent or misunderstood evidence" and the rest "are or may be based upon lack of knowledge or appreciation of the scientific position."
What is balance?
The ruling has upset some British scientists, who argue that Justice Burton himself is wrong on several points. A number of bloggers have made similar arguments.
On balance, though, it is clear that the decision, while quite critical of specific statements made by Gore, is not the resounding repudiation of An Inconvenient Truth that the former vice-president's opponents claim it is.
And speaking of balance, Justice Burton makes a point that's aimed at the school system but could also apply to the media.
In challenging Gore's film, Dimmock appears to have demanded that climate-change deniers be given equal time in the classroom.
But the judge ruled that balance does not mean giving equal weight to fringe views.
Taking "an extreme example," the judge said that students learning about the moon need not spend a great deal of time on the theory that it is made of green cheese.
"The balanced approach," he said, "does not involve equality."
Related Tyee stories: