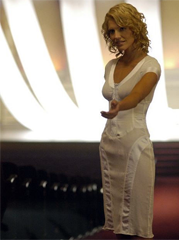 Robots, low-tech battleships and hot space babes: sounds like a sci-fi B-movie. But somehow, this small, made-in-Vancouver cult TV hit series is seeping into the mainstream.
Why? Apart from predictably attracting sci-fi viewers, fans say it offers the only fresh take on terrorism, religion, gender, abortion, civil liberty, democracy and corporatization to be found on TV. They say it's The West Wing, The Sopranos and Six Feet Under rolled into one.
The sci-fi is only the backdrop, apparently: the soap opera keeps people gossiping and the political allegory is what keeps people coming back.
I've never watched the show. So I asked six über fans to give me, the uninitiated, a guide to the political and emotional lessons available from Battlestar Galactica, just in time for this Saturday's season premiere. What follows are verbatim excerpts from our conversations.
Scott Ian, lead guitar player for Anthrax:
On what got him hooked: The webmaster for Anthrax is a huge fan and he kept raving about it to me in the first season, about how great it was, but I just couldn't get past the title: it's so cheesy. Then he sent me the series on DVD, and he said, just give it 15 minutes, and as soon as I started watching it I was hooked. From the first minute, you see it has nothing to do with the original show except character names.
On info for Battlestar virgins: It's The West Wing in space. It's a searing political drama that just so happens to take place on a spaceship. But for real: take away the fact that they're on a Battlestar and searching for a home. It's what's going on in the world today: deep, dark, brutal politics. I don't have a lot of time to watch TV and it's one of the few shows I watch. It's better than movies.
On Baghdad in outer space: The cylons (robots) are just an allegory for terrorists, or maybe the humans are the terrorists. There are direct parallels with current events, absolutely. There's bombing by the humans in the show, for example. One of the planets is like Baghdad and there's an insurgency and it's pretty much what's going on in the world today. And the cylons are religious fanatics and they're going to get their way no matter what. And I couldn't imagine anybody not catching all these allegories -- the show is just too smart. People aren't just watching because the space battles are really cool. They are, but there's not enough of that for it to just be that kind of show.
On the hot ladies: The fact that they've got a bunch of hot ladies doesn't hurt either. Tricia Helfer is in Maxim and Playboy. She's getting a lot of the uninitiated to watch.
Madeline Stanionis, Internet advocacy and fundraising consultant, and organizer of Frak Party:
On BSG 411: It's about real people like you and me who suddenly thrust into remarkable circumstances and who deal with that incredibly humanly. I love the complicated yet timeless themes of religion, politics, the search for meaning in life: what we're all trying to understand about ourselves and our role on this planet. Many programs are full of action or about a thing that happened; this show is about the experience of being human. No one is good; no one is bad. Good people make bad decisions; bad people make good decisions.
On frak parties, strangers in the house and civil society: Frak parties came about when a couple of friends and I were away on a political retreat having a couple of beers and it turned out we all like BSG. It turns out that everyone we really respect in the world watches this show. So we put together a house party campaign around it, just for fun, and it sort of took off. The idea is that you have a party at your house and invite other fans -- strangers -- over to watch it. There are now over 100 frak parties across the U.S. and Canada for the season premiere, and some of the cast members have found out about it and are coming. I'm a big believer in the way civil society works. We find each other and connect with each other and that leads to more. Sixteen people have RSVP'd and I have no idea who they are. They're going to ring my doorbell and I'm going to let them in and it's going to be great.
Kris Krug, president of Bryght, builds online communities and social software:
On what's dark and sexy: Battlestar is basically a unique sci-fi show that is dramatic and sexy and dark and interesting and not about spaceships and aliens but about humanity and interpersonal relationships and about a lot of interesting existential sociological issues, that just happens to be set in space.
On genocide and abortion: The show deals with some really tough issues which you couldn't deal with if it was set in 2006 on earth -- like genocide and abortion. But if you depersonalize them and take the subjective and take your own feelings out of it, you can be objective and analyze it and enjoy that. There was one recently where abortion was outlawed for the good of humanity, because there were only 40,000 humans left in the world. They decided the good of the group outweighed the individual. And they need everyone to repopulate the world. It twisted my brain. At what point do the rights of the collective supersede the rights of the individual?
On why über geeks are fans: Part of the reason the show blew up so much and appealed to people like me was because the director does a podcast about what's going on, including his thoughts on the daily tapings. And they've had a blog since the beginning. There are lots of online tools that had never been done. They reached out to the tastemakers and got them into it.
On why this blog works: In general, in the blogorati, people who write and talk about that kind of stuff, we're down on character blogs, like the kind they have on Whistler. We think of blogs as being from a human being: it's authentic and discourse based. A character blog is co-opting the tools of blogging to do marketing. So good luck with that. I'm sure it will be a cool online project. But that's not the same as the director of Snakes on a Plane blogging about the title change, or hearing from the crew and real people. Now if the guy from Whistler was blogging about the Ross Rebagliati thing, that's what I'd want to read. That's where they're going to get big people to link to them.
On Battlestar Aggregatica: For the last year, I've been running a superpowered aggregator on the Internet that monoitors everything to do with Battlestar Galactica, fraks, cylons, all the actors, you name it.
On where he'll be: I'm going to my buddy Bob's house. My friend AJ plays Mr. Gata on the show and he's coming over.
Dawn Buie, director of web technology, TheTyee.ca:
On community in space: I liked Star Trek as a youngster because I fanaticized about being part of the crew. Although Battlestar Galactica is light years more advanced than Star Trekfor showing real human drama, I'm still attracted to that similar sense of the main characters being part of a team. They rely on each other; everyone has a place. Of course, in Battlestar Galactica, doing your job well usually means some one lives, and failing means you or others die, and since there are only 40,000 humans left, that's a big burden. But it is shared.
On female leaders: I find the female president really fascinating. She suffers behind the scenes, but doesn't reveal that. She makes people feel comfortable and cares about them but also lays down the law. When she's made a decision, it's to be abided by, even when it's a bad decision. There's a discussion in the show about what power is, who should be in power, how they should act. I think their assertion is that you have to have someone in power. Life on the Battlestars (Galactica and Pegasus) are modeled after life in the army. Two of the writers served in the US army and the show gets kudos from military people who say the depiction is accurate. The show explores our love hate relationship with our leaders, and the importance and danger of creating social order.
On low tech sci fi: I love how on the Battlestar none of the computers are networked and they use phones with coil chords. This is so the Cylons -- who are machines –- cannot infiltrate the system as easily. This prohibition forces the humans to come up with simple solutions, using the tools at hand. This reminds me of how some open source software like Linux is way better than an operating system designed by a company with vast resources, like Microsoft. The Cylons could take down a Windows operating system in a millisecond.
C. Michael Campbell, science fiction writer, just finished first novel-length manuscript, Jackson Orange:
On why BSG is better than movies: A series has the luxury to meander through character development whereas in a novel, it must be more concise because few will read or publish 1000+ page books of a fictional narrative, which is unfortunate.
On the problem of sci-fi: One of the problems with most sci-fi is there's too much leaning on technology. When writers create technology for sci-fi, it's usually a prototype for something that's actually in the works now. Decades later, people realize that won't work, then the show loses its believability. That's why it's good this show is so low-tech.
Dave Gowans, lead singer of The Buttless Chaps:
On soap in space: I've always liked sci-fi. But my partner has never been a sci-fi fan at all. And she loves it. I think it's converted a lot of people over because it's just like other really good adult soap operas like Six Feet Under. They leave you hanging and you want to know what happens next.
Vanessa Richmond is the managing editor of The Tyee.