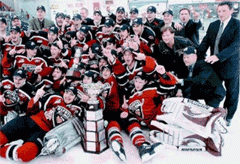 The Anti-Poverty Committee raised hell while poor B.C. politicians got a helluva raise. Sting's Police dazzled the Vancouver media while the Vancouver police posed as media for a sting.
Tony Blair was bushwhacked while Bush whacked Congress. Jordin Sparks was America's Idol and sparks flew on The View. Wolfowitz howled, but resigned and... so did Rosie.
The Canucks ducked, but the Giants were ducky. So let's cut through the May daze and trade in our cars for carbon credits before someone makes us drive across Cambie Street.
Raging loonies
The loonie reached its highest level since the Disco era, prompting the Bank of Canada to do "The Hustle." If the value continues to rise, Canadians may be forced to start referring to the gold coin as, "a dollar."
A global survey says Vancouverites live in the third best city in the world -- unless they live on Cambie Street.
Gas prices jumped so high this month that if you want to fill up an SUV, it's now officially cheaper to clone and kill dinosaurs and then wait for them to decompose.
Meanwhile, Premier Gordon Campbell says B.C. will start offering carbon credits as soon as no one can afford gas. Despite the carbon credit plan, B.C. lost some global green credibility when climate change concerts featuring the biggest stars in the world were announced and Vancouver's big score was "The Green Planet Concert featuring Art Garfunkel."
Bloc parti
PQ leader Andre Boisclair separated from the Parti Quebecois following an election which saw the separatist party finish third behind Jean Charest's Liberals and some other party English Canadians have never heard of, so we're not going to worry about them yet. Bloc-head Gilles Duceppe immediately announced he was leaving Ottawa and running for leader of the Parti Québécois to save the sovereigntist movement.
Prime Minister Steve paid a surprise visit to Afghanistan -- because he wanted to go somewhere he was popular. He assured Canadian soldiers that the mission will be over... as soon as U.S. President George Bush says it is.
Opposition parties discovered a secret ReformaTory playbook describing their plans to obstruct parliamentary committees to create the impression that nothing gets done in Parliament. The news shocked Opposition members who couldn't believe that even the ReformaTories were stupid enough to need help with that.
Bloc parti 2: revenge of the nerds
Bloc-head Gilles Duceppe announced he was pulling his name out of the running for leader of the Parti Quebecois a day after announcing his candidacy, finally erasing the cheese hat incident as the silliest thing he ever did. Duceppe blamed "money and the ethnic vote" before throwing what was left of his credibility behind former PQ cabinet minister Pauline Marois. Duceppe explained that it's time for a woman to lead the PQ -- since the party's now on the verge of extinction. (See Campbell, Kim; Johnson, Rita and James, Carole.)
After accusations that Phoenix Coyote forward Shane Doan had made "anti-French remarks" about referees, NDP Leader Jack Layton, declared that Doan's appointment as Team Canada's captain "cast a shadow" on the group. Layton also said players should no longer be allowed to represent Canada if they refer to referees or linesmen as visually impaired or mentally challenged.
Following a new report on the BC Lottery system showing that the system may be vulnerable to fraud by vendors, the lotteries have introduced a new motto: "You can't win, if you don't sell a ticket."
The 29 per cent solution
A new independent-ish report said B.C. MLAs deserve a pension plan and a 29 per cent raise and the premier's salary should be bumped up by 54 per cent. The new raise was retroactive to April Fool's Day, which seems far too appropriate.
The NDP announced they'd keep the pensions, but donate their raises to charity. Meanwhile, voters announced that most NDP MLAs won't be around long enough to qualify for those pensions.
NDP MLA Gregor Robertson proposed a private members bill urging compensation for Cambie businesses hurt by RAV construction. If the bill passes, it's not expected to cost much -- since there aren't actually any businesses left.
The Manitoba NDP won a historic third majority government and B.C. NDP Leader Carole James says this bodes well for her party -- as soon as she can change election rules so Manitobans can vote in B.C.
Toronto loses erection
The CN Tower is no longer the world's largest freestanding erection. A skyscraper in Dubai is set to top out at 700 metres high, almost 150 metres beyond the top of the Tower. The CN Tower is apparently severely depressed and is reportedly thinking of following The Lord of the Rings musical to England.
Meanwhile, the federal government announced plans to stop issuing work visas for foreign strippers -- which means expense account lunches are going to jump, thanks to an unexpected increase in the cost of lap dances.
The Beaver Magazine announced plans to name "the worst Canadian" of all time. Brian Mulroney come on down... Too soon?
Spider-Men of the Caribbean: Live Kid's Allowance
Spider-Man 3 and Pirates of the Caribbean 3: Dead Man's Chest conquered the box office, despite reviews claiming both films were about as entertaining as Dirty Dancing 2. Fourth films are already scheduled and in order to combat claims that the franchises are losing steam, some spoilers are already leaking out about the next installments. Captain Jack Sparrow is apparently getting a black costume and Keith Richards will be appearing as Spider-Man's father.
Sylvester Stallone shocked, um, the same six people who were surprised to hear Barry Bonds might have used steroids, by conceding that he was in possession of human growth hormone when he was busted in Australia. The Australians are considering a fine for the drugs and a jail term if he attempts to make another Rocky sequel.
The Motion Picture Association of America has announced that smoking in films may now earn movies an automatic R rating -- unless people are smoking because they're on fire, in which case a movie can still earn a G.
Mean girls
The always unappealing Paris Hilton dropped the appeal of her 45 day prison sentence for violating her probation explaining that she's seen lots of chicks in prison movies and, "some of them are pretty hot."
Lindsay Lohan topped Maxim's list as the hottest woman in the world. Lohan celebrated her victory by signing autographs in rehab.
America got its youngest 'Idol' as 17-year-old Jordin Sparks was formally Simonized. With her stunning voice and newfound fame, Sparks could follow in the footsteps of such teen sensations as Britney Spears and Lindsay Lohan -- so her prize includes an all expense paid trip to rehab.
Heckuva job, Wolfie
Paul Wolfowitz resigned as President of the World Bank after the board accepted his explanation that arranging a huge raise for his girlfriend was, "a good faith mistake." The board believed his claim that his confusion was based on "cultural differences" because at his previous job in the White House no one ever made mistakes.
British Prime Minister Tony Bush (née Blair) announced plans to step down as leader of the Labour party. Gilles Duceppe immediately announced plans to run for the party leadership.
Related Tyee stories: