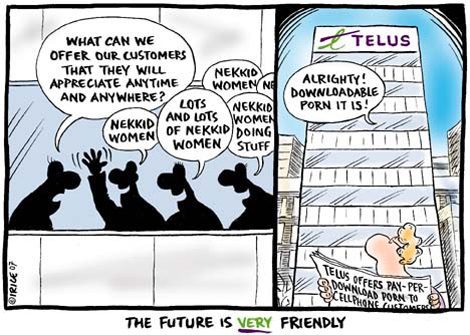 It's the Year of the Pig, except on Superbowl Sunday when Colts mauled Bears between cool ads. B.C. Premier Gordon Campbell turned green while his mining minister, "Not the real" Bill Bennett, worked blue. Britney went crazy, Prince Harry went to Iraq and James Cameron found Jesus while CNN stopped covering the war to focus on the biggest story of 2007 -- the death of Anna Nicole Smith. It was the shortest month, so that means it's already time for a long look back.
Harper gets Gored
ReformaTory™ environment minister, John Baird, claimed his government's policies were praised by Al "is it hot in here, or it is it just me" Gore, prompting an immediate denial from the Oscar winner. Gore claimed that not only did he never praise ReformaTory™ policies, but he's never even heard of Canada.
Following a study showing Canada has the worst record on greenhouse gasses of all G-8 countries, Prime Minister Steve skipped the House of Commons vote where MPs passed a motion supporting the Kyoto Accord. However, Steve swears he's taking global warming seriously and, to prove it, he's named his dog "Ozone."
The Canadian government has demanded that the British government stop claiming the seal hunt is "cruel." They've also demanded that they stop referring to seals as "cute."
The ReformaTories™ finally revealed how they plan to implement their ultraconservative agenda without actually looking conservative to voters. They're reorganizing Canada's legal system to make sure they only appoint judges who believe in all the things that Steve ordered his members to stop talking about until they have a majority. Like, you know, rights and freedoms and all the ones they oppose.
Emerson gets bored
Federal Party Trading Minister David Emerson announced he may run in the next election. If elected, Emerson promises to faithfully serve whichever party forms the next government.
Parti Québécois leader André Boisclair says that if he's elected premier, he will not hold a referendum because, "losing would be humiliating." However, he says his party is still all about sovereignty and promises that if elected he will insult anglos and ethnics on a regular basis and whine a lot.
The federal NDP proposed creating a new national holiday in February. Future former NDP leader Jack Layton says he plans to keep proposing more holidays until he starts polling in double digits.
A CBC investigation used blind testing to discover that canned tuna may contain dangerous levels of mercury. This was confirmed because until they ate the tuna, none of the testers was blind. Meanwhile, the CBC has announced plans to increase its presence on the Internet -- so that Canadians will have the option of not watching their shows online.
The Father, the Son and the Grandson?
Oscar winner James Cameron claims he's found Jesus. Literally. Cameron and Canadian director Simcha Jacobovici found a tomb they say holds the bones of Jesus, Mary Magdalene and their son Judah. If scientists are able to prove beyond any scientific doubt that the findings are real, theologians will call them liars.
And speaking of favourite sons...Justin Trudeau announced that he'll be running for MP in Quebec. Asked how he plans to live up to his father's legacy, Trudeau just shrugged and flipped reporters the bird.
The bitter ACTRA strike ended as Canadian actors and producers finally reached a deal -- months after U.S. producers decided to move all their productions elsewhere because of the labour unrest. The new deal...The producers agreed to only expense their meals in restaurants where a majority of the waiters are ACTRA members.
Celine Dion's hometown in Quebec has decided to name a street after her -- a very skinny street.
The new Canada Food Guide was released and recommended that everyone should eat more than Celine Dion.
Campbell's green, BC's in the black?
The BC Liberals delivered the greenest throne speech in history, but neglected to mention how they planned to fund their green programs -- aside from saving some money by fuelling the legislature entirely on bullshit.
In order to help save the environment, Dr. David Suzuki asked Canadians to stop buying imported bottled water and start drinking from the tap. Meanwhile, a new poll shows British Columbians wouldn't spend an extra $100 in taxes to help save the environment. On the bright side, they would spend it on really good bottled water from France.
Telus cancelled plans to broadcast porn videos on cell phones after complaints from the Roman Catholic archbishop of Vancouver. Telus officials were disappointed, claiming they were only trying to perform a public service by making porn more accessible to the homeless.
Law and Order: Canadian content
Vancouver police chief Jamie Graham announced his retirement. Graham says he's looking forward to a lot of good days at the firing range.
The jury at the Robert Pickton trial will be getting a week-long spring break. And to help them relax, the Crown has offered to buy them all tickets to a Broadway production of Sweeney Todd.
Former CFL star Trevis Smith was convicted of intentionally spreading HIV and was sentenced to five and a half years in prison -- where there's no chance of him spreading the disease.
Karla Homolka gave birth to a beautiful baby sociopath. The baby daddy's name is not known, but the smart money's on Satan.
Log Cabin Republicans
Former New York Mayor Rudy Giuliani announced he's running for the Republican nomination for president. Giuliani made the announcement by confirming that despite being pro-choice and pro gay rights, if he's elected he'll make sure he only appoints Supreme Court judges who oppose both. Yes, really.
The disgraced former president of the U.S. National Association of Evangelicals, Reverend Ted Haggard -- who made headlines after a male prostitute claimed they'd had a three-year affair -- announced that following three weeks of counselling, he is now "completely heterosexual." Haggard says he hopes to return to the church where he plans to introduce a new element to evangelical services -- altar boys.
U.S. airports began testing a new "Backscatter X-Ray" machine that allows security guards to see absolutely everything. Officials deny civil liberties groups' charges that there's anything intrusive about seeing passengers naked and plan to pay for the new technology by selling scans to Telus. And Ted Haggard.
Professional Holocaust denier Ernst Zundel finally found a home in Germany. He'll be spending the next five years in jail after being convicted of denying the Holocaust. After he serves his sentence, Zundel plans to move to the only country that thinks he's sane...Iran.
And the U.S. has ordered North Korea to "get out of the nuclear business entirely" or...um...they'll be really upset.
Not That Innocent...
Britney Spears finally fulfilled her destiny by becoming this generation's answer to Michael Jackson -- a chart-topping former pop star who will only be remembered for turning herself into a sideshow attraction and late-night punchline. In the past two weeks, Britney shaved her head, got a tattoo, attacked a car with an umbrella, checked herself into rehab and announced plans to trade her children for a chimp and buy the elephant man. It looks like Fed-ex will now be getting custody of both the kids and the career.
The British government announced plans to send a copy of Al Gore's An Inconvenient Truth to every secondary school in the United Kingdom. U.S. President George Bush was so inspired by the gesture that he announced plans to send every American secondary school a copy of Jackass Two.
And director Martin Scorsese finally received his best director and best picture Oscars for Raging Bull, but thanks to a typographical error the presenters claimed the awards were for something called "The Departed."