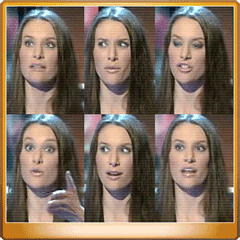 "Maybe [Pakistani cricket fans] should focus less on cricket and a little more on hygiene," opined Rachel Marsden on a recent episode of Fox News' middle-of-the-night talk oddity "Red Eye." Marsden was adding her two cents to a discussion of murdered Pakistani cricket coach Bob Woolmer, and seemed unaware that she had said anything offensive. But her co-hosts, Greg Gutfeld and Bill Schulz, looked appropriately aghast; Gutfeld was quick to assure viewers that "Red Eye," the Fox-for-frat-boys show he's been hosting with gross-out gusto since Feb. 6, did not endorse Marsden's views on Pakistani hygiene.
Her colleagues may have been momentarily tortured by Marsden's loose tongue, but whether they knew it or not, they had been sticking it to her just the night before, when they brought up the Duke rape case. Gutfeld had asked what should happen to the accuser if all charges are finally dropped, and Marsden had jumped in with unusual speed, pooh-poohing possible repercussions for the woman who claimed she was raped by members of the Duke University lacrosse team a year ago. "Charges are laid, charges are dropped," said Marsden. "It happens all the time. Unless she can get charged with mischief and they can prove she lied, then no, [she shouldn't be punished]. That's the process and the process works." But, argued Gutfeld, "Don't you think that being accused of rape is as bad as being raped? Those guys' lives were ruined!" Marsden bit back, "Let's give it 10 years and see if their lives were ruined."
It was all business as usual at "Red Eye," Fox's bawdy gabfest of a grab at a youthful audience, starring Gutfeld, comic foil Bill Schulz, and Marsden, a statuesque Canadian who dissects the news with as much Coulter-esque zeal as she can muster while rolling her eyes at her male counterparts. But in the Duke exchange, any viewer who knew anything about Marsden, whom Fox is clearly grooming for brand-name pundit stardom, might have felt a fleeting moment of sympathy for her. That's because the 31-year-old columnist is already well known in her native Canada as an oft-accused and once-admitted stalker who made questionable rape charges of her own 10 years ago, in a case that eventually cut short the career of a university president and changed the tenor of harassment cases all over Canada. In 1999, a professor at the same university went to the police with charges Marsden was stalking him, and in 2004 she pleaded guilty to criminally harassing a former Vancouver radio host.
Should executives at Fox News have hired Marsden as a nightly contributor to "Red Eye," on which panelists chew over topics like sexual harassment, without disclosing how her history might colour her views? In their yen for young male viewers, and their desire for a righty riposte to "The Daily Show," is it possible they prized Marsden's looks so much that they believed no one else would ever get past them? Did they think they could groom her to be an incendiary attention-getting conserva-babe of Coulter-esque proportions, when getting that coveted attention would guarantee the revelation of her Fox-unfriendly past? Or perhaps it was her scandal-laced life that made her enough of a celebrity to secure her a nightly perch in the first place.
"Red Eye," designed to appeal to the demographic most likely to be found on a beer-soaked dormitory couch at 2 a.m., is chock full of fart gags and homoerotic innuendo. Into this Pabst-and-poop-joke cloud of testosterone, it's only natural that Fox would want to bring a woman. A fox, to put no finer point on it. Enter Marsden, who for several years has been featured as the "Canadian correspondent" on "The O'Reilly Factor," who formerly decorated her website with alluring photos of herself, and who was once named "Republican Babe of the Week" by JerseyGOP.com, an honor previously bestowed on Florida chad-harpy Katherine Harris, Laura Ingraham and, of course, Ann Coulter.
She also writes a weekly column for the conservative Toronto Sun, in which she revels in the sort of juvenile ad hominems about liberals beloved by righty louts. In the most recent, Marsden, an avowed disbeliever in global warming, ripped apart Al Gore's testimony in front of Congress, proposing that in a cross-examinations, lawmakers put this to the former vice president: "Al Gore could really pollute a bathroom.... Just look at the guy. If someone doesn't take away his pork 'n' beans, he's bound to get another one of those 'gut feelings' and mistake his own greenhouse gas production for science!"
SFU scandal
Marsden grew up in a suburb of Vancouver. Her father, Claude, was a high school teacher who in 2000 had his teaching license suspended after admitting to an inappropriate relationship with a 16-year-old student. Marsden, in the bio on her website, describes growing up listening to Canadian talk-radio bulldog Jack Webster. "Listening to these radio shows during visits to grandma's house ignited a lifelong passion," writes Marsden, adding, "Rachel finds it cute when liberals think they have an original argument. Chances are she heard it for the first time at the age of 7." Marsden also writes that as a "former national level competitive swimmer who still holds records in BC, [she] lives for challenges and thrives on competition."
It was swimming that led Marsden to meet Liam Donnelly at the Westminster Club where they both swam in 1990, when she was 15 and he 22. Three years later she enrolled to study biology at the famously progressive, utopian Simon Fraser University, where Donnelly was swim coach. In 1995, she accused Donnelly, who was not her coach, of sexual harassment and date rape, claiming that he repeatedly molested her over the course of a 16-month friendship/relationship. Donnelly claimed he was innocent, and on the advice of a lawyer, boycotted the university's investigation into Marsden's claims.
In 1997, SFU fired Donnelly. The university agreed to pay Marsden $12,000 to compensate her for injury to her feelings and the academic scholarship she lost during the case. It was reported that they denied her request to be part of the hiring process for a new swim coach.
Donnelly fired back, alleging that it was Marsden who had done the harassing. He handed over photos of the scantily clad student that he claimed she had slipped under his door, and released an e-mail she had sent him after the date of the alleged molestation that read in part, "I suggest that you just relax and let me undress you, touch you.... If you want, you can undo the garter and take off my stockings, take off my lace bra and underwear, and let your hands explore my body wherever they want to."
According to Donnelly, Marsden had been stalking him for years, making multiple hang-up calls and showing up at his home. Donnelly claimed that this behavior had begun as early as 1992 but had worsened over time. He alleged that by 1995, someone he believed to be Marsden had vandalized his car, strewn condoms in his driveway, posted graffiti advertising his number as a phone-sex line in campus bathrooms, subscribed to Playboy in his name, and left phone messages for him with a voice-altering machine. Donnelly later told the press: "She was everywhere. She would turn up at events where I was working. She was phoning me all the time.... She admitted she bought a voice-altering machine. That was the one that scared me the most. It sounds like the devil."
Donnelly had lodged complaints with his local police departments about these occurrences in 1992, and again in 1995, when he named Marsden as the person he suspected was behind them. Sgt. Don Brown, the policeman who had investigated his claims in 1995, told the Vancouver Sun that Marsden was not charged at the time, because "there were lots of little bits and pieces, but some of it was hard to attribute to one person."
'A case of stalking'
After Donnelly's firing and his subsequent allegations against Marsden, the fight got complicated and ugly. Women's rights activists supported Marsden throughout her case; it was a post-Clarence Thomas universe in which the fight to keep women safe and empowered in classrooms and workplaces was finally being taken seriously. Feminist lawyer Anita Braha argued on behalf of Marsden; so did Simon Fraser's progressive president, John Stubbs. Accusing a young harassment complainant of being a scorned, obsessive lover sounded like a low trick to sexualize and blame the victim. Even Donnelly tried to distance himself from the backlashy whiff of the controversy. "People have turned this case into one about campus harassment, the feminists versus the reactionaries," he said to the press at the time. "I see it as a case of stalking."
Marsden admitted to some of Donnelly's counter-charges, while refusing to back away from her rape claim. She held a press conference in which she said she was a virgin at the time of the rape; she asserted that she gave Donnelly the sexy photos of herself after he had picked them out of her modeling portfolio, and she played the tape of a male voice she said was Donnelly's saying, "Call me." She claimed to have sent the suggestive e-mails in "a desperate attempt to entice [Donnelly] into meeting with me so I could obtain accountability and an apology from him for the abuse, harassment and rape I suffered at his hands." She had also admitted to sending him the Playboy subscription, reportedly telling the SFU panel in 1996 that she did it "with the hope that he would be able to take out his sexual frustrations on the magazine instead of on real women."
Two months after his firing, Donnelly was rehired, exonerated by the university of all charges. According to the mediation agreement between SFU and Donnelly, the original findings of the harassment panel had been based on Marsden's credibility, which had been cast into doubt by "inconsistencies between her statements before the panel and her response to Mr. Donnelly's harassment complaint [against her]." The school paid Donnelly $35,000 in legal fees and expunged his record of harassment charges. Marsden also kept her $12,000, meaning that SFU paid out to both sides of the conflict. An examination into what went wrong with the university inquiry culminated in the eventual resignation of president Stubbs, who stayed on as a history professor at the university.
More harassment claims
Simon Fraser's harassment policy coordinator Patricia O'Hagan, with whom Marsden became close during the university's investigation into her claims, also left her job in the wake of the scandal. O'Hagan later alleged that Marsden had harassed her, claiming to reporters that the student had called her more than 400 times, tracked her down after she'd changed her number, and signed letters, "love from your daughter who loves you a lot." Marsden responded in kind, claiming that she referred to O'Hagan as mother to "set boundaries" with the older woman, who she said had repeatedly hugged and kissed her. "I felt strange," Marsden told the press, "and wondered what her intentions were." O'Hagan's lawyers told the press she "vehemently denie[d]" that she had had "any type of physical relationship" with Marsden. Two days after O'Hagan's harassment claim, it was reported that Marsden showed up at a conference at which O'Hagan was the guest speaker.
The sordid saga wreaked havoc on the lives of Marsden, Donnelly, O'Hagan and Stubbs. But it also took a steep ideological toll on feminists.
The whole disaster read like an Oleanna-style wet dream of the right's most misogynist thinkers, who love nothing more than a woman-makes-it-up tale to underscore the often-unprovable nature of harassment and rape claims. This situation, like the Duke rape case, was a no-win for anyone. Had Marsden been telling the truth about Donnelly, the barrage of sexualized invective hurled her way might have deterred any sane harassment victim from coming forward in the future. The suggestion that she was not telling the truth fueled the fire of those who routinely claim that women love nothing more than to lie about being assaulted and violated. As it was, Donnelly never followed through with formal charges against Marsden; the case was dropped; neither her culpability as stalker nor his culpability as rapist was ever legally established. Perhaps this small mercy in her own experience led Marsden to comment about the Duke case that "the process works."
But for women's rights advocates, the process did not work. They supported Marsden in her purported hour of need, only to get kicked in the gut -- not simply at the time, but by her current professional persona, much of which is accessorized with snappy anti-feminist quips about how Hillary Clinton "fills out a cup better than Peyton Manning."
"Oh god, she is feminism's worst nightmare," said Neil Boyd, an SFU criminology professor who claimed that Marsden harassed him too. Boyd was a vocal critic of SFU's handling of the Donnelly case; his 2004 book "Big Sister: How Extreme Feminism Has Betrayed the Fight for Sexual Equality" was inspired in part by the case. "She used these people, who were only too willing to jump on her bandwagon," said Boyd. "I'm not sure that she ever really presented herself as a feminist as much as she took advantage of an openness to victimization that existed on the university campus at that time."
Pled guilty
Boyd remembered Marsden as conservative, even as a student. She would later tell BC Report magazine, in an interview titled "The 'barracuda' speaks," that "radical feminists work at SFU, but I never felt comfortable being lumped together with them." But at a 1997 press conference she sounded like a woman who shared concerns with women's rights activists, when she proclaimed, "It is my fear that the media sensationalism will prevent other victims from coming forward. This would be the biggest injustice of all. If I could say a single thing to the other victims of harassment, it would be not to suffer in silence. It is only in coming forward and speaking out as a lone voice that one can really begin to heal and that we can ever hope to put an end to sexual harassment."
Marsden eventually returned to SFU as a student, telling the press that she had nowhere else to go and had been living in her car. University officials warned her to keep her distance from Donnelly, and remove reference to him from her website, or else get thrown out of student housing. It was around this time that criminologist Boyd, then 47, accused her of stalking him.
By phone, Boyd explained that as he had been a vocal critic of the school's handling of the Donnelly case, he was surprised when Marsden showed up to take one of his classes. The university denied his request to be exempt from teaching her, but agreed that he wouldn't have to evaluate her, since it might be a conflict of interest. Boyd said that partway through the semester, Marsden sent him an e-mail saying that it was going so well, she thought he should be able to grade her. When he refused, he claimed, she began phoning and e-mailing him frequently, asking him out, and "showing up after talks I gave in the community, or after classes, wherever I might be." But Boyd, who has a background in law, kept all her calls and e-mail messages. In 1999, Boyd took these records to the police, who reportedly warned Marsden to stay away from him. According to Boyd, she did.
Marsden was next charged with criminally harassing former Vancouver radio host Michael Morgan in 2002. According to the statement of facts in the case, Marsden and Morgan met in 2001; soon after, he called the police when Marsden sent a teddy bear and flowers to his home. Marsden was warned to stay away from Morgan. But according to court documents, contact resumed and the two began a consensual sexual relationship several months later. When Marsden traveled to the U.S. in 2002, Morgan began dating another woman. According to the court summary of events, this didn't go over well with Marsden, and she began calling and e-mailing him repeatedly, also contacting his new girlfriend, his sister, his son and his business partner, and waiting for him outside his apartment. Police investigated at Morgan's house, where they listened to several phone messages from Marsden described in court documents as "vindictive and threatening." Morgan turned over 38 e-mails sent by Marsden between Sept. 20 and Oct. 10, 2002. According to the court, Marsden also rigged Morgan's computer to send her blind copies of every e-mail he sent to anyone.
In May 2004, Marsden pleaded guilty to the criminal harassment charges. Judge J.W. Kitchen of the criminal division of the Provincial Court of British Columbia sentenced Marsden to conditional discharge and one year of probation. Having completed the year of probation, Marsden is now considered not to have a criminal record. Marsden reportedly told the judge, "I promise that I'll never be back before this court for the rest of my life -- you have my word on that."
Who is 'Elle Henderson'?
Around the same time, it was widely reported that Marsden, who was trying to build a career in conservative politics, was forced to resign as an aide to MP Gurmant Grewal, after it was discovered that she had been working for him under the name "Elle Henderson." The press, which had been feasting on Marsden for seven years, also tore her apart for fudging her online résumé, on which she claimed to have assisted Connie Chung at ABC (ABC denied at the time that anyone by her name had ever been employed at the network) and that her writing had appeared in the National Post and Maclean's magazine (at the time, she had only had letters to the editor printed in either publication).
Marsden had been for some years writing conservative political commentary, publishing it at EtherZone, PoliticalUSA, GOPUSA and on her website, Rachel Marsden's Web Lounge, which had morphed from a sultry site for those who might want to book her for modeling, acting and commercial gigs, into a sultry archive of her news analysis and scanned images of notes to her from people like Ken Starr ("To Rachel, with all good wishes"), and links to more photos of her. (Marsden has since buttoned down her website considerably; she is now featured only in a shiny leather suit.) Marsden also began hosting a conservative talk show on CITR radio in Vancouver; guests included Coulter herself, Andrew Breitbart and G. Gordon Liddy.
In 2005, Marsden was hired as a columnist by the Toronto Sun. Senior associate editor Lorrie Goldstein said by phone that Marsden approached the paper. "We certainly knew the controversy surrounding her," he said. "We asked the questions about those controversies and we were satisfied with her answers and we are very happy with her. In the dealings I've had with her she's been a consummate professional."
Marsden's current editor, Rob Granatstein, who took over the paper's editorial pages in December, agrees. "We're delighted to have her because she has quite a voice, let me tell you!" he said.
He's right about that. In a recent column, describing how Vice President Cheney survived a bombing during a trip to Afghanistan, Marsden wrote, "For Dick Cheney, it must have felt just like any other day at the office: Folks who don't shave, don't bathe, and want him dead. Wow, feels just like back home!" She's called the speaker of the house "President Pelosivic," and has referred (rather poetically, all things considered) to Iranian president Mahmoud Ahmadinejad's serving up "a triple scoop of crazy, sprinkled with crazy, and topped off with warm crazy sauce."
"I think you'll see her for a while to come, as long as she keeps doing what she's doing," noted Granatstein, who two months ago moved her column to Sunday, the Sun's "biggest read of the week." Of course, doing what she's doing involves saying rude things about the cleanliness of foreigners (and liberals) and cashing in on what is her already eroticized reputation in her native country. For a woman who has been repeatedly ravaged by sex-scandal news cycles, Marsden has shown no hesitation about working her leonine good looks, online and now on television.
Image all important
As Marsden explained on a web page for Americanada, the communications company she briefly ran, "Your image is your calling card." Marsden's image surely couldn't have hurt her with Fox News. Right-leaning media has for some time been building an army of attractive fire-starters -- Coulter, Ingraham, Malkin -- whose public personae teeter compellingly on the edge of Crazy Town. The left has not yet produced a comparable army of sirens. Peter Worthington, founder of the Sun newspaper chain for which Marsden writes, described Marsden to the Western Standard almost romantically, as "good looking... articulate... but nine miles of bad road." It's surely precisely this kind of noirish notoriety that made Marsden, with her skimpy journalistic résumé, recognizable enough to secure a regular column in a big Canadian paper.
As Marsden once told a reporter about the impact of the Simon Fraser case, "Fifty percent of people want to sleep with me, and the other 50 percent want to kill me." That's a formula that should sound familiar to readers of Coulter's "Godless."
Granatstein said that he could see Marsden at Fox News. "I think she's perfect for them," he said. "She's opinionated, she's loud, she's fun. I really think that might work out beautifully for everybody." He pointed out that given the rigmarole of paperwork it takes to get a Canadian situated at an American network, "they must have really wanted her."
Given the speed with which she moved from O'Reilly contributor to a regular gig, it is clear that someone at Fox really wanted Marsden, and really liked what they got. "Red Eye" senior producer Shelly Stevenson explained by phone that she didn't make the initial call on hiring Marsden for the program, but as the executive on the show, is a big fan. "Political expertise is what she brings to the show," said Stevenson. And it's true that Marsden was recently called upon to explain a reference to the Gulf of Tonkin to her slack-jawed co-hosts. "She has very passionate opinions," continued Stevenson, "she's articulate, intelligent, and we get a lot of favorable mail about her; I think the viewers connect with her." Stevenson also raved about Marsden personally, calling her "lovely, a team player who can't do enough for the show. From the bottom of my heart I like her very much, and I respect her." Stevenson confirmed that it would be fair to say that Fox is grooming Marsden.
Stevenson said she was "aware" of Marsden's history in Canada, and added that "we make no story selection based on her past or anyone else's past. I don't think I've ever seen her be unfair about any type of story that might tread near those waters. I would expect her to be as even and fair as anyone else. I would expect no less of her." Stevenson felt no compulsion to disclose Marsden's past experiences with regard to sex harassment stories. "I would not ask anyone else to disclose her past," she said. "And I think she's not the only woman who has had to deal with this -- it's a big problem out there in the world and if anything it has probably given her sharper insights on issues of gender." Later, when Salon followed up by clarifying that Marsden's past included more than her initial claims of having been harassed, Stevenson replied via e-mail, "I do not know every detail of Rachel's history in Canada, however I feel people should always be given the benefit of the doubt. She has clearly distinguished herself in the ensuing years and is entitled to move ahead with her future and the contributions she can make."
Big gamble
Marsden did not speak for this story. After two attempts to steer me to Fox News publicists who repeatedly informed me that they had nothing to do with controlling her press coverage, since Marsden is technically a contributor, not a Fox News employee, Marsden stopped replying to my e-mails completely. For two weeks, I made many further requests to speak to her both directly and through the network, with no luck.
It may be that even if her public record helped gain her the profile she needed to land her perch in punditry, Marsden feels no need to further mine her past exploits for ink. But it's not a realistic option for her: One need look only at Marsden's Wikipedia page to find reference to the Simon Fraser case. Nexis her name, there are hundreds of stories.
And after all, it is one thing to have a private past in which you behaved badly or got into youthful scrapes. It's another thing altogether when your misadventures result in institutional upheaval and someone getting fired and rehired, and when the scrapes culminate in harassment charges well into your adulthood.
And it's another thing again, knowing that these shenanigans have been documented by the press and the courts, to pursue fame by becoming a conservative noisemaker. Fair enough to leave someone's past alone, if they want to be left alone. But when you make it clear that you are dying to be noticed and now make a living attacking the kinds of ideological groups and institutions that were once your defenders: Well, that's downright impossible to ignore. To use a term that is infelicitous and inflammatory and offensive for a host of reasons with which Rachel Marsden should be all too familiar: It almost seems as though she is asking for it.
And whatever prompted Fox's willingness, or eagerness, to take a chance on her -- for her brains, or her legs, or perhaps even for the scandalous coverage they knew perfectly well she would eventually generate -- speaks to the kind of shifts in political coverage that these post-Coulter years have brought.
From Canada, Boyd speculated, "America loves redemption. It all depends on the spin you put on it."