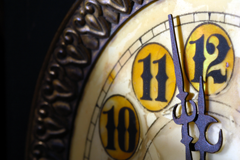 Truthiness was the word of the year because the truth was too darn inconvenient as Iraq broke into a Million Little Pieces and America lost Osama but found Obama.
Steve took over the country and started nation building, but built the wrong nation. It was good to be a Dion as Celine took over Vegas, while Stéphane got stuck with the Liberals. Layton did jack for NDP popularity, while Elizabeth May made it look easy being Green.
And Time Magazine declared the person of the year was "you" -- so it's time to update your Wikipedia entry and look back at who else was making the news this year.
January
The rain never stopped in B.C., while Paul Martin washed out in Ottawa. Steve moved to 24 Sussex, and even the cows were mad about it.
Not Ready for Prime Time Minister, Paul Martin Jr., fulfilled his destiny of becoming this generation's answer to John Turner by leading Steve Harper's ReformaTories™ to victory. And Liberal leadership frontrunners John Manley, Frank McKenna, Brian Tobin and Allan Rock ran for the hills.
After getting what every NDP leader since the birth of the party has been fighting for -- the balance of power -- Jack Layton forced an election because he thought it would be cool if his wife could win a seat in Ottawa too. After the election, Jack began flexing his now non-existent muscles, proving that he's got the worst grasp of elementary math of any politician since Joe Clark was allegedly Prime Minister.
Oprah heroically challenged the world's most dangerous liar for intentionally perpetrating an unforgivable fraud on the American people: forcing millions of citizens to buy a cheesy faux memoir. Author James Frey has apologized and vowed that from now on he'll only lie about trivial things like weapons of mass destruction.
February
Steve Harper offered a valentine to not-so-Liberal MP David Emerson. The Winter Olympics were held in Italy and made a smaller splash in North America than a Starbucks frappuccino.
Support for Quebec separatism dropped as separatists realized that with the ReformaTories™ in charge, Canada wasn't likely to last very long.
Canadian Auto Workers boss Buzz Hargrove was told to buzz off by the NDP for making outrageous claims that voting NDP in ridings where the party couldn't win might lead to a ReformaTory™ government.
Vancouver Mayor Sam Sullivan accepted the Olympic flag and planted it in a large pit on Cambie Street.
U.S. Vice President Dick Cheney went quail hunting and made Quayle look appealing after declaring open season on lawyers.
The formerly Great Gretzky's Olympic Team placed 99th as ex-all star Todd Bertuzzi played like he'd been punched in the head by Todd Bertuzzi.
March
Newfoundlanders started sealing again because they missed Bridget Bardot. The Oscars went to movies everyone respected, but no one saw. And New Orleans celebrated its first post-Katrina Mardi Gras by offering beads to anyone mooning FEMA.
Liberal leadership candidates started lining up with anyone who didn't have a party membership at the front of the line. Flaky fiddler Ashley MacIsaac threatened to run for party boss, but dropped out after realizing that his candidacy would look positively normal next to an ex-NDP premier, a former Tory leadership hopeful and an academic who hadn't lived in Canada for thirty years.
The Lord of the Rings musical opened in Toronto -- but turned out not to be Hobbit-forming.
Major League Baseball officials turned out to be the only people left on the planet who didn't suspect Barry Bonds of using steroids.
April
The ReformaTories™ delivered their throne speech, while Alberta's King Ralph was dethroned. The U.S. played hardball with softwood. And Katie Couric kissed Today goodbye to anchor the sinking Evening News.
PM Steve announced the government's new policy on global warming was to keep warming the globe.
B.C. had its first case of mad cow. The cow was a Canucks fan, crying over spilled milk after the team missed the playoffs again. The cow cheered up after the Canucks iced longtime coach Marc Crawford and alleged starting goalie, Dan Cloutier.
May
Prime Minister Steve threatened to stop talking to the media, but changed his mind when the media threatened to stop listening to him. Brad and Angelina had a baby, while Dixie Chicks haters had a bird. And magician David Blaine held his breath until red states turned blue.
Americans declared English their national language and the British laughed and laughed and laughed.
Paul McCartney hit 63, and wife Heather Mills declared she will not be sending him valentines, birthday greetings or bottles of wine, nor will she need him or feed him when he's 64. But she did send him a postcard stating her point of view that she was entitled to billions in alimony for being forced to listen to "Ebony and Ivory."
June
World Cup fever caused head-butting while Stanley Cup fever caused hallucinations -- which is the only explanation for the belief that the NHL's top trophy went to a team from Carolina.
The CBC aired The One and that's exactly how many viewers tuned in.
Tim Hortons opened an outlet in Kandahar and it's just the same as the ones in Canada, except the uniforms are bullet proof, the Timbits are shrapnel and you have to roll up the rim to win a ticket home.
Esquire Magazine reported that more American men would prefer to have dinner with Condoleezza Rice than Jennifer Aniston -- dinner being a euphemism for "dinner."
July
A penny saved was a penny burned as the ReformaTories™ cut a cent from the GST in a move that made no cents at all.
American cyclist Floyd Landis lost his Tour de France title for having too much testosterone -- delighting American sports fans who'd always felt cyclists weren't that manly.
Mel Gibson proved he couldn't hold his liquor or his tongue when he was arrested for driving while anti-Semitic. After calling a female police officer "sugar tits" and ranting about Jews, Mel blamed the booze -- which might have worked if he hadn't claimed it was Manischewitz.
August
Formerly Liberal, currently Tory, future NDP MP David Emerson cut a deal on softwood lumber, before defecting to the Republicans.
Prime Minister Steve skipped the international AIDS conference in Toronto , but proved he had his priorities in order when he made time to guest star on Corner Gas.
Raging loony, John Mark Karr confessed to the murder of JonBenét Ramsey, Nicole Simpson, Jimmy Hoffa and JFK. And Colorado police -- who'd apparently never seen an episode of Law and Order -- still flew him to Colorado to interrogate him.
September
Olympic overruns hit the stratosphere while B.C.'s border guards hit the bricks. And Pluto fell out of orbit while Popeye got E. coli from a bad batch of spinach.
Foreign Affairs Minister Peter MacKay was rumoured to be having a foreign affair -- or at least "dinner" -- with U.S. Secretary of State Condoleezza Rice. Rice had apparently placed an online ad looking for a big country that likes to be dominated. Meanwhile, MacKay's ex, Liberal MP Belinda Stronach was rumoured to be spending private time in the penalty box with ex-Maple Leaf Tie Domi.
The world was shocked when Internet sensation Lonelygirl15 turned out to be a not-so-lonely actress. Meanwhile, people were equally shocked to discover that North Korea's Kim Jong Il was for real and wasn't invented for the movie Team America.
October
Foreign Affairs Minister Peter McKay got bitchy about his ex, while ex-Tory Garth Turner got bitchy about his party. The Republican re-election campaign melted down into a steaming heap of macaca. And North Korea's Kim Jong Il joined the nuclear family.
The ReformaTories™ opted out of the Kyoto Accord after environment minister Rona Ambrose mistook it for a new hybrid SUV from Honda.
U.S. Congressman Mark Foley got paged or did the pages get foleyed? The congressman who pushed the law making it illegal to solicit sex online with minors was caught sending suggestive text messages to underage boys. While there was no evidence he ever had sex with any of the young boys, he definitely screwed the entire Republican Party.
The St. Louis Cardinals won the World Series, shocking baseball fans who had no idea there was a team in St. Louis.
November
The power went out in B.C., but the B.C. Lions overpowered the Alouettes. Republicans lost the battle, but kept their war. Pamela Anderson left Kid Rock to spend some sexy time with Borat.
Tom and Katie finally got the results of baby Suri's paternity test, put the finishing touches on their pre-nup and tied the knot in Italy.
After realizing the Seinfeld curse had killed his comedy career, Michael "Kramer" Richards auditioned for a job with the LAPD.
U.S. Secretary of Defense Donald Rumsfeld resigned to spend more time scaring the hell out of his family.
December
The ReformaTories shredded the wheat board, while the RCMP Chief shredded the records on Maher Arar. Iraq got rocky while Rocky made a comeback. Miss USA lost her crown and her top, while Britney lost her husband and her underwear.
Prior to the Liberal leadership convention, former Liberal leader Paul Martin Jr. urged defeated candidates to stand "side by side" with the new leader -- because that makes it so much easier for the new leader to spot the knives.
The Liberals elected a new prime minister in waiting, Stéphane Dion. Dion named rival Michael Ignatieff as his deputy -- which sounded most conciliatory until it was revealed that he nicknamed him "Barney Fife."
The ReformaTory motion to end same-sex marriage was defeated and Steve vowed that the issue was completely closed and the debate was over -- unless he wins a majority next election.
Steve returned over 4,000 hectares of land to farmers in Mirabel, Quebec, and offered land to anyone else anywhere in the country that will vote for him -- except Natives.
Alberta Premier Ed Stelmach vowed to get Alberta the same rights as Quebec and the ReformaTories™ promptly introduced a motion defining Albertans as a nation.
It turns out publisher Judith Regan wasn't fired for setting new lows in taste with her plan to publish a book by O.J. Simpson explaining how he killed his ex-wife...in his imagination...but because she allegedly blamed the book's cancellation on, "a cabal of Jews." On the bright side, Regan plans to start a new imprint with Mel Gibson who will pen his autobiography in Mayan. Or maybe Yiddish.
Thanks to the magic of Internet fan balloting, Canucks no-star defenseman Rory Fitzpatrick closed in on a spot on the NHL all-star team. Meanwhile, NHL brass considered increasing the size of the nets in the hopes that the 12-year NHL vet could increase his all-time goal-scoring total from nine to 10.
A new study showed that most Americans had engaged in premarital sex -- almost half of them with Paris Hilton.
The president of Sirius Satellite Radio said he hopes to offer live TV in cars by 2007. The move is expected to be a huge boon for car manufacturers who are looking forward to all the write-offs.
Poor Chevy Chase. Former US President Gerald Ford passed away at the age of 93. The cause of death was not revealed, but Russian president, Vladimir Putin, is being questioned about the high levels of radiation in and around Ford's home.
President Bush conceded for the first time that the U.S. wasn't winning the war in Iraq -- but they were winning until the cut and run Democrats won the mid-terms. As his popularity continued to plummet, Bush considered abandoning the war in Iraq for a more popular new mission, "save the cheerleader, save the world."
Related stories: