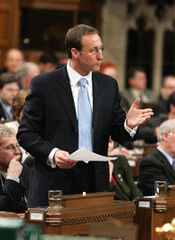 It was a Halloweenie kind of month as Steve Harper said "Boo" to environmentalists, ex-Tory Garth Turner dressed up as an independent, the St. Louis Cardinals went batty and Kim Jung Il scared the hell out of everyone. Let's look back at the horrors of October.
Hot air acts
Prime Minister Steve introduced the ReformaTories' new made-in-Alberta "Clean Air Act" which consists of "acting like the air is clean."
Critics, including green Green Party leader Elizabeth May, accused Steve of abandoning the Kyoto Protocol, but a spokesman explained that the official policy isn't to abandon it, "but to ignore it until it goes away."
Steve demonstrated the new policy by skipping a key vote on the Kyoto Protocol to attend a Toronto Maple Leafs game -- even though he's a Flames fan.
On the bright side, Steve also announced financial incentives for communities that work to control emissions, which should provide real motivation for those cash-strapped oil towns in Alberta.
MacKay gets bitchy
Foreign Affairs Minister Peter MacKay had trouble keeping his domestic affairs in order after allegedly referring to his ex, ex-Tory Belinda Stronach, as "his dog." The incident appeared to confirm that MacKay's still not over Stronach, but her alleged beau, Tie Domi is, since the minister still has all his teeth.
As a result of the MacKay insult, the NDP wants to introduce new parliamentary rules to dock MPs a day's pay for every day they refuse to apologize for racist or sexist insults -- because fines would guarantee the apologies were sincere.
BlocHead Gilles Duceppe announced that he's ready to topple the ReformaTories anytime -- even if that means an election nightmare before Christmas. Duceppe says it's a matter of principle and the principle is that new polls show the Tories hemorrhaging votes in Quebec.
War and pieces
The Canadian Forces announced plans to scrap physical fitness levels for military applicants, and from now on the only entry requirement is: "You must be this tall to enter Afghanistan."
Weapons of mass destruction have finally been discovered. Unfortunately they're in North Korea. Following the first successful nuclear test by what U.S. President George Bush calls, "the evil Korea" the rest of the countries in the UN vowed to take swift, decisive action and send in weapons inspector Hans Blix to sternly wag his finger.
Meanwhile, President Bush authorized a law to build a fence along the U.S.-Mexican border -- because that worked out so well in Berlin.
Canada's next top prisoner
Impresario Garth Drabinsky, who is currently a wanted man in the U.S. after failing to appear in court on fraud charges, is also wanted on the CBC. The Phantom of the Courtroom is creating a new CBC reality show, Triple Sensation, about a search for stars who can sing, dance and act innocent.
Meanwhile, former Canadian and much-charged mogul Conrad Black declared Canada "one of the world's great powers" as he attempts to regain his citizenship and replace Howie Mandel as host of the Canadian version of Deal or No Deal.
Everybody's going green?
Green Party gardener-in-chief Elizabeth May approached exiled ReformaTory MP Garth Turner about bringing some punch to her party. Garth Turner kicked the ReformaTories in the caucus when he allegedly shared secrets on his blog, like whom Peter MacKay's dating.
Back in B.C., NDP MLA Corky Evans suggested a Green-NDP Alliance. Says Evans, "Now that the IWA's not talking to us anymore..."
Toke 'em if you got 'em
A new study shattered stereotypes surrounding lotus land by showing that more young British Columbians smoke marijuana than cigarettes. On the bright side, the drug also appears to account for almost three per cent of the provincial gross domestic product.
Students in and around Vancouver may get two weeks off during the 2010 Olympics, so that they can volunteer to work on the games and the province can rent out their classrooms to tourists -- or at least turn them into grow-ops.
Madonna and child
Madonna adopted a baby from Malawi and sparked a major controversy because now Paris Hilton needs one too.
Proving the Hollywood adage that there are no old actors, only old actresses, 64-year-old Harrison Ford announced he's still in shape to play Indiana Jones. Said Ford, "If Stallone can make another Rocky..." Sean Connery may return as Indy's dad in the proposed sequel, Indiana Jones and the Raiders of the Lost Rest Home.
Elvis has left the stock market and found Nirvana. According to Forbes magazine, Elvis was knocked off the top of the dead celebrity earning list by deceased grunge messiah Kurt Cobain, who earned fifty million dollars -- which is almost enough to allow Courtney Love to adopt a baby from Malawi.
NBC refused to air ads for the new Dixie Chicks documentary because it could be perceived as being critical of U.S. President George Bush. In keeping with that policy, NBC has also cancelled the news.
And finally...KFC announced plans to start serving healthier chicken -- which means a lot of chickens are signing up for pilates.