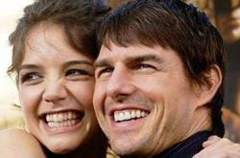 The water taps ran dry on the wet coast, but it was raining laptops thanks to Denise Richards. Steve Harper was nation building, but built the wrong nation, while the Plaza of Nations came undone because it had some screws loose.
Tom and Katie tied the knot and Britney rapped it up with her Fed Ex. Saddam Hussein was sentenced to hang and Kim Jung Il was denied cognac. John Kerry tried to tell a joke and the Republicans became a punchline.
So break out the bottled water and let's look back on November before the weather wipes out the power lines again and you can't stay connected to TheTyee.ca.
Dion de long shot
The B.C. Lions won the Grey Cup, beating one of the only CFL teams not named "Rough Riders." The Montreal Alouettes celebrated the loss by declaring that they were still the best team in their nation.
Canada's most powerful political party chose a new leader -- and the federal Liberals did too. King Ralph of Alberta was replaced by the least progressive Conservative Albertans could find, MLA Ed Stelmach.
The Liberal Party of Canada shocked observers by choosing a Liberal as their new leader and passing on the former NDP premier, the former Tory leadership hopeful and the Canadian who spent the last 30 years in the U.S. and England. Meanwhile, former prime ministers Jean Chrétien and Paul Martin Jr. urged all leadership candidates to unite for the sake of the party, just like they did.
Leading U.S. Democrat Howard Dean kicked off the Liberal leadership convention by offering the party a winning strategy. Dean urged the Liberals to stick by their ideals, stay true to their values and make sure their opponents are caught sending sexually suggestive messages to underage boys.
Parliament voted overwhelmingly in favour of a resolution declaring that the Quebecois are a nation, but Quebec isn't. ReformaTory Intergovernmental Affairs Minister Michael Chong resigned over the motion because he believes it supports ethnic nationalism. Steve told Chong not to resign because the motion is purely symbolic, unless the courts decide it isn't.
Alleged actress Denise Richards, apologized for dropping a paparazzi's laptop over a balcony at Richmond's River Rock casino explaining, "I thought it was his camera." The police announced they wouldn't lay charges against Richards. However, they did take several hundred mug shots.
Kid Rock dumped his new wife, B.C.'s own Pamela Anderson, citing irreconcilable implants. But seriously folks...Rock says he split with Anderson because she appeared in the movie Borat. Rock explained that he only married Anderson because he'd always respected her artistic choices.
Bottom feeders
Prime Minister Steve continued his commitment to the environment by refusing to endorse a United Nations motion condemning "bottom trawling" -- a method of fishing that's like clear-cutting the ocean floor. Harper explained that he couldn't back the motion because the next thing you know they'll want people to stop fishing with dynamite.
Steve cancelled plans to attend a Canada-European Union Summit, so he wouldn't have to explain his government's "made in Calgary" environmental policy. Meanwhile, a new poll shows that Canadians consider the environment their number one priority -- as long as they don't have to carpool in their SUVs.
B.C. Premier Gordon Campbell announced that the federal ban on offshore drilling could be lifted in a few years. Campbell explained that by then there shouldn't be any environmental concerns because the bottom trawlers and diseases from farmed salmon will have already killed all the fish.
Steve announced plans to hold a vote on same-sex marriage just in time for Christmas. Meanwhile, a new study shows that almost four in 10 American babies are now born out of wedlock -- proving that even talking about gay marriage is causing traditional marriage to collapse. Either that or it's all Borat's fault.
The ReformaTories also announced plans to shut most of its Status of Women offices, but Prime Minister Steve says not to worry. He plans to replace them all with sewing circles.
Giving patronage appointments a bad name
Former football hero Ron Stewart allegedly over billed the federal government by more than $325,000 in his position as ombudsman for federal inmates -- a position he rarely, if ever, played. Apparently the running back got the job 26 years ago because somebody wanted his autograph. On the bright side, if Stewart's charged with fraud he may finally meet some inmates and find out why they need an ombudsman.
Former Saskatchewan cabinet minister and lady-killer Colin Thatcher is a free man. Thatcher never admitted to murdering his wife, although rumour is he might publish a book called If I Did It.
The hit Canadian sitcom -- three words no one ever expected to see in the same sentence -- Corner Gas has been sold to Americans, which means the gas will now be sold in gallons, eh.
Nearly half of all Canadians surveyed say they're concerned that new laws to protect national security could compromise their privacy. For a full list of people surveyed, their addresses, incomes and medical records visit the CSIS website.
iPod of evil
North Korea is finally paying the price for developing nuclear weapons. The United Nations has declared that the rogue nation will no longer be allowed to import iPods. North Korean leader Kim Jong Il is currently investigating whether this violates the Geneva Convention.
Following problems with voting machines throughout the U.S., manufacturers announced their machines would be fixed by 2008 -- along with the 2008 election.
NBC television has begun referring to the violence in Iraq as a "civil war," but U.S. President George Bush says it's definitely not a civil war, because nobody's waving a Confederate flag or carrying muskets.
After ruining his reputation by attacking hecklers with a racist tirade, Michael "Kramer" Richards hired a PR expert who lined up calls with Reverends Jesse Jackson and Al Sharpton so that he could insult them.
Mel Gibson says he feels Richard's pain and wants to write him a note of support. Gibson told Entertainment Weekly, "I like him" -- although it was unclear whether Gibson said this before or after it was revealed that Richards had previously ranted about Jews.
Keeping up with the Jolies
Former pop star Britney Spears and alleged singer Kevin Federline shocked the world by ending their marriage after the trailer park diva delivered their second child. Federline announced that he plans to apply for full custody of the babies, so that they can support him.
A U.S. judge tossed out Britney's lawsuit against U.S. Weekly where she'd claimed that reports of the existence of a sex tape featuring her and K-Fed were defamatory. The judge ruled that at this point the only way Spears will ever get her career back is to release a sex tape.
A human rights group is challenging Madonna's adoption of a baby from Malawi. Meanwhile, Madonna says she's so excited about spending more time with her new child that she's already looking at adopting another one. Rumour has it she's thinking one of the Spears babies might be cute.