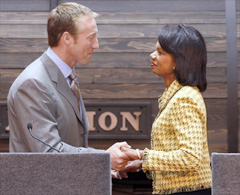 If someone hadn't already said politics makes strange bedfellows, a Canadian would have coined the phrase this September. It was the month when Condi met Pete; Hedy fell for Bob; Layton flirted with the Taliban; the RCMP kissed and made up with Arar and Belinda Tied one on.
Democracy cancelled due to lack of interest
B.C. Premier Gordon Campbell cancelled the fall session of the legislature because "democracy is boring." Campbell says taxpayers would rather have politicians spend their time on the road because people are always thrilled to receive a visit from their MLA.
Among the issues not being debated in the legislature this fall: Olympic cost over-runs. However, Campbell says he's come up with a plan to deal with those by presenting Olympic organizers with a blank cheque.
He shoots, he scores?
Former Maple Leaf goon Tie Domi apparently scored more off the ice than on it. His soon to be ex-wife alleged that Domi was having an affair with Liberal MP Belinda Stronach and, "even worse, he voted for her."
Rumours also surfaced that Domi had been passing the puck with schwingy actress Tia Carrere. Domi didn't deny the story, but who would?
Meanwhile, Belinda's former flame, Foreign Affairs Minister Peter Mackay, was rumoured to be adding new meaning to "foreign affairs" when he hooked up with U.S. Secretary of State, Condoleezza Rice. Apparently the romance ended badly since both announced they were going to start arming border guards.
New nominees are now being accepted for the title of "the world's largest undefended border," as Steve Harper announced Canada's guards will start packing heat in 2007. However, this was not as controversial as Steve's plan to arm MPs.
Rae Dazed
The Hedy Fry for Prime Minister movement was devastated when their candidate dropped out of the Liberal leadership race. Fry threw her support behind former Ontario NDP Premier Bob Rae, who thanked her and both Fry's delegates.
The Liberal party fined leadership candidate Joe Volpe $20,000 for breaking rules in delegate selection. However, Volpe refuses to drop out even though all the remaining candidates have begged him to throw his support behind their opponents.
Speaking of having the wrong supporters, Bob Rae says he's not worried that the majority of ReformaTories seem to be rooting for him to take over the Liberals. However, he does wish they'd stop sending him money to fund his campaign.
Meanwhile, Prime Minister Steve finally responded to calls to name his party's major donors. Harper has agreed to name them -- to the Senate.
Tortured logic
Canada's top police officer apologized to Maher Arar, the Canadian sent to Syria after the Mounties mistakenly claimed he was a terrorist. RCMP Commissioner Giuliano Zaccardelli didn't resign, but did promise that, from now on, all torture will be done here in Canada.
Liberal MP Derek Lee called border guards "a bunch of wimps" after they walked off the job in B.C. when they were warned that an armed murder suspect was approaching the border. Anyone who plans to go flying with Lee should expect to spend an additional seven hours at the airport.
NDP leader Jack Layton suggested the government should start meeting with Taliban leaders to negotiate a peace treaty. Layton explained this is no more distasteful than the deal he was prepared to make with Steve Harper.
As part of their crackdown on crime, the ReformaTory government slashed funds for medical marijuana, citing concerns that too many people were getting cancer just so they could legally buy drugs. On the bright side, police now estimate that nearly 18,000 B.C. homes contain a grow-up.
Cruise control
Tom Cruise made up with actress Brooke Shields, apologizing for attacking her for her claim that post-natal depression is an actual problem. Apparently Cruise was convinced post-natal stress was real after Katie Holmes discovered a 22-page feature on her kid in Vanity Fair.
Paris Hilton is concerned about her party girl image after being arrested for driving under the influence. Fans were appalled after a Paris publicist claimed she'd only had one drink.
Jessica Simpson cancelled her Canadian tour, claiming she had bruised vocal chords. However, her concerts were saved after sister Ashlee offered to come and lip sync for her.
Popeye gets E. coli, Bluto under investigation
The latest E. coli outbreak in the U.S. finally proved that millions of children were right -- spinach is gross.
Top Republicans have finally reached an agreement on torture. The U.S. government will now condone torture, but only after the first date.
Pluto has been renamed "asteroid number 134340" and Goofy is very, very nervous.
A new "celebrity" sex tape has surfaced featuring two women in bed with the actor who played Screech in Saved by the Bell. The biggest shock is that this means there may actually be hope for the actor who played Urkel.
And CBC President Robert Rabinovitch promised a parliamentary committee that CBC would never broadcast "shows that stress plastic surgery, sex and humiliation [and the] eating of insects." He went on to reassure the committee that if they ever did broadcast these shows, with the CBC's ratings, no one would ever see them.
Mark Leiren-Young, a Vancouver screenwriter, playwright and journalist, files his "Fast Rewind" summary of the news for The Tyee at the end of every month. Read previous ones here.