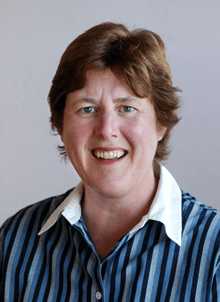 The Victoria Times Colonist has reinstated writing coach and columnist Vivian Smith, who was fired July 5 allegedly due to tourism operator complaints. The order to give Smith her job back came from corporate owner CanWest Mediaworks. Her column resumes August 20.
Dennis Skulsky, president of publications, released a statement yesterday saying that "while advertisers are very important...our readers expect and deserve impartial reporting of the news." It goes on to reassure TC journalists that "they are free to cover any organization or subject with full support of the editor and publisher."
According to CanWest's Director of Communications, Dervla Kelly, Skulsky was "very upset" when he learned about the way Smith's contract had been handled. And he was concerned about newsroom morale and the fact that a second columnist and a freelance feature writer had both quit in protest.
"We just didn't know about it," Kelly said, explaining why the corporation waited three weeks to intervene. "It was a local issue -- on blogs. "
Publisher Bob McKenzie also issued a statement on July 23 apologizing to staff for his "error in judgment" in cancelling Smith's contracts. He is on vacation and unavailable for comment.
'Without fear or favour'
Smith says she wasn't told why McKenzie changed his mind, but then she was never told why she was terminated, either. In agreeing to resume her column, Smith says that first she confirmed that she would be able to write according to journalism's professional standards.
"I need to be able to write without fear or favour on matters that I think will be of interest to readers," Smith told The Tyee, adding that she thinks the incident might be useful to publishers everywhere. "I think it will remind all parties about the importance of separating advertising concerns from editorial."
The story began July 2 when Vivian Smith, who has written a human-interest column for the daily since September 2003, ran an opinion piece recommending free alternatives to pricey attractions such as high tea at The Empress hotel ($54 per person) and the famous Butchart Gardens ($23 for adults).
Smith, 53, has almost 30 years' experience in journalism, including 14 years at The Globe and Mail as a reporter and editor. She moved to Victoria and went freelance in 1994. She writes for a number of national magazines, and has served as a contract writing coach at other CanWest papers, including the Calgary Herald.
'No reason'
On July 5 the paper ran a front page correction to a minor factual error in the story -- children under age five are admitted to the garden free, not for $2.50, as Smith reported -- and elaborated on the other diversions Butchart offers children. Standard practice at the TC (and many dailies) is to print corrections in a regular spot on page A2, or for columnists to note corrections in their next column.
The same day, Editor-in-Chief Lucinda Chodan met Smith to inform her that both her contracts were cancelled. Smith had been the paper's writing coach for the last four summers, every May to July, to coincide with the arrival of summer interns.
"She gave no reason. But she volunteered that the publisher does not make hiring decisions based on advertiser pressure," Smith said in a July 21 interview with The Tyee. "I wish there wasn't this silence -- everything is speculation."
Like everyone else, Smith has been getting most of her information about what happened from independent journalist Sean Holman's Public Eye Online blog.
On July 11, Holman published an interview with Butchart Gardens public relations director Alison Partridge, in which she confirmed a delegation of local business representatives met with publisher Bob McKenzie to complain about Smith's column (the day before Smith was fired).
'Here we are struggling'
Partridge told Public Eye that the local tourist economy is struggling and they were surprised at the TC running a column that implied they were "gouging" tourists. Partridge added that McKenzie agreed the column shouldn't have run, and indicated that the column would "probably" be killed.
"He realized it was inappropriate and it shouldn't have run," Partridge told Public Eye. "And here we are struggling. It's a bad year for everyone. If tourists don't come to Victoria, he doesn't sell as many papers."
Since Smith's firing, and now after her rehiring, TC management has declined to make a public statement on the reasons.
Columnist and University of Victoria journalism professor Lynne van Luven had little doubt that McKenzie fired Smith to curry favour with advertisers, which is why she resigned July 19 -- despite worrying that her action could damage students. The TC and other CanWest papers provide co-op jobs and internships for students in the professional writing program. And the program's sessional instructors are sometimes drawn from among TC journalists.
"I discussed it with my dean and we agreed: I couldn't stand up in front of students and teach journalism ethics if I just ignored this," van Luven told The Tyee after resigning July 19.
Freelance feature writer Janis Ringuette resigned July 20 in a letter pointing out that not only was Smith's column a reasonable reflection of what many people think about the high price of tourist hot-spots, but the front page correction on July 5 about the "numerous activities" for children was misleading. "During regular summer day visits there are no activities for children," Ringuette wrote.
Talk of a 'chill'
The firing put a "chill" on the newsroom, according to insiders who spoke on the guarantee of anonymity. They asked what this instance might mean for future reporting. Might politicians who run campaign ads be above questioning? Would government ads mean that reporters can't question elected officials who authorize them?
"This is ridiculous: we're talking about flowers!" said one insider. "It's demoralizing for reporters."
TC journalists also worried about the implications for readers: CanWest is the largest media company in Canada and owns the Vancouver Sun and The Province.
News of Smith's firing did not appear in the Sun or Province. In fact, few mainstream news media on the West Coast picked up the story.
But Smith's firing attracted the interest of Geoffrey Stevens, a columnist for two TorStar-owned papers: the Kitchener-Waterloo Record and Guelph Mercury, and a former managing editor at The Globe and Mail. On July 17, he listed Smith's termination as among the examples of how concentration of media ownership has turned "pretty good operations into shoddy but profitable ones."
Related Tyee stories: Shannon Rupp has written other pieces about journalistic ethics (or lack thereof) here and here. Donald Gutstein wrote about the clout of one advertiser here.
© Shannon Rupp. For permission to reprint this article please contact the author: shannon(at)shannonrupp.com.