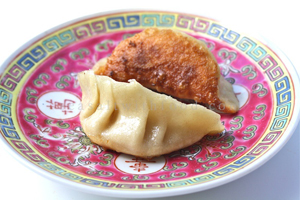 According to reference books about Chinese holidays, dumplings that are served around Chinese New Year are good luck because they resemble gold ingots. I've never been anywhere near a gold ingot, but there's something very satisfying about biting into the crispy golden bottoms of freshly made dumplings. For me, it's not Thanksgiving or Christmas feasts with my family that I remember most from my childhood, it's the times we made dumplings together for Chinese New Year.
My widowed, single mother was a busy physician struggling to make ends meet, so there often wasn't time for a slow cooked meal from scratch. When we weren't going out for fast food, we had all kinds of convenience foods from the cupboard or freezer at our fingertips. I learned how to shake and bake, nuke the frozen mixed vegetables, make dip out of dried onion soup mix, whip up casseroles with canned mushroom soup, and stir in the correct proportions of margarine and milk to the neon orange no-name imitation KD. We'd eat our supper in 15 minutes, often with little or no conversation, and then disperse afterward to our rooms or the TV room. The years following my father's death were difficult for all of us. My mother was often overwhelmed and exhausted. I was withdrawn and confused, unable to comfort my younger siblings or even myself.
There were occasions, however, when my mother had the time and energy to cook -- sometimes a stew, a roast, or Ann Landers famous meatloaf (made in bulk). She'd rarely cooked Chinese food, not having learned to cook while growing up in Hong Kong in a large household. The number of courses and the amount of preparatory chopping and marinating involved in Chinese cuisine were daunting. But once a year, she would haul out a thick Chinese cookbook and we'd join her in the kitchen to help out. I'd wash down the table while she'd go over the ingredients and methodology.
First, she would chop up cabbage and put the chunks through a manual grinder. She'd add ground pork to the bowl of shredded cabbage, splash in some seasonings, and blend everything together with bare hands. In another bowl she'd mix flour and water together, and when the proportions were just right, she'd start kneading, transforming the paste into a muscular dome of dough. She'd tear off a wad, knead it down to a disk, roll it in flour, then crank it through an old pasta machine. Side by side, my sister and I would take cookie cutters to cut circles out of the dough as it unfurled before us. Our mother would gather the scraps to re-roll and for us to re-cut, tossing a few lumps for our little brother to play with until he was old enough to join us at the dumpling assembly line.
In between cranking out the runners of dough, my mother would stuff the circles with the perfect amount of filling, crimping the edges together swiftly and expertly in a way I could never imitate. When the rows of dumplings packed the trays, she'd move to the stove, boiling half of the dumplings and frying the other half. The sound of bubbling and sizzling would fill the kitchen. Meanwhile, we'd wash the table and our hands for the finale: the steaming pillows of dough as well as the crisp ones that glistened with oil. Almost as soon as they hit the serving plate, we'd dive in, swiftly dipping them in soy sauce and vinegar before devouring them. The second batch also zoomed from mouth to throat to belly. By the third batch, we'd be munching more thoughtfully, the edges of hunger and anticipation smoothed away. Finally we would sit back in our seats, sated and dazed.
'You're in good hands'
Years later, I found out that our use of the pasta machine and cookie cutters wasn't typical. Traditionally, the dough is fashioned into a long cylinder with small chunks sliced off and deftly rolled into a circle with a small rolling pin. When I first saw this process in a local noodle house, I marvelled at the speed and dexterity of the cooks just as I'd marvelled at my mother's earlier. Somehow this ordinary process seemed almost magical. When I became a mom myself, I would bring my son to watch the dumplings being made. He'd perch on a chair beside other fascinated kids, while the chefs would look up occasionally to smile.
Like the kids pressed up against the glass, I still find a strange comfort in watching those experienced hands create morsel after perfect morsel, as if to some hidden rhythm. I often feel the same way witnessing anyone doing any activity with great skill and pride in craftsmanship. In those overlooked niches of our everyday existence, there must be so many tiny moments of beauty where a human does or creates something with such ease that it seems as natural as breathing. It doesn't have to be as complex as an Olympic skater doing a triple toe loop or a classical pianist playing Liszt. It can be a mechanic fixing an engine, a baker making a pie, a tailor repairing a torn seam, or a doctor delivering a baby (something I wished I could have witnessed my mother do while she was still a practicing doctor).
Think of that saying, "You're in good hands." It means that you can let go of worry, and feel assured that you're with someone who knows what he or she is doing, who can take care of what needs to be dealt with, who will guide, advise or even protect you when you are feeling vulnerable in this crazy, unpredictable universe. My mother's competent, confident hands delivered babies, sewed sutures, created art, played music, and also made delicious dumplings. When we made them with our mother, my siblings and I knew we were in good hands.
Tradition best shared
The time when I could lift my son onto my shoulders so he could see the dragons and lions cavorting in the Chinese New Year parade in Chinatown is long past. He was born in the Year of the Horse 12 years ago, and now can almost lift me. He is also the age I was when I started making dumplings with my mother, when she let me move past the cutting out of dough circles and into filling more than the token few.
My son has made dumplings with me before, albeit with pre-cut dough circles from a Chinese mall in Burnaby. Our stripped-down dumpling-making doesn't match the grand floury productions of my childhood, and I still can't crimp the edges of my dumplings the way my mother could.
But there's something from those few times when we cooked together as a family that persists today, when I cook with my son -- a sense of satisfaction that comes with making food that will nourish ourselves and others, and the pleasure of a cultural tradition being passed on, one he will be able to share with the significant people in his life during the many Chinese New Year celebrations to come. Perhaps more importantly, it's a way for me to pass on a story to him about his grandmother, and how during those brief, sporadic but magical times, she bound us together as a family.