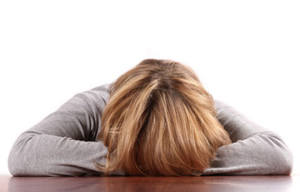 With each year that passes, I am alarmed to discover that I'm becoming more like my mother. Whether it's a dire phrase muttered while dealing with my son's latest strike against homework, a certain skeptical squint in a photograph, or a sudden impulse to talk to strangers with squirmy kids in a coffee shop, my mother seems to be re-emerging through my words and gestures at unpredictable times and in unpredictable ways, even though she died over five years ago.
I have vivid childhood memories of those evenings when my mother would herd me and my siblings out for supper at the nearby White Spot or Snow Garden. As soon as the waiter left with our order, plunk! Her head would be down the table. Exhausted after a long day of work, she'd stay in that position, eyes firmly closed, seizing every possible second of rest until the food arrived. I'd furtively scan the restaurant in case anyone was looking at us, feeling an uneasy combination of sympathy and teenage mortification.
When my father died of cancer at the age of 42 my mother had to return to the practice of medicine, scrambling to fill the gaps in knowledge after having been absent from the profession for over eight years, and taking on locums and house calls to make ends meet. Sometimes she'd be waiting for hours late at night at the hospital for a patient to give birth, and still have to turn up at the office in the morning to deal with a queue of patients that would stretch out the door and down the hall.
Mercurial mom
Even before being widowed, my mother had been mercurial. But after my father's death, the stresses of returning to medical practice while taking sole care of three children took the volatility to new heights. Dirty dishes in the sink or some other small transgression could trigger a towering, lingering rage. I had two or three hiding places I could flee to when things went wrong at home. A few occasions, when one of us (usually me) spoke or acted out of line in the car, she'd suddenly floor the accelerator to jolt us back into compliance. We had furious debates about politics (she stayed true to Vander Zalm to the end), religion, and sexual orientation (to her, homosexuality was a sin as enshrined in the Bible) that were never resolved.
In public, she had no qualms about yelling her head off at staff in stores or restaurants (which is at least one thing I've managed to refrain from so far, thanks to a good dose of my father's stoicism). Nor did she hold back if she felt any of us were being ill-treated. I still remember her waving her fist at a boy from Grade 1 who'd hit me after school the day before. "You'd better stay away from my daughter or the same will happen to you!"
I was also in awe of her. Not only could her fingers run through repertoire by Rachmaninoff, Beethoven and Chopin on the piano with ease, she could pick up a ukulele or accordion anywhere to play folk tunes. She could paint a western-style still life in acrylic paint, or bamboo and flowers in Chinese watercolour, as well as disassemble -- and reassemble -- any appliance that needed fixing.
After her retirement, she'd sketch portraits of people around her on napkins and the back of envelopes, and then hand them the results. If she saw cranky children at a nearby restaurant table, she'd fold paper boats out of torn off pages from magazines or newspapers to give them something to play with, and strike up an animated discussion with the whole table.
Fierce, creative, eccentric, she didn't match any of the stereotypes of what others thought a doctor should be like. Nor did she fulfill the stereotype of a hovering, soup and stew-making immigrant Chinese mother (our shelves were packed with Hamburger Helper, instant ramen and Kraft Dinner). No greeting card existed that could describe who she was or what she meant to us. In fact, it's taken me almost a decade of occasional attempts at poems, stories, and essays on the subject to even scratch the surface. It wasn't until I became a parent myself that I got a firsthand taste of what she must have experienced, from immobilizing fatigue to extreme frustration to fierce protectiveness, and came to better understand who she was and why.
Ode to a mother
Some mothers might be (or aspire to be) the Martha Stewart-like domestic goddesses or saints depicted in those cards, but I suspect most mothers are as human and flawed as anyone else, much as we might unfairly judge them for this when we're kids. I think of landmark Canadian poet Irving Layton's famous elegy for his mother "Keine Lazarovitch 1870-1959" that refers to her as "comfortless, vituperative,/Ignorant, glad, and much else besides" but also recognizes her unassailable dignity and justifiable rage against "the inescapable lousiness of growing old." Or I recall the brilliant, unanchored mother described in Jeanette Walls' best-selling memoir The Glass Castle, which opens with the memorable scene of the successful author sliding down her seat of her taxi to hide when she spots her homeless mother rummaging around in a dumpster in an alley.
The figure of the mother can be powerful in presence as well as absence. American poet Sharon Olds' ninth collection of poetry, One Secret Thing, provides a shifting, vivid but ultimately loving portrait of her difficult mother. Her powerful poem "To See My Mother" about her mother's last hours somehow manages to convey the profound significance that one human being can have for another, transcending time or place.
There are a number of superb books of poetry by Canadian poets that contain honest, unflinching poems on the reality of mothers and motherhood, including Sharon McCartney's Under the Abdominal Wall (poems set in childhood about her mother's struggle with her dying sister's care, as well as poems about giving birth and becoming a mother); local Métis poet Joanne Arnott's Mother Time: Poems New & Selected (poems that span 20 years of mothering); and the comprehensive anthology White Ink: Poems on Mothers and Motherhood edited by Rishma Dunlop.
Here's a short poem from one of this year's B.C. Book Prize nominees Susan McCaslin (winner to be announced today) about the role of mothering and the effect of a child's eventual independence and departure. It is contained in her most recent book of poems Demeter Goes Skydiving (University of Alberta Press, 2011), which is a finalist for Alberta's Robert Kroetsch Poetry Book Award as well as for B.C.'s Dorothy Livesay Award. The book reinvigorates the Greek Demeter-Persephone myth by transplanting it into our contemporary world of malls, freeways, celebrity-obsession and reality television.
(McCaslin has also written about her mother's struggle with mental illness in an earlier book of poems, Flying Wounded.)
Demeter, Exiting the Mother Role, Falls into Presence
By Susan McCaslin
Farewell rounded breasts, milk-stained, held in an infant's clutch.
Farewell roundelays and rocking, rippling morning lullabies.
Farewell reassuring hands, guiding her first stumbling steps.
Farewell sendings off to schools, culture's corridors and twists.
Farewell teeming adolescence, the slow construction of a self.
Farewell resistance and protection, the niggling fights and snares.
Farewell admonitions, anticipation of barriers and blackness.
Farewell holding and letting go, letting go and holding
into the deep relinquishment, icon of disappearing feet,
slender body tilting into the rifled, ragged earth.
Now her daughter will be dangerous, afloat, reckless, her own
verisimilitude, charm and plenum.
Demeter, hovers in the abyss, face to face with the spaciousness
of her own silences.
© Susan McCaslin 2009 from Demeter Goes Skydiving (University of Alberta Press, 2011). Reprinted with permission of the author and publisher.