[Editor's note: Earlier this fall, The Tyee Solutions Society put out a call for submissions asking residents to share stories of the renter life. The results exceeded expectations -- when people wrote about home, they opened their hearts. The result is an occasional series of stories about life, from British Columbians who are living it as renters. See this story's sidebar for details about a fun renter storytelling night this Wednesday, Nov. 13 in Vancouver, or find the Facebook invitation here.]
The cellphone rang. I pulled off to the shoulder of the road. Coverage is spotty on the Okanagan Connector, but the message came through loud and clear. "They took the offer!!!" It was my wife Sheila on the phone, from the house we were renting in the Okanagan.
It was the happiest God damn moment of my life. Sure, the day my wife said "yes" was fantastic. And of course, so were the birth of my son and daughter several years later. This, however, was the opportunity to lay down roots.
I had spent so many years telling myself that I didn't earn enough money to be a homeowner, and that somehow -- in Vancouver at any rate -- I hadn't quite "made the grade."
Now it felt like I had. The only catch was that we had to move away from the Lower Mainland to do it.
For years, we had rented a house on East 24th Avenue, just off Main Street. Life was actually pretty damn good.
Our landlords were a sweet couple from Victoria. They had raised their two kids in this modest bungalow, and we found out about it through close friends of ours who happened to live next door. I still recall Mrs. Cadman saying, "We're going to rent it to you for $850 per month. We hope that's not too much!"
That was in 1996. Even back then, houses in East Vancouver were touching the $400,000 mark. Quite a few of our friends were strapping on big mortgages and resorting to renting out basement suites and putting off costly renovations. "We're just dying to save up enough money so that we can finally take over the space downstairs," one friend said. "Our renters are driving us nuts."
The timing seemed right
Due to sheer chance and the beneficence of my employer at the time, our family moved from Vancouver to Penticton just five days before Sept. 11, 2001. We wanted to try small town, or at least small city, living. It was an adventure. Our kids were young, aged five and three, and we knew that it would likely be that much more challenging if we waited.
The timing seemed right. I was able to work out a telecommuting deal with my employer and could come down to the big city from time to time and enjoy the cake of urban living. "You have a big-city salary in a small town," one friend told me. Well, not a "big" big-city salary, but enough to pay a mortgage.
And what a house it was! It was mid-century modern -- the kind that designers splash $100,000 on in renos without thinking. It was an open-plan, post and beam, single-storey home with a finished basement.
The house sat on a 50x120 foot lot, with a garden and a property line that backed on to a farm that a rich family kept in its natural state to avoid paying onerous municipal taxes. There was a nice shady tree out front, and a unique breezeway that we liked to call "the atrium."
There was more space -- 2,800 square feet of it -- than we could have ever used. (By the time we moved out, every room was full). A small patio off the kitchen received full sunlight for most of the day. You could get a hell of a tan.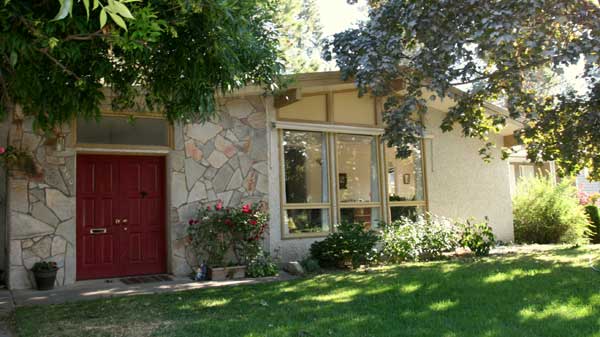 And the very, very best part was, it was exactly 160 steps to Okanagan Lake and the prettiest secret park in all of Kelowna. Now it was all ours -- for $218,000.
Life, though, had other plans. Less than six months after buying our house, there was a management shake-up at work. I had a new boss, and she wasn't a fan of telecommuting. The choice was clear -- sell the house and move back (and pay much higher rent), or tough it out.
Then the mortgage went up
So that's what we did. I went back to freelancing, and my wife found a full-time job in a school district. It wasn't perfect, but at least we got to stay in our dream home.
Except that it, too, was entering middle age. We had pest infestations. Squirrels embedded themselves in the garage. The stove packed it in, followed by the dishwasher and then the fridge. The roof needed to be replaced, and so did the furnace and the hot water heater. A leaking faucet on the outside of the house led to a minor flood in my office.
Then the mortgage went up. We'd go floating-rate interest for a while, and rates would rise. We'd lock in, and rates would fall.
But man, we had fun. My son built a BMX track in the backyard. With the blessing of our farmer neighbour, he and his friends could roam around the meadow underneath those majestic, fragrant Ponderosa pines. I would trailer my kayak down to the beach. I would go swimming after mountain biking, hiking, running, or, well, I'd go for a swim just because I could. It was like summer camp, from May to October.
The one thing that happened -- similar to Vancouver -- was that home values increased, or better said, "exploded." There was the gusher of oil wealth in Alberta and, combined with the aging baby boom, Kelowna became ground zero in the second home/recreational property rush.
Our municipal assessment -- not always the best indicator of prices, but it's the best we've got -- tripled in six years. And like many homeowners, we tapped into our house and its ultra-low line of credit. We were warned, though, that the Okanagan housing market could go through terrible boom and bust cycles.
Back to our future
In 2008, we moved to North Vancouver. We were falling behind financially and there just weren't many decently paying jobs in the Okanagan. And strangely, despite a pretty honest effort on our part, most of the people we called our true friends still lived in Vancouver. My wife missed the ocean. I missed the Biltmore Cabaret.
As we had with our former home on East 24th Avenue, we heard about this North Vancouver house through close friends. The rent, again, was really cheap.
I took on a well-paying contract. My wife, as she always does, easily found a job in her profession. We stuck a "For Rent" sign on the house that had pretty much been the only home our kids had ever known, took a deep breath and called the moving company.
A month before we moved in, a neighbour of mine here in North Van said: "It could all go well as long as you don't mind being the poor renters at the end of the block." I never gave it much thought, but he was absolutely right. They don't call it pride of ownership for nothing.
So, we've kind of come full circle. We've rented. We've owned. (When we returned to Vancouver, I even became a landlord for a while, which was a trip unto itself). And now we're back to renting again.
Being a writer has never been easy. I rather doubt I'll ever be in a position to buy a house again, and I guess I'm good with that. Might just be me, but I think that a lot of easy money has been made in Vancouver real estate. But then again, I said that when single-family homes crested $300,000.
There's a lot of envy that goes on when you're a renter; and as I found out, there are a lot of headaches when you're a homeowner. And becoming a somewhat unwilling landlord soon became my worst nightmare, ever.
In the end, I suppose it's like love: better to have bought and sold than never to have owned at all.
You really should try it if you get the chance.