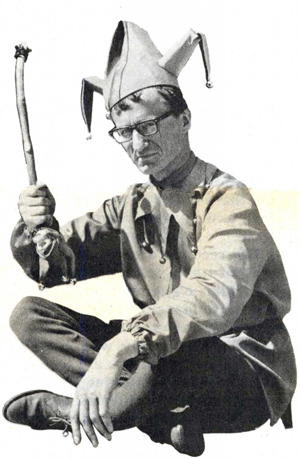 [Editor's note: This is the latest installment of an ongoing Tyee series "Best of BC's Indie Magazines." Today's story comes from Vancouver's The Dependent Magazine. Stories from the long-form focused website read like no other: from inside the city's taxi empire to the life of swingers, there's always something intriguing to dive into. Read more about The Dependent in the sidebar.]
"A little nonsense now and then is relished by the best of men." - Edward Lear
On April 1, 1968, a tall, bespectacled, 35-year-old former social worker named Joachim Foikis received $3,500 from the Canada Council for the Arts in order to finance a unique, self-imposed mission unseen since Elizabethan England: reinvent the vanished tradition of "Town Fool."
Dressed in his traditional "fool's motley" (a tricornered hat, handmade red-and-blue outfit, and bauble), he was photographed dancing a merry jig inside Vancouver City Hall while lawyers, citizens, and the mayor himself stewed in impotent rage.
"When I read about it this morning, I saw red," griped Mayor Tom Campbell, a notoriously humourless establishment figure despised by the city's youth. "An old-age pensioner, who's worked all his life for his country, gets $1,200 a year. Here's a fellow who refuses to work and they give him a $3,500 young-age pension. Couldn't we use it for public housing for senior citizens, retarded children, pensioners, deserving students?"
The 35-year-old Foikis, who held two university degrees (one in economics from the University of Berlin, and the other in literature from the University of British Columbia), was already well known throughout the city for his off-kilter antics. His aim, according to interviews with The Sun and The Province, was "to spread joy and confusion" while at the same time "mock the four pillars of society: money, status, respectability, and conformity."
He spent his days in the courthouse square speaking with anyone willing to talk. He petitioned City Council to institute a "Fool Tax" (one cent per ordinary citizen, and two cents per politician). He held street parties for the residents of the Downtown Eastside. He attended the annual general meeting of the Architectural Institute of B.C. with a troupe of mimes and a loaf of bread. He purchased a wagon drawn by donkeys, and drove it up Cambie Street in the middle of rush hour. And, for his commitment to the ridiculous, he enjoyed a level of celebrity that transcended his surroundings, being profiled by the New York Times and The Globe and Mail, and finally finding himself in 1969's Encyclopedia Britannica Yearbook.
For three years -- starting with his "coming out" at the city's 1967 Canadian Centennial Celebrations (where he was threatened with a knife by a sailor who thought he was a communist) -- he played the Fool, promoting discussion, drawing ire, and promulgating joy, before vanishing just as abruptly as he'd appeared.
Insulting the rat race
"Vancouver's Town Fool disturbs you," reasoned a 1969 editorial in the Vancouver Sun. "He is warm and friendly, easy to talk to, almost always cheerful. Yet he challenges. Not only in what he says but by being who he is, he insults your rat race -- the business of working for a living or for a reputation or to acquire things. Joachim Foikis has opted out with style. What he's saying is that we're caught up in the things of this world more than we want to admit to."
"Foikis was well-read in the arts and philosophy," explained a 1973 feature in Dick MacLean's Leisure Magazine, "and could quote Spinoza as easily as he could quote Socrates, Alice in Wonderland as easily as he could quote Mother Goose."
The Fool's job, Foikis explained, citing ancient traditions from Egypt, Greco-Roman empires, and 14th-century Europe, "was to constantly remind the king he was not God -- to keep him humble. The fool was on the bottom of the social order, the king was on the top -- but they were identical. In medieval morality plays the fool was exempted from the last judgement -- because he had already judged himself."
It was a position that the husband and father of two decided on more or less impulsively, early in 1967, after wandering through a number of careers from social worker to labourer, and part-way through training to become a librarian.
"One day, about a year ago, Mrs. Foikis returned from a walk with the children and Joachim announced his decision 'Just like that,'" reported The Province, in an interview with Foikis's wife.
"He was going to become the Town Fool, and without more ado, they roared off to town to buy some material for his costume."
"Our needs are slight, so I can work for a year at a good salary, then take a year off to read," Foikis explained in a 1968 interview with Weekend Magazine. "It is foolishness that man should be the servant of money. Money should be the servant of man."
A fool for you
And so Foikis began to spend time downtown, hitchhiking in each morning and wandering the streets, stopping anywhere that people would gather. He began a Fool of the Month contest, but soon gave up due to the sheer volume of mail he received. He arrived at a public meeting on education held at Point Grey Secondary School, and, despite having two university degrees, declared that education was "a waste of time" and that the building's doors should be locked forever. At the same time, his reputation grew, both locally and across North America. He received an invitation to meet Secretary of State Gerard Pelletier (which he turned down). He was profiled on the CBC, and received accolades from noted journalist Richard Needham. He appeared in The Sun and The Province on such a regular basis that he now has two separate clippings files in the Vancouver Public Library.
"The biggest fools always get lots of publicity," Foikis stated, nonchalantly, regarding his newfound celebrity.
However, not everyone shared the media's love of the Fool. In fact, news of his Canada Council grant polarized public opinion, and drew considerable criticism from politicians, civic figures, and locals citywide. The grant was so contentious that lawyer Peter J. deVooght sought a writ of prohibition to prevent the Council from awarding it at all.
"We have to get by on $1,200 a year," griped Vincent Yates, president of the B.C. Old Age Pensioners' Organization. "He's too damn lazy to get a job and do some work."
"Of course, the charge that the Fool is lazy and does no work is totally false and is based on a misconception as to the nature of work," a 1968 editorial in The Sun argued. "The Fool goes to the young people and to the Indians on Hastings Street, not with lectures or charitable handouts or demeaning welfare payments, but planning parties and happenings to restore their lost sense of self-respect. Who is more enlightened, we or the Fool? [...]The fundamental objection to the Fool goes far deeper than the charge (which we have seen to be erroneous) that he does no work. It is based on an unreasoning fear and hatred of anyone who dares to ridicule our obsession with material goals. We tolerate -- even encourage -- people who speak scornfully of God or Religion, or Canada, or Love, but let someone poke fun at money and our penchant for status-seeking and the cry immediately goes up, 'Burn his donkeys!' Unlike the hippies, whom he superficially resembles, the Fool stands for imaginative involvement in the problems confronting society."
"The trouble with many people is that they can never reach a threshold for what they think are their needs," Fokis responded in The Sun shortly thereafter. "They keep escalating their needs up and up, and they can't keep up with them. I don't want to spend more time than necessary making money. I want the freedom to study and philosophize."
However, despite the discourse rampant in the local media, nothing could change the fact that after a year of serving in an unofficial capacity, Foikis was no longer simply a fool -- he was a fool with the blessing of the federal government. Throughout 1968 and 1969, he continued his activities in earnest -- staging a dance-party at the corner of Granville and Broadway (where he was arrested for disturbing the peace), embarking on a lecture tour of Ontario where he spoke on the nature of folly (where he was again arrested for disturbing the peace), purchasing musical instruments to host a musical "happening" in Pigeon Park for the city's homeless, and finally unveiling his infamous donkey cart bought from a farm on the Island.
"Downtown rush-hour motorists Friday were the first to experience coexistence between horse-powered engines and donkey-powered carts when Foikis went out for a test drive," reported The Sun on the affair. "They rested -- sometimes after only a few hoof-clops -- in bus zones, intersections, and in any lane they happened to be travelling."
Foikis enraged motorists and baffled magistrates wherever he went (the cart's maiden voyage was to the front steps of City Hall), often tying the animals up right on the sidewalk, and offering rides to anyone who asked.
"Take them up into the council chambers," remarked a bystander, to The Province. "They wouldn't know the difference."
Council was, naturally, unimpressed, and magistrates, relying on a bylaw which prohibited the keeping of livestock within city limits, impounded the animals four separate times. On one occasion, according to Foikis' own recollection, he was approached by a magistrate while attempting to hitch his donkeys back to the wagon, and (again) charged with disturbing the peace.
"Sir, your donkey is polluting my city." the magistrate said, to which Fokis replied, "Sir, your city is polluting my donkey."
'I have helped quite a few in their folly'
Foikis began to drift closer to the fringes of society by the middle of 1969, abandoning his traditional fool's motley for street clothes, and allowing his hair and beard to grow out until he more closely resembled the hippies with whom he had always been associated. His wife, tired of his seemingly endless wanderings, left for her native England, taking their two children. His grant depleted he survived on welfare, staging happenings with less and less frequency, the novelty of his position beginning to diminish amongst the local population.
In his last recorded interview of the '60s, in Dec. 1969, Foikis seemed weary of urban life and of Vancouver, making mention of a desire to try "the poverty trip," and shortly thereafter vanished from the city altogether. He spent the next 15 years in self-imposed poverty on Lasqueti Island, living off of the land, with -- according to a report from the Seattle Times -- "Lyn, the sweetest of nymphets." He finally resurfaced in Victoria, working as a clerk for the Ministry of Environment, and from there reports of his activities become even spottier. He is said to have appeared at the Vancouver Public Library demanding that his clipping file be destroyed, then returned several months later pleased that it was still intact.
He was reported to be simultaneously shy of the media (meeting reporter Jim Christy, he identified himself as "a friend" of Foikis' and answered all questions in the third person), and eager to reappear (later consenting to a 1990 interview with Monday Magazine, where he outlined the highs and lows of his career). After this, all signs of Foikis disappear from the mainstream media. No articles contain his name, and retrospectives on his career seem to have slowed to a trickle. And finally, in 2007, at the age of 72, Foikis died -- in a sad but fitting end, after he fell from a wall while dancing to a band in Victoria's inner harbour.
"It was something to get outside myself," Foikis concluded of his career in a 1968 interview with Weekend Magazine. "I was too introverted. But now I have met so many people. And I have helped quite a few in their folly, I think. The time will soon come when I will no longer be a fool. I would like to go back to my books. Maybe I would study at university again. Maybe there would be someone to take my place. There will always be a need for a fool."