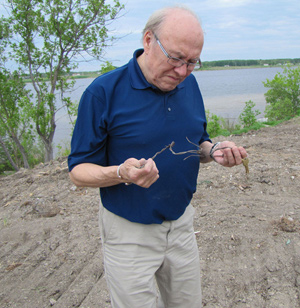 [Editor's note: A few days after his seventh birthday in September 1948, Theodore Fontaine walked with his parents to the Fort Alexander Indian Residential School in Manitoba where he was left. For the next 12 years, Fontaine endured the physical, sexual and emotional abuse now synonymous with Canada's residential school system. Broken Circle is his story of a childhood lost within the company of the school system's 'black-robed strangers' and an adulthood spent reeling in the aftermath, and then finding ways to heal. This first of two installments from Fontaine's memoir is drawn from the chapter 'Chubby.']
An unlikely catalyst in my confronting my residential school experiences was my dear friend and older cousin Allan. He was the second-youngest of a large family of more than a dozen children, all of them older than me. Their mother was Dad's sister Sophie. Although Dad and Sophie were very close and the families visited as much as possible, transportation in the late 1940s and early 1950s was an adventure, even for short distances. I remember well the visiting done with Mom and Dad before I entered school and, most vividly, during the summer holidays. It allowed me to get to know our uncles, aunts and cousins more closely. Sophie and her husband, Ambrose -- we knew him as Mis-Kus ("Red") -- lived approximately two miles from us, past the residential school.
Allan was more than three years older than me, and as a kid I thought of him as a big macho guy I only saw at family functions, visits, weddings or funerals. His playfulness and work ethic were always evident, and I looked up to him as someone I wanted to emulate. I was actually a little afraid of Allan and stayed close to my family when he was nearby. When I entered residential school he'd already been there for two or three years, so we had no relationship there.
Not for Indians
We saw each other the odd time during holidays. I remember another cousin and me going with Allan to an afternoon movie in Pine Falls during a summer holiday. I don't recall much about the day except that we wandered around after the movie and heard hollering, laughing and splashing at the swimming pool, which was close to the theatre. We peered through the wire fence there and saw kids enjoying the cool water.
After much debating about what these white kids would do if we took a swim, the blazing sun made our decision. We ripped off our clothes, left them piled by the fence and leapt into the water. An adult soon came over and summoned us to the pool's edge. I thought, "Oh-oh, this pool is not for Indians." Sure enough, we were told we couldn't be there.
Allan argued.
Finally the attendant stated bluntly that we couldn't be in the pool because we didn't have swimming trunks. Our undershorts were too revealing. Although I had felt safe being with my big cousin, this was an instance of our not understanding what was proper or not proper around white people.
Chubb
Another memory I have of Allan is him chasing me around a snowbank at his house during the Christmas holiday, and burying my head in the snow after he'd had enough of my teasing. He'd grown up a lot faster than most boys on the reserve, as had his siblings, because of his mountainous father, Ambrose, who had strict expectations for his children. It's not my place to tell Allan's story, but in later years we talked about what it was like growing up in that family.
Ambrose, being a trucking and construction contractor, taught all his sons the nature of his business, including operating trucks and construction equipment. He pulled Allan out of school early to work in the family trucking business, which is why I didn't see him for years. His dad convinced Church authorities that Allan was old enough and was needed at home. From his dad, Allan learned how to run tractors, bulldozers, transport trucks and other heavy equipment. He drove all over Manitoba. Later, while he was still a young man and I was elsewhere in the country, he became great friends with Dad, and eventually our bond as cousins and friends was renewed and cemented.
We started calling each other Chubb because when we first met after not seeing each other for eight years or so, he (and presumably I) appeared a little chubby. That encounter broke the ice. This mutual name evolved in meaning over the years and was an expression of closeness and brotherly love. Allan would also greet other relatives and friends with nicknames in a lighthearted way, because it made it easier for him to start talking about serious issues like residential schools. However, he didn't do so consistently and the nicknames never quite meant what ours did to us.
'Small once just like me'
When I moved back to Manitoba in the late 1970s, Chubb and I caught up with each other again. I had been chief of the Sagkeeng (Fort Alexander) band for almost a year. Chubb recognized my need for a break and a return to the basics of life, so he asked me to join him and his nephew in gathering wild rice. Thinking I'd enjoy renewing my knowledge about that activity, I agreed. I didn't know that Chubb had arranged for a charter plane to fly us to a remote lake northeast of Sagkeeng, where I would be completely isolated from my work and duties as chief for a whole week. Chubb and his nephew would stay for 12 days. When we landed at Octopus Lake with all our paraphernalia, including a canoe attached to the plane's landing floats, I was excited.
The first day was mostly spent setting up the campsite. The next day we harvested wild rice until sunset and we couldn't see to pick anymore. We sat around the campfire with our evening meal, made small talk, reviewed our day over tea and then went to bed. On subsequent days, we had our evening meal and then lay on the rocks, watching the sky and counting the satellites making their way across it.
One night I was startled and dumbfounded by Allan saying, "I wonder if Father P.'s actions could be seen if someone was looking down at us from one of those."
There was an awkward silence. I couldn't imagine that little priest taking advantage of my macho friend the way he'd done with the small boys.
Then I realized that Chubb had been small once just like me, so would have had similar experiences. His simple comment allowed us to talk about the menage and tell each other what had happened at school. By the end of the week, we had remembered the names of priests, nuns and brothers and had categorized their places on a scale of mean and abusive behaviours.
Besides suffering the probing hands of Father P. and others, Chubb told me he'd once been knocked around by Brother M. and kicked "in the rear" because the brother believed he was neglecting his chores; he'd gone to the toilet without telling his supervisor. Chubb thought the school authorities figured it was okay to be physical with him because his dad was so strict that he wouldn't care.
Not alone
When we reminisced about our younger days and our residential school days, it made me feel a bit relieved to know that some things didn't happen only to me. I had never before talked about my experiences to the extent I did with Chubb.
The joking and casual mention of what had happened began to evolve into more serious and therapeutic talks. These talks made me realize that I needed to deal with what had happened to me and how it had affected my life. During my years of being locked up at the school, I had thought my family, as well as others in the community, did not realize or understand that this was not natural. Why would they not allow us to live at home and still go to school, like the white kids in town did? Chubb had started to think about these things, too, and about the unnaturalness of residential schools, long before our wild-rice adventure.
After that rice-picking trip, the name Chubb or Chubby forever replaced Allan and Ted. My formal confrontation with what had happened after my seventh birthday became a life-long journey. A few months after this trip I went to see my first counsellor to start dealing seriously with my memories.
After my sobering talks with Chubb, I marveled at the idea that I could lead a community as big and vibrant as Sagkeeng.
Read part two of Theodore Fontaine's excerpted memoir.