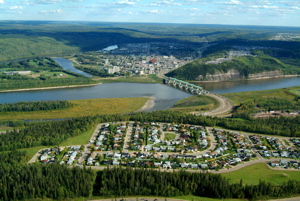 It's a sweltering summer afternoon in Fort McMurray. The kind that makes your armpits drip. I'm standing outside what may be Canada's most famous 7-Eleven, waiting to see if I'll get offered crack. An older man wearing a hardhat bites into a hamburger he just microwaved. Three teenagers enter the 7-Eleven laughing, then leave with Gatorade and five-cent candies. I stare at a pile of sandbags. Maybe I won't get offered crack today.
This downtown street corner -- at Franklin and Main St. and just across the road from City Hall -- is the supposed epicentre of Fort McMurray's social ills. Over the years, reporters from across the continent have come here seeking boomtown stories from the gutter. They write of grizzled oil sands workers finding solace in bought love and cheap highs. Their stories abound with screaming women, stumbling men and the occasional drunken slap. An Al-Jazeera team "took to the streets" with a hidden camera just last spring. (Click here to see correspondent Steve Chao get offered "hardcore drugs" outside the 7-Eleven.) In 2005, a Calgary Herald reporter turned down the chance to break into a crack house and smoke rock all night long. And a Globe and Mail writer was even offered drugs here at 10:30 a.m. I tap my foot in frustration. Nobody in the near vicinity will even make eye contact. With armpit stains now the size of saucers, I decide to leave.
Sunny suburbia
Earlier that morning, I awake with mild panic. My room is so flooded with sunlight I'm convinced it must be noon, two hours late for coffee with an important interview subject. But a glance at my digital clock radio shows 6:30 a.m. I go back to sleep. Turns out I've been played for a fool by the subarctic sun. Fort McMurray is a frontier community in the most literal sense. Consider that Edmonton, already Canada's most northerly metropolis, sits 437 kilometres south. During summers here, you can see faint streaks of orange and purple on the midnight horizon.
I awake for real at 8:30 a.m. No panic this time -- just a nagging feeling I've traded lives with a stranger. I'm staying the next few nights with a married couple I met online. They've installed me in the master bedroom of their two-storey duplex, deep within the Fort McMurray suburbs. My bed has leopard-print covers and faces a flat-screen TV. As I get dressed on this Wednesday morning, the husband, a geologist for major oil sands producer Syncrude, has already left for work. I try to imagine him analyzing data at an open-pit mine known in some circles as "environmental Armageddon."
His wife, meanwhile, is getting her mouth frozen at the dentist. I tip-toe across a narrow hallway and down carpeted stairs. There's a bookshelf halfway stacked with self-help titles promising to develop my inner potential. Downstairs, tidy couches cluster around another flat-screen TV. Two cuddly panda bears smile from a framed portrait hanging nearby. I hear the family cat, an orange tabby, mewing softly across the room. I lunge for her, but she scampers away. We lock eyes as I walk out the front door.
Busloads of workers
This married couple lives in Timberlea, a fast-growing collection of trim lawns, cul-de-sacs and fast food franchises in northwest Fort McMurray. Getting downtown takes 12 minutes under ideal driving conditions. I'm using public transportation, so I've budgeted an hour. That's surely enough time to meet Ruth Kleinbub, my interview subject for the morning. Finding the stop is a cinch. Then 35 minutes pass and still no bus. Not the right bus, anyway. A Greyhound-style motor-coach roars by every few minutes, shooting fine dust onto my notebook. These "Diversified" buses -- so-named after the company that operates them -- ship workers to and from the oil sands. They're a ubiquitous sight in Fort McMurray, sometimes lined up in columns of five or more during rush hour.
The city bus finally arrives. It's soon apparent we're not taking the direct route downtown. I get a 15 minute sight-seeing tour of southeast Timberlea instead, turning so often down sickle-shaped streets I start to feel sick. We rocket through an expanding subdivision at one point. And past dirt plots terraced into the hillside, I see a wood house frame overlooking an artificial lake. All of sudden we're sailing down Confederation drive, a long swooping hill that hits Highway 63 at the bottom. Here traffic halts and weaves between hard-hatted road crews building two highway overpasses and a new trans-Athabasca bridge. We squeeze through somehow. I arrive outside the Nomad Hotel only 10 minutes late for my interview.
Ruth is more than forgiving. In fact, she's late herself. We take a seat in Coco Joe's, the Nomad's coffee shop. Ruth and her family have lived nearly 30 years in Fort McMurray. She's helped establish seven provincial parks and even become a Readers' Digest "Hero of the year". Most people arrive here with four or five-year plans involving wads of cash and early retirement.
"I met one kid near Brandon, Manitoba, and he was planning to come," Ruth says. "He told me, 'You have a job as soon as you get off the bus.'" She guffaws. "Can you drive a big truck? Do you have a trade? There is no job getting off the bus."
'A real drug problem here'
Even for those who have jobs, the allure of quick and easy money often never dies. An oil-patch truck driver can earn $120,000 a year before overtime. Four-year plans often go years longer -- a common story among the estimated 25,000 mobile workers living in camps outside Fort McMurray.
Ruth wonders whether the money is worth it. Some people work 21 consecutive 12-hour shifts long distances from friends and family. Workers deal differently with the stress. They play acoustic guitar and chat with loved ones on Skype. Others stuff toilet paper into sink drains, and flood camp bathrooms. Or snort massive lines of cocaine.
"There is a real drug problem here," Ruth says. "We still don't lock our doors, but maybe we should." Just how big a problem is hard to say. A report last year found that counselling for alcohol abuse in Canada's oil industry rose 481 per cent from 2006 to 2008, much of it due to oil sands expansion.
Yet many informed residents argue media coverage exaggerates Fort McMurray's social problems. It may explain the distrust some feel towards outside reporters.
Suspicious minds
"So are you going to slam our city?" asks Roland Cilliers, a journalist from the Fort McMurray Today. We're standing outside the Quality Inn near industrial parks on the southern edge of town. It's now early evening. The Green Party of Canada leader, Elizabeth May, is about to host an oil sands forum inside. "Uhh," I stammer, "no, I didn't plan to."
The truth is, I had come here with negative preconceptions. Media from Chatelaine to the New York Times have published stories on Fort McMurray's dirty oil and the social problems it begets. Residents now complain about "drive-by" journalists -- those who come to investigate drugs on Franklin Street and long line-ups at Tim Hortons.
I'm feeling suitably self-conscious as I file into a long conference ballroom with six or so locals and about as many journalists. Green leader May keeps apologizing for the huge room. Stirring a sugar cube into my coffee, I feel a strange affinity as she struggles to enunciate her party's oil sands platform. "...A more planned, sane course of development. . . of course we know how important the resource is. . . some people say oil sands, others say tar sands. . . " The Greens don't want a total shutdown, just a moratorium on new projects.*
People are a bit reluctant to participate. But when talk turns to local problems, the ballroom sounds crowded. New families can't afford to buy homes. Childcare costs are enormous. Too much littering. Lowest voter turn out in the country. Five hundred homeless. Gridlock. May nods empathetically. I take careful notes.
Nearly an hour and 20 minutes in, people look drained. "It's a great city," someone remarks hopefully. "And the oil isn't as dirty as you think it is."
Tomorrow: Joining the tourists at the great pit. *Story updated at 10:43 a.m., Aug. 26, 2010.