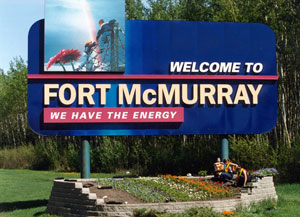 I'm seated in a Fort McMurray Taco Bell less than 30 kilometres from the world's largest single oil deposit. Down Highway 63 are vast open-pit mines, refinery towers spitting flames and toxic lakes guarded by metallic scarecrows. Right now, I'm staring at the beef, tomato and sour-cream slurry that's just slopped out the back of my Taco Supreme onto a clean table-top. The young man to my right in steel-toed boots doesn't seem to notice. I crumple four napkins and scoop the mess onto my plastic tray. Time to go. I stroll across a strip-mall parking lot under bright evening skies, careful to avoid the pick-up trucks and SUVs that go roaring past.
I've been in Fort McMurray 45 minutes, the last stop on a six-hour Greyhound bus north from Edmonton, Alberta.
I've come to see the frontier city that's helping transform Canada into an energy superpower, and for some, an environmental criminal.
It's hard not to bring preconceptions. Fort McMurray has been made notorious by media reports of cocaine, prostitutes and violence. And its elusive promise of oil-patch riches -- a subarctic "El Dorado" -- only adds to the mystique. For four days in early July, I experienced something different. I ate at McDonald's and Subway and got lost among flawless lawns and white-vinyl houses. I saw a city skewed and distorted by the million or so barrels of oil flowing daily out its own backyard. Yet one that many North Americans would have trouble distinguishing from their very own.
'Annihilators' for sale
My trip begins at the Greyhound bus depot in Edmonton, a squat building with an A&W attached. People cringe when you tell them you're taking Greyhound. They ask about the man who got decapitated aboard one two years ago. On this weekday morning, men in rumpled blue jeans wait as two security guards paw through their backpacks. I'm frisked by a stern woman with long hair. I ask whether the "incident" has anything to do with this. "Oh my god," she replies, "I must get asked that 10 times a day."
On the bus, I'm surrounded by oil-patch labourers, most bound for work camps outside Fort McMurray. There's an estimated 25,000 just like them -- mobile workers who toil long hours in the heat and cold, then commute as far as Newfoundland during days off. "Do you get to see any of the country on the bus?" a Montrealer with a handlebar moustache asks his friend.
"Not much to look at," the friend laughs. "It's all just trees and fields."
The route out of Edmonton passes anonymous strip malls and late-hour liquor stores. We're soon on open highway. There are lots of trees and fields. I spot an aging tractor with "4 sale" spray-painted in pink letters on plywood. After several hours, the bus pulls over in Grassland, a small cluster of gas stations and roadside diners on the edge of long fields. At the local ESSO, you can buy a box of fireworks called "the Annihilator." The driver of a white pickup thumps his hand impatiently on his wheel, waiting to fill up. His sunglasses have the dark sheen of an oil-slick.
Beneath the trees
I barely notice at first, but not long after leaving Grassland, thick stands of Balsam Poplar and Aspen close in alongside the highway. The road feels more and more like a tunnel snaking deep into wild lands. We've entered the Boreal Forest, an immense coniferous landscape crossing North America and Eurasia. Canada's section alone stores 27 years worth of global fossil fuel emissions (at 2003 levels). It looks less formidable the closer we get to Fort McMurray. Paved roads branch off the highway at regular intervals. Beige modular trailers adorned with satellite dishes huddle in clearings.
I'm reminded that underneath the forest lie the second-largest oil reserves on the planet. And getting at them isn't easy. Alberta's energy comes in the form of bitumen, a viscous substance mixed with sand and clay. North of Fort McMurray, gigantic mining operations create desolate panoramas pocked with toxic lakes. South of town, where my Greyhound now passes, most projects use steam to melt bitumen out of deep underground formations. The sludge from both processes must be cooked or diluted before it's ready to be shipped on pipelines across North America. The Greyhound drives past road signs quietly announcing turnoffs for billion-dollar projects. I struggle to peer through the thick forest.
Soon there are no trees to block my view, only warehouses. We're on the southern outskirts of Fort McMurray, an industrial warren interspersed with trailer parks and schoolyards. After travelling for hours through remote northern wilderness, it's jarring to see Burger King, McDonald's and United Furniture Warehouse on the roadside. Our bus descends into a narrow valley, then stops at the edge of downtown. We're just blocks from the pristine Clearwater River and a popular strip-club named Showgirls. I wait to get off behind a bald guy whose T-shirt reads, "With a body like mine, who needs hair?"
Rolling with a Syncrude family
A week earlier, I'd contacted a married couple through an online travel community. They'd agreed to put me up for three nights. We meet for the first time outside the Greyhound station. I shake hands self-consciously and climb inside their gray Kia minivan. The two of them work for Syncrude, one of the oldest and most profitable companies in the oil sands. The husband's a company geologist who commutes north each morning to a sprawling open-pit mine. The wife works downtown, teaching leadership skills. Their home is a quiet duplex with carpeted stairs, flat-screen TVs and a tidy backyard prowled by the family cat, an orange tabby.
The minivan merges onto Highway 63, a winding lifeline that connects Fort McMurray to oil sands operations north and south. During boom times -- when oil prices hit US$145 a barrel -- traffic here moved as slow as any major city. A 12 minute drive took an hour and a half.
Traffic still crawls during morning and evening rush hours. But the aftershocks of global recession have created elbow room. We drive unimpeded past the Athabasca River and turn left off Highway 63 up a long curving hill. We're entering Timberlea, one of the two suburbs northwest of downtown where 60 per cent of Fort McMurray's population lives.
Less than a generation ago, this area was thick Boreal forest. Now it's growing so quick there's half-completed subdivisions the couple I'm staying with haven't even seen. The minivan passes an Extra Foods with a sports field-sized parking lot attached. Nearby, there's Quizno's, Booster Juice, KFC and Subway. We turn left on Brett road, and enter a labyrinth of twisting residential streets and dead-end cul-de-sacs. Trees on the roadside are so thin you could wrap two hands around them. Three kids practice skateboard ollies on the sidewalk.
"This seems like a quiet neighbourhood," I observe.
"Oh yes, it's very quiet," the couple assures me.
The minivan stops in front of a neat two-storey duplex with vinyl siding. We walk towards the front door. Glancing down the block, I spot a shiny pickup or SUV in almost every driveway. Only a short drive from the most coveted energy reserves in North America -- and a blighted landscape compared by some to "Mordor" -- I've arrived in a place more familiar than expected. The oil sands capital of the world looks more generic than a Taco Bell.  
Tomorrow: Fort McMurray's seamier side.