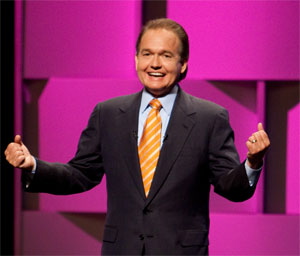 This month hormones are to blame for the fact that men and women can't get along. But for only $29.95, you can learn the easy cure.
According to John Gray, in Venus on Fire, Mars on Ice, the solution to what ails us is simple. The modern world is stressful for men and women, more so than ever, and thus humans produce more cortisol in response. But while cortisol gives us the jolt needed to outrun saber tooth tigers, or deal with equivalent emergencies like mis-addressing a sensitive email, over time, cortisol suppresses other good hormones like oxytocin (for women) and testosterone (for men). That makes us each wound up and run down. Ugh. Men and women are from different planets, and it takes lots of energy to communicate with aliens. And this hormonal problem means we have an even harder time of it, and end up arguing more, which produces more cortisol and less happiness.
The solution? Women need to spend more time nurturing and being nurtured, which stimulates oxytocin. And men need to solve problems under pressure, then lie on the couch and watch TV, which uses and then replenishes their testosterone levels. We all also need to eat better. Oh and we need to buy a special nutritional supplement made in Canada called PGX which is "remarkable."
I'm oversimplifying, but not by much.
It's hard to complain about any book that encourages better nutrition and health. That provides people with hope. Or that suggests ways to better understand and support others. But suggesting there's a reasonably water-tight boat that can sail over the ocean of unhappiness and arrive at Happy Island makes the journey of life seem easy, but ultimately makes everything more confusing and frustrating.
It's hard to find people who agree with me. Maybe everyone has been reading his books and are so jacked up on happy hormones and in such happy relationships that they find such critical tendencies passé? Gray is the bestselling relationship author of all time and author of 16 previous books. Over 50 million Mars Venus books have been sold in 45 languages throughout the world to date. Reviews of his books on Amazon range from "This book is the new Bible! It's a MUST READ for EVERYONE," to the more lukewarm "OMG, I loved reading this book!!!" He has several TV specials, a magazine, and a website complete with a store and franchise opportunities. And the ink is still drying on a new movie deal (with Summit Entertainment, "the house that Twilight built"). In short, people are buying what he's selling.
And people are buying cures for unhappiness generally. We're currently splashing about in an ocean of unhappiness cures. Bestseller lists brim with books promising simple solutions for what used to be called the human condition. Though we're unhappier than ever, according to these same books, there's now almost no excuse for it given how easy it is to fix it by following that author's simple prescription.
No money? Just lighten up!
In the Happiness Project, a New York Times #1 bestseller and blog of the same name, Gretchen Rubin encourages us to simply develop some personal happiness commandments. Rubin developed these over the year she spent reading and "test-driving the wisdom of the ages, the current scientific studies, and the lessons from popular culture about how to be happy -- from Aristotle to Martin Seligman to Thoreau to Oprah." She went to Yale Law School where she was the editor of the Yale Law Journal, clerked for Justice Sandra Day O'Connor, and wrote biographies, such as one about Winston Churchill, before discovering the simple guidelines for happiness. She's obviously very smart, well-read, and well-intentioned. But while her commandments, things like "lighten up" and "enjoy the process," are good advice, certainly, they're not the sort of thing that help me when I lie awake worrying about the future of journalism, the increasing polarity in our society, or the problems with food: three things that make me rather unhappy.
Marcus Buckingham, the author of Find Your Strongest Life: What the Happiest and Most Successful Women Do Differently also presents various studies showing that women are unhappier than ever, and unhappier than men. His solution is also simple: women just need to better identify what we're good at and focus more on those few things.
Maybe this fix-it approach to emotions is just a natural progression. North America was built on the idea of progress -- with hard work and some bootstrap-pulling, anyone can be successful. Now, self-improvement isn't just about external achievement, it's about having perfect emotions too. The irony is that, as one wise person told me, you can be perfect or you can be happy, but you can't be both.
Actually, John, we're all from Earth
But the other problem is that Gray's happiness empire is even more problematic than the others in that it's built out of bricks that can never actually be mortared together. The alien metaphor is light-hearted, sure, but make no doubt about it: men and women are so far apart, they're from different planets.
In chapter one, he lays out what I would call an unsolvable problem: "Women and men aren't different because they grew up differently or came to look at the world in differing ways, though both can be true. It's because the bodies of men and women are hormonally poles apart."
My belief has always been that each individual is different, but that fundamentally, humans work the same way. There are certainly scientific findings that show differences in the way men's and women's brains function, and of course our bodies play different roles in reproduction. We have some different hormones, and slightly different sex drives. But to me these are about nuance, they're not the whole picture. And I view most of the differences between humans as cultural or sociological, and therefore able to be bridged or changed. The key is in understanding we're the same, and working with these differences, knowing we can more than get along.
In this increasingly segregated world – one division being that of right and left, where people consume different media, and where opinionating moves the camps farther and father apart every day -- what we need is more focus on what we have in common.
John Gray isn't to blame for all of this, certainly. But his work does exacerbate the sense of difference in the name of unity. And that means while he's selling a soothing band-aid, he's arguably making the gender divide underneath even deeper.