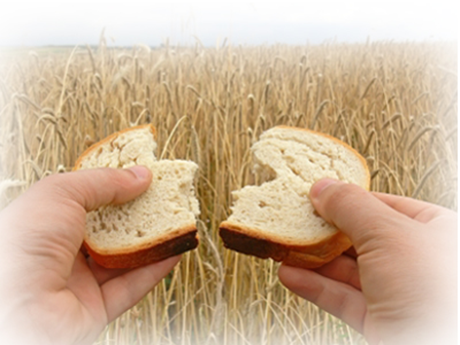 Making homemade bread has taken on a whole new meaning.
Brock McLeod and Heather Walker will teach you how to start your own wheat field. Even if you live in the heart of the city.
"We want to see a reintroduction of people growing grains for themselves in their backyards," says McLeod who, together with Walker, has created Island Grains, a new participatory farming project on Vancouver Island.
"If we can start growing wheat locally, if there is enough demand for it, well, that could really help revise the food system."
Electric fan separates chaff
The idea is simple: Hand over $65, and McLeod and Walker will lease you a 200-square-foot slice of Makaria Farm, their 10-acre organic spread near the town of Duncan, in the fertile Cowichan Valley. They'll also give you a grain seed of your choice, seminars with guest experts, and basic infrastructure support, including irrigation and tools. ("Yes, we have a scythe!" notes the website.)
You'll attend a few guest-expert seminars, plant your crop, then show up for at least three subsequent days -- two or more to tend (weed) your plot, and one to harvest and thresh, using a low-tech plywood threshing box and a standard household fan to separate the wheat from the chaff. You'll leave the program, and your plot, with your own grains -- which you can mill into flour as needed at home in your blender or food processor.
You'll also have enough know-how to start your own micro-farm the following season anywhere you have soil and sun.
That includes your own back yard, which McLeod says offers more potential than you might imagine. Quoting tables provided in Gene Logsdon's book, Small Scale Grain Raising, McLeod explains that 1,100 square feet -- a 10 foot by 109 foot plantation -- could produce about 60 pounds of wheat.
"You can probably get about two loaves of bread per pound," he says, "so that would be up to 120 loaves of bread per harvest."
That's two loaves per week for a year. Out of what might presently be a lawn.
'Brilliant'
"It is a brilliant idea," says Dan Jason, a longtime food activist and owner of Salt Spring Seeds, who will be supplying the project with red fife wheat, barley and other grain varieties. "It is neat way to introduce people to the whole concept of grain-raising without a lot of land."
The area's regional agrologist agrees that small-scale grains make a lot of sense. "It sounds like a really good idea, especially for people to get together and learn from each other," says Wayne Haddow, who works for the British Columbia Ministry of Agriculture and Lands.
"We have a lot of under-utilized land in smaller lots on Vancouver Island, and grains do store very well," Haddow adds. "The opportunity is there."
McLeod and Walker certainly hope so, too. After growing a successful trial crop of red fife and barley last summer -- they threshed it by stuffing a pillowcase and hitting it with a shoe -- they're opening their gates to 50 would-be micro-farmers and advisors in the coming season. ("We're not the experts," McLeod stresses, "but we're bringing in the experts.")
Get in line
After launching their website on Boxing Day, the couple sold out all 50 of this season's memberships before the end of January. They are maintaining a wait list.
The couple have come a long way in just a few years.
Two years ago, McLeod, 29, and Walker, 28, were living in a rented Victoria condo and working nice, stable -- albeit boring -- civil service jobs. Life was good: They ate out a fair bit, enjoyed the city. "But we weren't really happy," recalls McLeod.
So one day McLeod said the words that many of us say when we dream of a better, simpler life. "Let's get a farm."
The couple took out a mortgage, and in June 2007 bought Makaria. As they figured out what worked and what didn't, McLeod came across Logsdon's book.
It proved an epiphany.
"I'd always imagined that growing grains requires acres and acres of prairie just to make it worth your while," says McLeod. "But Logsdon shows that just 1/40th of an acre -- the amount of space taken up by a single-car garage, is enough space to grow the wheat you need to enjoy a loaf of bread every week for a year."
Podcast inspired start
They cooked up the idea for Island Grains after listening to the Deconstructing Dinner podcast hosted in part by The Tyee. That program documented the Creston Grain CSA Pilot Project, a community supported agriculture program in British Columbia's southern interior region that last year attracted international attention.
"We figured, if it is doable, and there's this much interest," says McLeod, who grew up on an organic farm, "then we would like to do it here and invite other people to join us."
Their timing proved perfect. Don Jason reports that his customers have been asking for grain seeds in increasing numbers. "Since about October I have been getting so many orders for barley and wheat and spelt; it is phenomenal, every second order is asking for grain."
"If you do something inspiring," says Matt Lowe, cofounder of the Creston Grain CSA project, "it creates a chain reaction. I'm glad to hear that what is happening on the island is inspired by what we are doing."
Related Tyee stories: