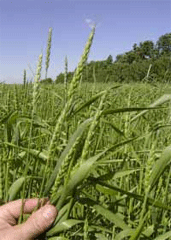 Give us this day our daily bread. So says the Lord's Prayer, and so say James and I, fervently, having known its want on the 100-Mile Diet. Grain, we have discovered, is the Holy Grail in our little corner of the world. Ever since World War II, economies of scale have cloaked the prairies in grains, while farmers on the coast gave up their wheat for swathes of corn destined to feed dairy cattle. Or perhaps just to sow confusion, these days, corn seems most often to be fashioned into mazes.
But there are a few brave local farmers and artisan bakers who are looking for a way out of the maze that is the global economy. While my impression had been that wheat is fussy here, because of our near constant rain, I was recently reminded of the magic of micro-climates. Hamish Crawford, a farmer in North Saanich on Vancouver Island, owns four acres devoted to red spring wheat, and in 2002 he founded a wildly popular bakery, The Roost, that can turn out 32,000 loaves from this modest plot's annual harvest.
"I knew the only way to do this was a value-added thing," he says in his Scots brogue. Wearing a blue-plaid Mack jacket and sporting a silver buzz cut, he stands in his now-cleared fields while a black lab puppy jumps enthusiastically beside him. His sheep, or "woolies," as he calls them, graze placidly nearby. "I couldn't make money selling the flour on its own, when a big bag of Robin Hood is only seven dollars."
'Threw it in'
Red spring wheat is a typical modern prairie variety, which Crawford had grown previously in Alberta. After moving to Vancouver Island, he did what he knew: just "threw it in the ground" and it thrived, he says. In fact, because of the Saanich peninsula's dry summer climate combined with the longer growing season, the wheat is easier to manage here than on the prairies. "That's a huge surprise to people," he says.
Crawford takes us inside a shed where he stores his milling equipment: the lack of it elsewhere is the other big reason that flour is not readily available in our area. His fanning mill ($1,800 used, from Saskatchewan, of course) has screens with holes of two sizes, which, when mechanically shaken, clean the grain of chaff and dirt; and his stone mill ($1,200) grinds out whole-wheat flour. He scoops out a rich, fluffy handful to show us and his puppy eagerly licks it up. "North Americans damn near forgot how exciting eating can be," Crawford says. "You don't ever have to sit down to a meal and just go 'blah.'" The antidote, he says, is growing and creating food on the land within your sights.
Crawford is the right kind of man to be reviving wheat on the coast. It was Scottish people who planted the first wheat crop recorded in Canada, in Manitoba's Selkirk colony in 1812. Unfortunately, these Scots did not go to agricultural college, as Crawford did. They were fishermen in the old country, and for two years in a row, their crops failed. In 1815, the Métis attacked and destroyed everything and in 1818 there was a grasshopper plague. But the Scots soldiered on, praying for their daily bread; and in 1820, out of grain entirely, some settlers walked for three months to get wheat seed from Wisconsin farmers.
Making of a 'breadbasket'
Canada's reputation as the breadbasket of the world didn't come until slightly later, in the 19th century. In 1842, Ontario farmer David Fife planted some wheat imported from Scotland via Poland (modern scientists trace its ultimate origin to the Ukraine). This strain, which was the one that finally worked well in the New World climate, was later named Red Fife in his honour. Almost all North American wheat today has some Red Fife genes, though this type is no longer certified by the all-powerful Canadian Grain Commission. It is the Red Fife wheat that most Lower Mainland farmers are interested in, for its history, heritage flavour, and, apparently, better suitability to coastal weather.
"Part of the artisanal baking philosophy is that you want the best loaf of bread you can make. That leads you back to the grain," says Mara Jernigan, resident chef for the Fairburn Farm bed-and-breakfast in the Cowichan valley. Local bakers are starting to make their own wood-burning ovens as well, she says. "People are drawn to the idea of the traditional hearth. Community can start around that."
There is another grain that inspires equal reverence: barley. It doesn't sound like much until you take it to its logical conclusion: beer. James and I continued south down the Saanich peninsula to visit Michael Doehnel, whose dream it is to make beer from entirely local ingredients, both barley and hops. "I knew it had been done before," he says. "I found this old threshing equipment and combines all rusted out and covered in blackberry bushes." Though he doesn't own farmland himself, he hasn't let that stop him. He leases it. While he's been making small batches of beer for himself and friends since 1996 from seed he got from England, this was his first big year. He harvested ten tons of barley, and he was so close he could almost taste it.
Fit for a Pharaoh
But then came the disaster, one of many that can strike the farmer. Now that I'm living and eating within my 100-mile circle, I identify much more strongly with his woes. He contracted another man to malt the barley, yet another service that is in short supply regionally, and Doehnel says that it is ruined. He's $10,000 in the hole and a lawyer is involved. Though he has a droopy air, he maintains a gleam in his eye and a manic smile. Like all farmers, by necessity, optimism dominates him. He pours us a glass of homemade apple cider from the trees his parents planted in the yard outside the window overlooking Brentwood Bay. "I think grapes are less doable than barley and hops," he says confidently. In other words, there's always next spring.
His experimental spirit extends to black beans, which he cultivates in his large yard, and he presses upon us half the contents of the small Ziploc bag that is his harvest. Doehnel is insistent and I am moved by his generosity. These are the only dried black beans we have seen in our radius so far. They are, in fact, the most beautiful and plump black beans I have ever seen.
Next, Doehnel leads us into the basement for a tour of his other agricultural treasures, and he gives us some coriander he grew to flavour his dream beer. He reverently shows us heads of ancient grains he grew just for the joy of it. The golden Egyptian Emer wheat, 7,000 years old, and the black-striped Einkorn, 9,000 years old. In this moment, I am touching the history of food and of civilization itself.
"People can get excited about protecting parkland but now we need them to get just as excited about setting aside food land. The food land is critical," he says. "Maybe it will take some kind of disaster to wake everybody up." He laughs, every dark cloud of burning oil has a silver lining, and we say farewell at his gate.
We are hopeful too, with the lemonade-like tang of Newton apples still in our mouths. Hamish Crawford promised us a sack of flour to see us through the winter. Not today, mind, the tractor is broken, he can't move the wheat from the silo to the mill. Maybe the next time we come to the Island. Hope rises with thoughts of homemade bread.
Alisa and James just closed a book deal on the 100-Mile Diet with Harmony Books (an imprint of Random House) in New York, to be released in spring 2007. Canadian rights are under negotiation. They will continue to write for The Tyee. For more information on finding locally produced food visit the web site of Farm Folk/City Folk.
Read the whole 100-Mile Diet Series.