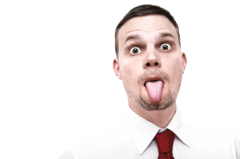 To Hell with Manners!, a documentary about the decline in civility, won't tell you anything you don't already know, but it will make you feel better to know you're not imagining it.
The Canadian doc, airing tomorrow, Sept. 20, on CTV, gathers samples of everyday assholery, draws on researchers to explain how assholery became the new black, and even offers solutions for assholery in our midst. Everything from the New York response -- fining people for uncivil behaviour such as ringing cellphones in the theatre or feet on subway seats -- to a made in Canada answer, in which a Montreal actor offers hugs to random strangers. (Apparently this form of performance art has caught on around the world, to which I say it's another case of the cure being as bad as the disease.)
The causes range from the usual suspects in all discussions of why civilization is in decline (Paris Hilton, urban sprawl, the 1960s), to the cutthroat nature of business dehumanizing us all, to technology which isolates us, renders us all anonymous, and makes us impatient by forcing us to move at e-mail speed. The various academics point to how this contributes to the breakdown of community, and that's undoubtedly a factor in uncivil behaviour. If you don't know your bank teller personally, you're more inclined to be rude to him.
Rudely in touch with themselves
It also touches briefly on my favourite explanation for the problem -- the so-called self-esteem movement. The theory goes that, armed with self-help books and other New Age wingnuttery, well-meaning parents have been convinced to praise their children as wonderful human beings despite all evidence to the contrary.
I've long suspected the self-esteem problem was a bit of a misnomer. Or rather that the excess of self-esteem applies to the parents rather than the children. My impression is that most parents are too self-involved to actually discipline their children. By which I do not mean whacking them. I mean correcting their behaviour and teaching them, relentlessly. It's exhausting work that is no doubt made more exhausting by all the other causes of incivility mentioned in the documentary.
While John Curtin's doc is fascinating, it stops short of naming the underlying cause, although it becomes increasingly obvious as the film progresses: we are actively teaching narcissism to the point that it's beginning to look like society has a personality disorder of epidemic proportions.
The thing about narcissists is that they don't believe other people exist, except as extras in a movie starring them. Think about it: an epidemic of narcissistic personality disorder explains just about every bit of dodgy behaviour. For example, the people yelling the intimate and humiliating details of their lives, loudly, into their cellphones? Could they do this if they had even the faintest notion of what the rest of us are thinking?
What about the parents sitting in movies, theatres and restaurants blissfully indifferent to the child in their care screaming its lungs out? Obviously they're not embarrassed because they don't believe other people are real.
Must we always have Paris?
Presumably this is also why people put their private lives up for public scrutiny on social networking sites like Facebook and My Space. It also explains why louts sit on crowded transit leaving pregnant women and the elderly to stand -- they don't actually see them. Not really. Because no one exists in the world of a narcissist except him.
NPD would explain why Paris Hilton has the nerve to be seen in public after her sex tape, the cleverly named One Night in Paris, hit the Internet and she served time from drunk driving. Speaking of which, there's another example of narcissism -- the notion that her right to drive impaired is greater than the rights of other people to live in safety.
Consider my bête noire: the idiots riding bicycles on crowded city sidewalks. Oh, they all have excuses. The traffic is too heavy, the cycling lanes aren't adequate, or their children want to ride there. What it comes down to is that they believe their right to do whatever suits them is greater than everyone else's right to use the sidewalk as intended.
In short: they're shameless.
Google the term shame and you'll come up with all sorts of psychobabble on the hazards of "toxic" shame, an idea that was introduced by the so-called "me generation" that reinvented self-involvement as a spiritual calling. Well, they've bred two generations of narcissists and attitudes that have led to this year's credit crisis, a profitable disaster for the handful of financiers who caused it.
A select few cures for loutishness
Take note: bad manners is only the symptom of a much bigger problem, which is why I think it's time to restore civility by resurrecting the good old-fashioned concept of shame.
I've begun, in my own small way. On transit, if I have no seat to vacate, I've taken to asking louts of both sexes to relinquish their seats to the obviously elderly, pregnant, or infirm. So far, so good -- not least because most look embarrassed once they're forced to get their heads out of their, er, navels and see a crowd of people staring at them.
However, I've had less success with the sidewalk cyclists, despite bylaws prohibiting such antisocial behaviour. With apologies to Shakespeare, I think this is one case where uncivil hands spilling a little uncivil blood might clean-up the problem. But while a quick nudge as they go whizzing by is a fine solution, it has to be used judiciously as it can be dangerous for pedestrians. Large-ish men, I've noticed, have the option of yanking other men off their aluminum steeds and telling to "grow a pair" and get back with the traffic where they belong. Of course, fighting in the streets is unseemly. Besides, I'm not quite tall enough to pull it off.
I hear muttering about the problem and even suspect there's an underground resistance to sidewalk cyclists. When I hear about bicycle thefts, I wonder if it's genuine criminals or people who are fed up with the morons, follow them, and liberate their wheels as a public service.
May I borrow your phone?
Which brings me back to the documentary and an insightful communications prof at McGill, Jonathan Sterne, who believes that bad manners are a result of ignorance. His students simply don't know, for example, that it's rude to have a ringing phone in a lecture hall and ruder to answer it, so he teaches them. He warns them once. On the second offence, this delightful man illustrates his point by bringing out a large rubber mallet and smashing the phone.
I'm sure he's right. It's obvious these people have been raised by wolves, so we should begin with the education their parents (and grandparents) failed to impart. So if the shame angle doesn't work, I'm all for the rubber mallet school of teaching.
Related Tyee stories:
© Shannon Rupp. For permission to reprint this article please contact the author: shannon(at)shannonrupp.com.