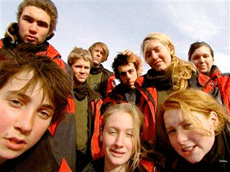 Reality TV just hit a new a low. Not that it had such lofty heights from which to fall, but I would have thought that ABC's Brat Camp -- which deserves the subtitle torturing children for fun and profit - was crossing the line. Even by the venal standards of TV producers.
The show is about a bootcamp - sorry, that's a "therapeutic wilderness camp" - for rebellious teens that uses hiking, camping, rockclimbing, and other activities that ought to be a joy, to punish these kids.
Only two episodes in, I have a question: Why aren't the incompetent parents of these children being sent on seven-mile forced marches with 40-pound packs slapped on their backs?
Mother Raven, torturer
I'm not sure what is most disturbing. Is it the physical abuse? Many of these kids are too light to be hoisting heavy packs, and too inexperienced to do long hikes. I'm a vegetarian, but even I know that suddenly switching their diets to beans, rice, and oatmeal, which makes some of them sick, isn't discipline, it's cruelty.
Is it the emotional abuse that's irritating me? Exposing the private lives of these children without their consent? Maybe it's the deception. Parents trick and/or kidnap their teens to get them to the camp.
Maybe it's the psychological abuse? The camp engages in classic brainwashing techniques: the kids are forced to do pointless tasks over-and-over again. They're physically uncomfortable: exhausted, cold, hungry, and dirty. They arrive at the camp blindfolded, and they never know what will happen to them next - like hostages, they're being conditioned to obey their captors without question.
The self-satisfied counsellors spouting the New Age psychobabble are definitely creepy. Staff have adopted faux native names: there's Shimmering Aspen, Glacier Mountain Wolf, Mother Raven, Stalking Cougar, Flying Eagle... (Isn't that cultural appropriation? Where are the Political Correctness brigades when we need'em?)
Sage Walk, the featured camp's official name, is located in the Oregon desert, 60 miles from the nearest town. It's one of about 50 of these so-called therapeutic camps in the U.S. (Canada has adventure camps that offer programs for "struggling" teens but there's nothing quite like the blend of prison, cult, and POW camp that characterizes Brat Camp.)
Sage Walk's website reveals that, while they talk a lot about their qualifications, their accreditation, and their awards, they're vague when it comes to listing the details. Many of the staff are called "therapists" - a term which has no formal qualifications. Some have degrees, but few say where these PhDs and MAs come from.
Camp Big Bucks
The producers of the show, which also airs on CTV, declined to be interviewed, but co-executive producer John Platt did confirm that they funded the nine participants - it costs U.S. $22,440 for Sage Walk's 60-day program. He added that there were no other financial incentives for the families, and that many couldn't have afforded the program without the help of the producers.
"Each of the parents who participated in "Brat Camp" researched Sage Walk carefully before deciding that it was the right place for their child," Platt wrote in an e-mail. "First and foremost, the parents wanted to help their kids by placing them in a program they believed in. They also felt that allowing this process to be televised would be a great help to other families dealing with similar issues - and from the initial reaction, it has been."
Uh-huh. Would these be the same people whose stellar parenting skills and superb judgment had so far resulted in suicidal kids who lacked manners, discipline, responsibility, self-respect, and a host of life skills? The same people who failed to get their children appropriate treatment for medical problems such as AD/HD, and traumas due to sexual abuse or deaths in the family?
As for benefitting other families, Brat Camp's greatest value may be in warning people off kiddie concentration camps.
Edward Kruk, a professor in UBC's Department of Social Work, hasn't seen Brat Camp, but he's willing to comment about the generally accepted standards for counselling children. Based on that, he thinks the name alone is a problem.
"There's the detrimental label: it reinforces the notion that parents have very little responsibility for the problems," Kruk says, explaining that children's struggles are related to the family dynamic and that, in general, responsible therapists believe parents have to be involved with the solutions.
He's concerned about negative labels? Well then, it's probably best he doesn't know about the supers that identify the kids in interviews: "Jada, 15, spoiled liar," "Shawn, 17, steals from mom," "Isaiah, 17, angry punk." And so on.
"There will be minimal positive effect without parental involvement," Kruk continues. "When they go back to the environment they came from they will manifest the same problems."
Kids without rights
So I'm right? These parents should join their kids in being kidnapped, jailed and denied contact with the outside world, while enduring physical and emotional misery including the humiliation of having to ask permission to relieve themselves?
Kruk is quick to point out that I shouldn't be quite so harsh: "There isn't a lot of support out there for parents."
Sure, I can see the parents' point of view: Brat Camp looked like a godsend. Not only were they relieved of responsibility for children who (quite rationally) despise them, the kids will be returned all shiny and new. They've finally found a way to outsource parenting. In exchange, all they have to do is address the camera and claim they love their children.
But even the most self-involved 'rents ought to realize there's something wrong with any so-called therapy that strips wounded children of fundamental rights.
Among the many rules is "no low talking" -- no private conversations among the inmates. Why? Well, as the leaders discuss in a huddle, they have to worry about their charges ganging up on them.
Think about that for a minute: they are abusing these children to such an extent that they fear a revolt. Despite the fact they're in the middle of nowhere. It raises the question of what's going on off-camera?
As a human being, I'm appalled, but as viewer, it gives me a glimmer of hope.
Although I watch TV for a living, I was about to abandon this show. (Paying attention to obscenity only encourages it.) But now that there's a possibility of a coup, I'm glued to the set. The sight of these unfortunate kids turning on their tormentors and overthrowing the smug, sadistic bastards: now that would be empowering.
Brat Camp runs Wednesday nights at 9 p.m.
© Shannon Rupp. For permission to reprint this article please contact the author: shannon(at)shannonrupp.com.