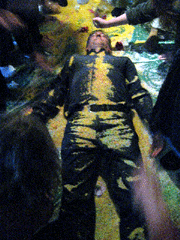 I come from a long line of people with fatal kidney disease. The year my father died of the disease, I dreamed of him only once. Dreaming of a dead person is a powerful sensation. Even in the dream, I knew he was not really with me, that his form was a hollow shell of what it had once been. He lay on his back fully dressed in his pin-stripped black business suit, a tie and his wing tipped business shoes showing under his cuffs, his hands folded over his gut which was distended in my dream as it had been in life, from years of kidney enlargement. My father was a skinny man, but, thanks to his kidneys, his belly had hung ever since I could remember over the top of his shorts.
My Aunt Eleanor, wife of Uncle Harold, the gynecologist who had brought me into the world, appeared before me saying, "He's in Nebula now." I understood this meant Daddy now hung suspended in time and space, probably awaiting rebirth, probably waiting for me to give birth.
They had all returned from Nebula that night to dance in my dream, all those ancestors whose kidneys had failed them, dancing now in a realm of stars and infinite night where internal organs carried no weight.
Whether my father remained in Nebula or slid back into incarnation, he was there that night dancing with the rest. I remembered my father's words one day when I showed him the Astanga yoga series I had recently mastered in Hawaii: "You're going to make us all proud one day."
By "us all" he referred to the ancestors, living and dead, the ones I now saw dancing. By "one day," he could have meant anything.
My father was a family man to the core. His soul existed as an extension of his mother and father and grandparents and so on. He lived to make other people proud. He thrived on attention. Being the centre of attention in a room full of relatives who thought he was the best was the peak of happiness to him.
His psychic umbilical cord had never been cut from the personalities that preceded him. It spanned nations and centuries, cities and states: Poland, Russia, Atlanta, Chattanooga, who knew what came before? Jewish family history is an untraceable thing, if you try to go back too far you simply get lost.
Maybe they had been Moraines living in Spain, or members of the lost tribes. Wherever they had lived, whatever hardships they endured, whatever language they spoke, they hadn't been much different than my father, according to his view.
They had striven for status and financial success. If there were artists at all on that side of the family, I hadn't heard of them, although I was well aware of a host of male merchants, vendors and travelling salesmen and, on the female side, mothers and wives. My father looked to me and my brother to continue this line.
2. Into Our 20s
My brother has inherited the kidney disease. Someday I will be asked to give him a kidney. The question has already been written in time and space although it has never been asked. Perhaps it was written generations before.
But the answer is a blank. Will I do it? Won't I? The question arises in my consciousness from time to time like a Zen koan and I watch it pass across the sky of my mind like a wind blown cloud, wondering where it will eventually take me.
Although my brother and I never speak about it, the unstated question resounds through both our lives, through our many visits, e-mails and years. I wait to speak about it and decide in a future we both expect to happen yet hope, miraculously, won't. I hold the decision at the greatest distance possible until then.
Why not? The now is so miraculous, so luxuriant in its presence. My brother and I are both in our primes. We are living without that suffering our father endured and that we endured watching him. But we are living between parentheses, which is enclosed by the family disease. Although I didn't inherit the gene for the disease, it is a profound part of my legacy, a gene whose absence is as demanding as its presence.
Polycystic kidneys cause the kidneys to degenerate. My father died of it at 63, but his mother died of it at 49 and his sister, Sylvia, lived to be 50.
For my father to have lived for as long as he did was a congenital victory, a triumph over legacy and fate. As his children, my brother and I each stood a 25 per cent chance of inheriting the gene.
The gene causes the kidney to form cysts which put the organs through a long, slow process of deterioration and eventually destroy renal function altogether.
My father's six year process of dying had already seen two years the day my brother peed blood while working in the garden. The initially horrifying sight of shunts in my father's arms had already been digested by my brother and me, as had his routine of going to dialysis three times a week.
My brother was 24 years old and knew what the crimson-colored pee meant. He immediately had his kidneys tested and the tests revealed early signs of cysts.
The next week he got in his car and drove out west, which he'd been meaning to do for some time, but had delayed because my father was dying. That bloody pee was like a raven on his shoulder, warning him not to wait.
I was scared of what I might find out if I got tested, but my father unwittingly pushed me to do it with gestures of affection that filled me with dread. He said it, lovingly, as if it bonded us with the strongest familial glue, "When you're my age, they'll have new and better medicines and you won't have to go through this."
I didn't plan on going through it ever. At 24, the last thing I wanted to hear about was undergoing the same slow deterioration I was witnessing in my father, or putting my unborn progeny through the depths of pain I was experiencing thanks to watching my too-young father suffer. I had to find out if we really shared this bond.
When I went for the test, I felt my being hanging over a precipice as the technician coated my belly with gel, then scanned my kidneys and peered at the sonogram screen. When the nephrologist came in to tell me that my kidneys looked "perfectly normal," the precipice receded and ecstasy rushed through me followed by a searing stab of guilt.
My brother had meant so much to me in life. As the older sibling, he had always seemed to attract so much attention and his great gifts spilled over to me. He was smarter and more gregarious. He could charm anyone. People said he was amazing and I agreed, but he also pissed me off. My girlfriends never failed to fall in love with him. But I had the normal kidneys. How had this happened? The inequity of this fact was such a relief, but you just don't get away with something like that without also feeling grief.
3. The 40s Arrive
I am living in New York City, but visiting Vancouver. I am talking with my brother.
"What did your doctor say at your check-up?"
"He told me I was functioning at 20 per cent less than normal." Joel gazes out at the lights of Vancouver glimmering in the rain.
"How did it make you feel?" I ask.
"It accelerated me into a new period of self-examination, looking at my life and whether I was doing what I wanted and I decided that I was, but it got me. It kicked me up to another level of intensity about completing things. It made me feel stimulated and fierce. It made me want to be sure I didn't use too many minutes to do stuff I didn't want to do," he says.
As I listen to him talk, I want to take control. I want to reassure him, to let him know he isn't in this alone, to balance the scales of family dynamic, to redress the fact that within our genealogy there could only be so many healthy kidneys and that, as fate would have it, I lucked out.
"How would you feel about having my kidney?" Do I mean it?
A feeling of warmth courses between us. Of course, he wants to know that if he needs it, I'll give him a kidney -- we both know he does. But when the time comes, can I?
Despite the miracle modern medicine makes possible, I'm still not convinced I'm that courageous. It's hard to calculate one's own level of bravery before actually being called on to act. Right now, it's mercifully theoretical. It's impossible to know what I'll really do until the time comes.
What does a sister owe a brother anyway? I look over at the now mellowed foundation director who once convinced me to trade nickels for dimes, who punched me in the stomach, who cut my hair out in crazy bunches, who called me an ugly, stupid fool every day of my life until I was 10.
The same brother who stood by me through break-ups, through our father's long illness, who hosted the rehearsal dinner at my wedding, and who has cheered me on countless times.
What should I give of myself to this brother? Everything? Nothing?
A kidney?
4. Today
As with so much we anticipate, when the moment comes, nothing is as we have imagined. When the moment comes, my brother won't let me think about being his donor. I have two young children to nurture and support, and it doesn't seem right to him. When the time comes, he puts my children, his nephews, first.
My brother will be having a kidney transplant today at 1 p.m. His donor is Shivon Robinsong, founder of Victoria's Getting Higher Choir, a brilliant singer and longtime friend. Her operation begins this morning.
As the kidney clinic at St. Paul's Hospital let him know about a year ago that his kidneys were failing and that he needed to find a donor in the immediate future, or face dialysis, my brother sent letters to his large network of acquaintances and friends, asking for a kidney.
Many people stepped up to offer a piece of themselves. Three people were matches, but one was ruled out due to physical issues.
Finally, Shivon stepped forward, with her kidney in her hands. An act of love and compassion. A human sacrifice. A brave and noble deed. She must expect a six week to two month recovery.
I sit at the healing ceremony my brother's friend has arranged for him. As Amarananda Bhairavan, an internationally renowned Tantric priest and healer, chants the names of Indian deities, I see the lineage of my ancestors who died of the congenital disease that has finally caught up with my brother. I recall the suffering my father endured as he went through years of dialysis, his slow and painful physical deterioration.
I remember the isolation that grew out of his pain. I observe my memories of the weakness the disease revealed in him, a powerful man cut down.
My brother observed my father's death and was an excellent student. He learned how to live a life from that lesson and now he's reaping the benefits of lessons well learned. He is not alone. He is not weak. And he is not dying.
I smile as Amarananda Bhairavan throws coloured rice at Shivon, rubs it around her renal area, has her lie down, showers her with rice. Then he does the same for my brother. The room is lit with candles. And incense. And love.
My brother is surrounded by people who care about him and a powerful web of attention and support seems certain to sustain him through the operation and six month recovery, including the delicate period following the operation when he will be monitored closely to ensure his body can accept the new organ. Shivon is also contained in this web. It is the web my father needed, too, but it eluded him. I marvel at the evolution that has happened in one generation. How far we've all come. How much we've learned. A surge of emotion nearly overwhelms me. A small stuffed animal is placed to symbolically represent a dear friend with a lung disease, who has already been in the hospital for several days and is gravely ill. His last hope is a lung transplant, but it is much more difficult to find a lung. It must come from a person who has just died, and the death must have occurred in specific ways, like head injuries, and finally, that person must have filled out an organ donation form and registered with the government as a potential donor. Even if all that were to happen, Robert would have to be in good enough health to undergo a lung transplant operation. At the time of the ceremony, he is struggling to fight off pneumonia. I look at this animal and see Robert's smiling face, the joy in his eyes, and am awash with a sense of love and loss.
After all these years of anticipating and imagining the unimaginable, we have arrived. No longer young. No longer immune from the awareness of our own mortality. Hopeful. Humbled.
Hearts cracked open.
Related Tyee stories: