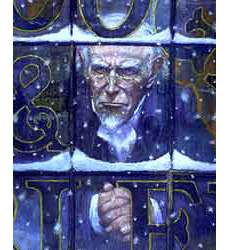 [First in a three part series on giving]
'Tis the season for giving, but we in B.C. are a tight fisted bunch. We rank right near the bottom in charitable giving and volunteering according to the Canadian Centre for Philanthropy (CCP). However, a poll released Monday suggests there might be hope for us yet.
So what gives? Why do British Columbians take after Ebenezer Scrooge, but Prince Edward Islanders resemble Bob Cratchit? Social scientists, non-profit groups, and theologians have grappled with these questions. Some of their answers are surprising.
Our miserliness has nothing to do with our wealth. According to figures from Statistics Canada , the average wage in B.C. is $32,000, the fourth highest of all provinces and territories. But even so, we keep our wallets in our pockets compared to Prince Edward Island, the province with the lowest salary in the country, at $22,000. Even though they make a third less than we do, residents of PEI give $299 annually. This is 20 percent more than the average contribution of a British Columbian, which rings in at $255.
Other numbers crunched by the CCP show that as household income goes up, the relative amount given to charity declines. People who make less than $20,000 a year give 1.12 percent of their income to charity. But those making twice as much give away a much smaller portion of their earnings—only 0.46 percent of their earnings.
The numbers of people who donate to charity has crept up over the past three years, according to an Ipsos poll. This year 79 percent of B.C. residents say they coughed up money for a non-profit, an increase of five percent over 2001. People told Ipsos pollsters they are also giving much more: the median amount shot up from $194 to $250. The most recent numbers from Statistics Canada confirms those from Ipsos--but also show that our much poorer Atlantic cousins continue to outstrip us in charitable giving. [The median is the number that falls midway between the highest and lowest number; the mean is the average of all numbers. The two are not necessarily the same. Ipsos and Statscan numbers measure giving based on the median; the Centre for Philanthropy looks at the mean.]
Picky volunteers Giving money is one thing, but volunteering time is another. There, too, ice-shards seem to protrude from our hearts. The number of British Columbians who volunteer is 26 percent, the third lowest number in the country: only Ontario (25 percent) and Quebec (19 percent) are meaner with their time. And it's gotten worse over time: the number of hours we contribute has dropped by 16 percent since 1997, a loss of the equivalent of 14,000 jobs.
Colleen Kelly, the executive director of Volunteer Vancouver, says people want to volunteer, but they want to do so on their own terms, in interesting positions, using skills they have, for a limited length of time. Organizations who recognize that volunteers no longer have the appetite for stuffing envelopes and answering phones will be more successful in recruiting volunteers, Kelly speculates. Volunteer Vancouver, for example, is deluged with volunteers, in part because its non-paying jobs allow people to work in responsible and skilled positions: "they sit on the strategic planning team, or they do a systems analysis, or they design our website, or they come in and train us in how to use PageMaker," Kelly says.
According to research done in the United States, religion might have also something to do with why people do—or don't--volunteer. In the National Altruism Study, researchers at the University of Chicago found that the number the more religious services people attend, the more likely they were to volunteer, give money to a charity, giving up a seat to a stranger, and other similar acts of both spontaneous and planned altruistic acts. The finding held across all religious groups, and influenced peoples' behaviour more than political beliefs. In a press release, the lead author of the study, Tom W. Smith, said, "The connection between good deeds and religion probably indicates that people are reflecting the religious teachings of charity that are central beliefs of most major religions."
Church averse
In Canada, contributions made at a place of worship are worth almost half of total donations to charity. Except for Yukon, British Columbia is the most irreligious province in the country: in the last census, 35 percent of the population declared no religious affiliation, more than double the national average, and almost five times the rate of PEI, where 95 percent of the population has a religious affiliation. The most generous province, then, also has the highest numbers of believers. Although these numbers don't reflect whether, or how often, people attend a religious service, they do suggest the same trend that Smith noted in the Altruism study—a connection between belief and charitable behaviour.
Christianity remains the main religion in Canada, and Christmas one of its major celebrations. John Stackhouse, a professor of theology at Regent College, UBC, says charity is central to Christianity. 'Charity' comes from a Latin word, 'caritas,' which was originally used to mean love: charity then is properly seen as an act of love. "To love one's neighbour is encoded in the very foundation of Christian ethics. When Jesus was asked, 'what is the greatest commandment?' of the more than 600 or so that are in the Old Testament, He isolated two: To love God and to love your neighbour as yourself."
It has only been relatively recently that charity has come to signify "alms-giving." In centuries past, "charity" referred to a gamut of behaviours, from giving money to caring for the sick. "That is an unfortunate narrowing of its scope, because there are lots of ways that our neighbours need to be cared for beside alms-giving. But certainly care for the poor is expected of Christians," Stackhouse says.
Charity is not simply a moral obligation of Christians, Stackhouse observes, but it is also "a function of the way we are wired—and that this is the way God's made us: to be interdependent, to recognize that we need one another."
It's not just theologians like Stackhouse who think about altruism. Social psychologists, like Mark Schaller also explore this domain. From his office in the Psychology Department at UBC, Schaller says that across all cultures, the principle of reciprocity influences charitable acts: I'm more likely to give to you, if I believe you'll do the same for me some day.
Holiday magic
These computations aren't necessarily conscious, and "oftentimes we'll choose to give to certain people based on some sense of reciprocity, even if it's not rational," Schaller says. For example, a person dressed as Santa Claus who is collecting for charity is likely to ring a lot of our reciprocity bells, because we unconsciously think, "'Oh, Santa doesn't just take, he also gives. He brought me gifts as a kid—of course I'll give to him!'"
At Christmas, gift-giving patterns reflect the biologically driven bonds of kinship, which makes us more likely to give to parents, siblings and children. Schaller points out that humans—as well as other animals—have almost certainly some sort of evolved mechanism that leads us to take care of our closest relations first.
Or the people who merely remind us of our nearest and dearest. "We're susceptible to these seemingly superficial pieces of information that trips some sort of switch in our mind," making us perceive a closer connection to a stranger than we actually have. This in turn will prompt us to be more likely to open our pocketbook to them. Fundraisers, con artists, and advertisers all use this evolutionary imperative to their advantage: If they can trigger a spark of fellow feeling, we're more likely to succumb to whatever they are peddling. "I'm more likely to help some charity that feeds children around the world if they show me a picture of some poor pathetic kid, and ask me to adopt him," Schaller says, because "it starts hitting my parental mechanism."
Lasting rep
A darker force—vanity--also affects giving patterns. Charities publish the names of benefactors, because that jacks up contributions made: we all like to see out name in lights, or at least on paper. Manfred Milinski, of the Max-Planck-Institute in Germany, has found that charitable giving creates a halo-effect, enhancing the reputation of donors to causes widely perceived as worthy. "All our new findings," he says, "show that gaining 'reputation' is a very strong incentive for many people."
The power of prestige is such that large anonymous gifts are newsworthy events, observes William Harbaugh, a professor of economics at the University of Oregon. Individuals crave recognition for their largesse not simply from the public at large, but by their peers. Seen from this perspective, charity auctions and galas give wealthy patrons an opportunity to put their generosity on display, and receive approval from their peers. And if they're lucky, they'll also gain public recognition the next day in the society columns.
Philanthropists have always liked to see their names attached to buildings—from the Carnegie libraries of the early 20th century to the Samuel K. Irving Learning Centre at UBC in the 21st. Mark Schaller says a donor derives "a feeling of lasting value if I'm giving in such a way that my name gets attached to it." Buildings confer a kind of symbolic immortality on the donors whose names are emblazoned on them, Schaller says. "So if I can get my name on something permanently out there in the world. Then after my body is rotting away, I'll still have achieved some symbolic immortality."
Karma confirmed?
But whatever one's motivations exist for giving, donors of time and money can expect to benefit from their actions. Psychologists have found that giving bolsters self-esteem and improves mood, at least temporarily. Schaller says there can also be long-term benefits of giving, especially for those who volunteer time. "Volunteerism has been linked both to better physical health and also better mental health," he says. A recent study considered the effects of offering social support to others. "Results showed that people who gave more support (including helping others with tasks, and providing emotional support as well) actually lived longer. In fact, the data suggest that giving social support may actually be even more beneficial than receiving it."
In Dickens' Christmas Carol, avarice and self-interest strangled Ebenezer Scrooge's happiness. Penny-pinching British Columbians might keep his fate in mind next time they avert their gaze from someone in need. After all, science has now demonstrated what writers and religion have told us for eons: charity is good for you.
Judith Ince is a staff writer for The Tyee.
Tomorrow: Andrew Findlay accompanies B.C. medical professionals who give their time and skills to Guatemalans in need.