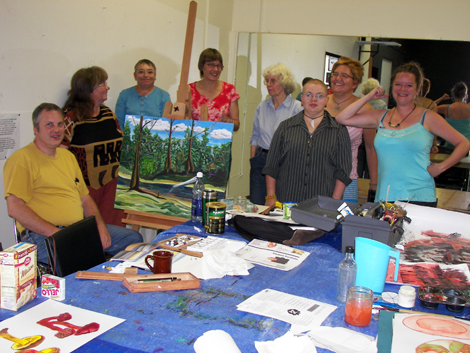 There's something that bothers Kaye Collins about the notion that great art often comes from tortured, insane people. "When people talk about famous artists that have mental illness, they romanticize it," she says. Sure, everyone knows the story about Dutch post-impressionist Vincent Van Gogh chopping off his ear, but as far as she's concerned, mental suffering makes it very hard for people to be creative. "In reality, people who are dealing with an illness, when they're really sick, they can't produce great art, so I think it's a myth."
Collins is part of the Pandora Arts Collective, a group of artists who maintain a studio space in Fernwood and meet for drop-in sessions two afternoons a week. On a Tuesday afternoon in August, a dozen or so are gathered around a table in the Fernwood Community Association's main hall, drawing and painting in a variety of media.
The group grew out of the art therapy program at the Eric Martin Pavillion, the regional mental health institution, five years ago. They had a gallery space on Pandora Avenue, funding from the Vancouver Island Health Authority and a professional art therapist who helped members of the group talk about their work and analyze it.
"It was very successful and highly thought of in the mental health community," says Pam Oliver, one of the founders of the group and its current co-ordinator.
Then two years ago VIHA pulled the funding, which Oliver figures was around $70,000 a year. On a day when the group was gearing up for a Christmas art show, they found a letter posted on the door saying there was no more money and they had 60 days to get out.
"There were a lot of cuts going on then," says member Clive Beal.
"It was horrible. We were left with nothing," says another member, Ilyanna Jones, who recently injured her painting hand while dragon boating.
Oliver says she called every politician she could think of but found no support. Certain previously supportive politicians didn't even return her calls. "We had one member who was so upset and felt so shut out that she attempted suicide and ended up in the hospital," she says. Another member succeeded. Asked if the suicide and the attempt were directly related to the folding of the group, both Oliver and Jones nod emphatically and repeat "definitely" several times.
'No outreach again?'
The change was hard on everyone. "I was really worried about my own mental health," says Oliver. "I thought, 'Am I going to be that depressed person who has no outreach again?'"
Members of the group kept meeting for coffee, and at some point realized they could try running the group themselves. A small core began meeting at Oliver's house to paint. After a few months they applied to the FCA for a grant that would give them studio space. Over the years they've been rebuilding the group, finding grants here and there that allow them to buy supplies and keep the cost down. Members pay on a sliding scale with a maximum of $10 a month. They are accepting new members, and the group is open to everyone.
Oliver gets much of the credit for rejuvenating the Pandora Arts Collective. "Pam is the most amazing person in the world, because without her we wouldn't be here," says Jones.
Oliver blushes and says, "If this group wouldn't be here without me, I wouldn't be here without the group." Plus she has a long list of people and groups she wants to thank, including the Victoria Foundation, the Fernwood Community Association, the City of Victoria, Volunteer Victoria, the Quality of Life Challenge, Bob and Karen Horn, website and brochure designer Peter Ashley and volunteer art therapist Elaine Genser.
In some ways, the abandonment by VIHA and developing as an independent group has been very positive. "I think they did us a favour. It was the best thing they could do for us," says Oliver. "Nobody is ever again telling us when, where and for how long we can do our art...We have the right to do our art free from the establishment's approval or contract limits."
Jones nods in agreement, but adds, "I'm just sorry we lost a few people along the way."
'So much prejudice'
The group is obviously enthusiastic and thriving, but several say it would be nice to be able to hire an art therapist again. "We're therapeutic but we're not therapists," says Oliver. "In the old program the art therapist could judge if someone needed to go see their doctor."
Or as Clive Beal puts it, "We can't be each other's therapists. We can support each other, but we can't play that role."
And clearly the members really do provide strong support for each other, beyond what they do in the studio together. Connie Irvine says she appreciates that the group gathers for holidays like Christmas, Thanksgiving and Easter. "We have a safety net for those awful, empty holidays," she says. "It's an important thing for people to have a place to go." The only hole in the calendar is Halloween, she says, joking, "We'll have to take up trick-or-treating together."
Despite the roots of the group, members are reluctant to talk about what specific mental illnesses people in the group may suffer from. "It's a sensitive topic," says Beal, who was working on a heavily treed landscape painting propped on an easel. "I think it's important to be honest about who we are, [but] it's not the emphasis. The emphasis is art." He adds, "Our emphasis is not on disability, but on ability."
The key, says Oliver, is remembering that a mental illness is a part of who a person is, not the whole person. She says, "Someone with schizophrenia is called a schizophrenic. Why isn't someone with cancer called a canceric?" There is so much prejudice and misunderstanding around mental illness, she says, that it's hard to apply a label without it sounding like a judgement. "We don't want to be perceived in any way as disabled, because we're not. We're artists." On the day I visited, she was working on a bright painting of hollyhocks, done in red, pink and green acrylics.
Jones says during her time with the group her work has improved incredibly. The members give each other tips on technique, and there are plans to start having more classes and to get models in for life drawing.
She says, "I do have schizophrenia and dissociative disorder, but in my heart I'm an artist. That's who I am."
Andrew MacLeod is a reporter for Monday Magazine in Victoria where this piece also runs today. To read his previous articles for The Tyee go here.
Related Tyee articles: