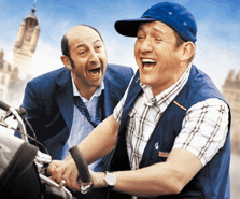 The world is upside down again. Two films playing in Vancouver this week take as their subject the mannerisms and oddities of country folk. One is American, the other French.
Which do you think is silly and which is serious? If you've seen Welcome to the Sticks already, no doubt you've guessed that the French have donned their silly hats.
The original title of the film, Bienvenue chez les Ch'tis, plays upon the regional language and behaviour on the northern coast of France, or more properly the Nord-Pas de Calais. Here, the residents speak cheutimi, which mainly is comprised of substituting "ch" for "s" and mi and ti for moi and toi, etc. The Ch'tis, as they are known, are viewed as little more than cavemen by the rest of the country, perched as they are on a forgotten bit of earth, drinking hugely to ward off the cold, and marrying their sisters.
Or at least this is the view of one Philippe (Kad Merad), a post office manager from Southern France.
Egged on by his depressive wife Julie, Philippe has gambled everything on getting a managerial post on the Côte d'Azur. But when things go horribly wrong with his transfer (in a very funny scene involving a reluctant wheelchair and a government inspector), Philippe is banished to the northern town of Bergues. He outfits himself in an enormous parka and takes leave of his family, resigned to a fate worse than death. Even the police, who stop him for driving too slowly, commiserate, and send him on his way with condolences.
French hillbillies?
Like any fish out of water story, the fun lies in the details, and to its credit, Welcome to the Sticks supplies them with polish. Philippe's arrival in the Ch'tis town of Bergues begins with a bang when he hits his new workmate Antoine (played by the film's director Dany Boon) with his car. Things go precipitously downhill from there. As Philippe and Antoine attempt to communicate, their discussion spirals into a veritably symphonic bout of misunderstanding that ends with a debate about fish stealing furniture.
The language barrier gets further complicated when Antoine invites his new boss home to spend the night, and Philippe becomes convinced that he is about to be a sacrificial catamite, to yokels with a taste for backdoor entry. Fortunately, French hillbillies do not seem to share the peccadilloes of their American cousins. There is no sodomy in the backwoods here. The residents of Bergues, despite their habit of torturing the French language and eating rank cheese, are perfectly ordinary folk. Antoine, a drunken, church-bell-playing mama's boy with a face that resembles putty, becomes Philippe's guide to this new world -- Virgil to his Dante.
Hilarious private hell
As their friendship slowly develops, this unlikely pair discovers they have far more in common than it first appears. For example, both of them have women problems. While, Antoine harbours an unrequited passion for his fellow post-office worker, Annabelle, Philippe must maintain to his wife that Bergues is Hell on earth. Every weekend, when he travels back home, his tales of the horror of the place get bigger, and his wife's passion for him follows accordingly. Having reignited her feelings for him through supposed self-sacrifice, Philippe must continue to maintain that the perfectly pleasant little town is in fact akin to a particularly bleak section of Siberia.
Neither man is able to tell the woman he loves the truth, funny enough. You can see the complications coming a mile away, but still that doesn't detract from the essential pleasure of this comedy of errors.
Things reach a furious head when Julie decides that her duty requires that she be at her husband's side during his darkest hour.
The film's ridiculous apotheosis provides a fitting end, and things wrap up sweetly. To say Dany Boon plays it broad, both as an actor and as a director, is putting it mildly. Still, there is a great deal of affection that warms the proceedings. (The film is dedicated to Boon's mother, a native of the area.) Slapstick moments of drunken Frenchmen careening about the streets on bicycles are interspersed with scenes of near-tooth aching sugar. If the film has any deeper point to make, it's that human beings will always look for divisions, and if none exist, they will invent them.
In the spirit of French farce, a decidedly fizzy concoction, such considerations do not bear thinking upon for too long. Underneath it all, we want and desire the same essential things, love, companionship and to careen about the streets, drunk out of our collective minds.
Will Smith's remake due
Welcome to the Sticks is not a bad evening's work. You can leave the theatre with nary a thought in your head but feeling a little lighter inside. The only thing that snagged my step was the thought of what an American remake might look like. (The film's rights have already been bought by Will Smith's production company.) Following in the fine tradition of light and poufy comedies such as La Cage aux Folles, Three Men and a Cradle, etc., a leaden American remake will soon be unleashed on a little interested world.
What remains to be seen is which particular corner of the U.S. is picked as the equivalent of the French Chi'tis. There are certainly lots of choices since throttling the English language seems to be a national hobby or, to borrow a phrase from My Fair Lady's phoneticist Henry Higgin, "There even are places where English completely disappears... In America, they haven't used it for years."
'Ballast': Heavy duties
Meanwhile across the water, an entirely different version of life in the sticks is unfolding in Lance Hammer's film Ballast (playing this week at the Vancity Theatre in Vancouver). Ballast is set in the open vistas of sky and marshland of the Mississippi delta, a place where the grey winter sky blends seamlessly with the dead cotton fields into one indefinable whole. Not unlike the lives of the people who live there.
The film revolves around three people, with a fourth, who leaves a lasting mark on everyone by slipping this mortal coil by his own hand at the outset of the story. The dead man leaves behind a twin brother (Lawrence), an ex-wife (Marlee) and a teenage son (James). All three, like orbiting planets loosed from their centre, are spinning off in different patterns. Occasionally they bump into each other. After his brother dies, Lawrence attempts to follow suit, and shoots himself. He is discovered by an elderly neighbour and removed to hospital. But even after his release, life does not really resume, until his young nephew James shows up with a gun demanding money.
James has his own problems, including a gang to whom he owes money. While he roams the delta by himself, buzzing about on his motorbike like an outsized wasp, his mother, Marlee, has lost her job. Marlee sees the possibility of a new life in the form of a roadside convenience store once owned and operated by her ex-husband and his twin brother. Slowly and gingerly, these three people make a life for themselves and each other, and the process by which this happens is utterly riveting.
Just under the surface
Ballast is very much a film about place and that oft-invoked term "atmosphere." Which is perhaps too restrictive a word for the heavy, enveloping, suffocating sense of despair that coats everything like a clammy fog. But if you lift up the dead growth, underneath you will find small green shoots nosing up, little noticed, struggling for air and light. That same sense of struggle is here. Complete with the same quality of ordinary miracle that attends the coming of each and every spring.
As this trio of lonely, isolated souls slowly come together to form a new orbit, the film's title takes on more significance. The weight and heft of these relationships keeps each person from sinking.
Anyone who came of age in the country will recognize the quality of light and time captured in this film. Its sense of space and time contains not only sadness and boredom, but something more curious, the resilience of newly born hope, like a slender green spike emerging out of the soil.
Related Tyee stories: