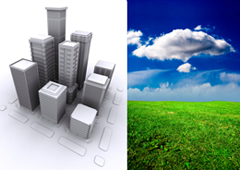 "Can we talk about something other than the end of the world?" someone asked me the other day.
Okay, I suppose I do talk about it a bit much lately. The feeling has been there for a while. It comes on strong whenever I stand in line at the Safeway and look at the magazines filled with stories about Jennifer Aniston and Brad Pitt, or watch television, wondering, when did it all get so dumb and pointless? It's a terrible thought: maybe it wouldn't be such a bad thing if the planet went through a people purge.
There's an odd split in our culture at the moment. Doom and gloom glowers from news headlines and movie documentaries. But the cars roar up and down Vancouver's Oak Street night and day, the coffee shops are full until midnight, and the price of real estate, especially anything with even a distant view of water, continues to shoot through the roof. A big lie maintains we can continue to have our consumptive lifestyle, and stave off environmental chaos, if we use only one coffee cup at Starbucks, turn off the lights, walk to work and recycle plastic bags. We can have our cake, and everyone else's cake too.
And yet, underneath the ordinary activities of daily life, many people have the anxious sense things have gone too far, and something is coming that will push it back in the other direction -- hard.
I live in a two-bedroom apartment over Oak Street, and when I say over, I mean it. You can watch people on the bus from our window, and virtually read over their shoulders. It's not really home, simply a place to be for now. The roar of traffic is like a river of white noise, you get used to it after a while. But when I returned from a summer in the Kootenays, where I was raised, the noise began to seem unbearable. And I am thinking a lot lately that there has got to be better way to live.
Mom the farmer
My mother is no sucker for back to the land romance. She was there during the great exodus of the 1970s when, driven by some mysterious impulse, people fled the cities and suburbs. "I watched it happen. It was like lemmings. People got old milk trucks, VW vans and made their trek into the country. They arrived without any money, or any plan, just the idea that they had to get out. The height of it was about 1974 and by 1979 it was over. Whether it was because people came to realize how much work it really was to do everything yourself -- make yogurt, grow bean sprouts, milk goats -- I don't know. But it ended as mysteriously as it began. After a while, all the hippies either blended in or went back to the city to become yuppies.
"But for a while there it was a lot of fun."
I was there as well but mostly what I remember was a lot of naked adults, drinking goat's milk, being told carob was chocolate and wearing a kerchief on my head when really all I wanted was skin-tight satin jeans. Yes, it's true, we made our own butter, our own ice-cream, our own root-beer. We rode horses, chased cows, spent hours wandering the woods, building fires, going exploring, swimming, skating, it was a different world, a different time, when children left the house in the morning and came back at night dirty and tired from an entire day of roaming like a wild thing.
Haying season, in particular, sticks in my mind with a deep affection -- everyone working together all day long, coming in at lunch to eat around an enormous table, shouting stories one over top of the other, knocking off in the heat of the afternoon to go swimming, staying until evening and watching the stars step onto the immensity of the summer sky, like some insanely grand Bob Fosse production. I remember the thrill then, of simply being alive in the world.
My mother, being my mother, has her own opinion on these issues. I'll let her tell it:
"I have often deliberately introduced myself in groups or at conferences as a farmer. It is interesting to watch the confusion on people's faces when I say this, especially if they know that I also have PhD and a list of published books. But the initial assumption is that farmers are stupid. So how can I be both? These contradictions fight themselves out on their faces. Perhaps I am not a real farmer, then, but a hobby farmer, a pretend farmer, a landed gentry, the kind of farmer who rides about on her horse to see how the peasants are getting on. But no, I'm a poor farmer, the kind who began young and got hooked on the life and can't or won't quit because, for me, it is the only life that makes sense, or has ever made sense to me.
"And yet, in those odd and endlessly despairing conversations people tend to fall into these days about the future, the one place people won't go is the idea of small farming. Why? The chances are good that either their parents or grandparents or uncles or someone was a farmer, raised food, grew animals, lived rurally. People who got to visit their uncle's or grandparents farms tend to remain endlessly nostalgic about the place, while completely denying that living such a life would ever be possible for them. And they are probably right. In my experience, you pretty much have to be born a farmer to become a farmer. Over the years I have watched many bright-eyed idealistic people arrive to 'help' me on my farm. And then leave again for a variety of reasons.
"The new back to the land movement that we in rural Canada are experiencing has nothing to do with survival or rural living. It's more about people buying a postage stamp sized piece of land on a mountainside, building far too large a house and then using that place for a week a year. The modern myths that most people hold about rural life and country living are endlessly backed up and supported by a media that treats 'country living' as the property of the rich, with occasional walk-ons by quaint, cute, folksy 'rural' people." (That would be me my mother is describing.)
'People will wait for rescue'
She continues: "There is also a constant onslaught of stories about the 'natural' world, and these tend to get published in a variety of places, outdoor magazine, travel magazines, environmental magazines, or 'nature' writing. They always take one of the many standard lines; nature as savage, or cute, or lost, or sentimentally, and nostalgically beautiful.
"Rural life has changed completely over the past 50 years. In the past 50 years that I have lived on our farm, I have watched as our rural community has been completely replaced by suburbanites, both the summer and the year round variety. They are, on the whole, nice people, and we tend to leave each other alone. I don't know how they see me, and certainly they don't ask and clearly aren't interested in who used to live here or what the community used to be like.
"To me, what is ironic and even bizarre is that the ideas that were generated by that back to the land movement 30 years ago are steadily being rediscovered and reiterated by the new apocalypse movement: organic farming, locally grown food, alternative energy, conserving energy, getting off the grid, simple living. Only somehow none of these ideas seem to involve actually living on the land where they can actually be implemented and thus they tend to remain just that, ideas.
"Do I think that there will be a new wave of back to the landers? No, and I certainly hope not. I think if something does go wrong, most people will huddle in the suburbs and wait to be rescued by the government."
So this impulse to remake society, which fuelled the first wave of back-to-the-landers may not be quite the same the second time around. It is true that many of the ideals of the counterculture, the freedom-loving hippies and their communal ambitions, wrecked on the rocks of sexual jealousy, or fell victim to plain old bad behaviour. If that history offers some cautionary lessons on the inherent difficulty of living with other people, might we learn from that, and get it right this time?
Counter to cyber
In his new book called From Counterculture to Cyberculture: Stewart Brand, the Whole Earth Network, and the Rise of Digital Utopianism, Stanford professor Fred Turner writes about the long and winding road travelled, from hippies communalists to digerati. "Between 1967 and 1970, for instance, tens of thousands of young people set out to establish communes, many in the mountains and the woods...For these back-to-the-landers, and for many others who never actually established new communities, traditional political mechanisms for creating social change had come up bankrupt. Even as their peers organized political parties and marched against the Vietnam War, this group, whom I will call the New Communalists, turned away from political action and toward technology and the transformation of consciousness as the primary sources of social change."
Which all sounds rather lovely. Too bad it didn't actually work out that way. Except for a few -- now seemingly joined by a constantly growing trickle of people heading out of the cities and making a life for themselves in rural B.C.
Consider writer K Linda Kivi, who lives in her own mountaintop fiefdom in the Kootenays. Her land was originally a women's co-op, but now men live there too. The co-op generates its own power, grows much of its own food, but several members work in town and membership tends to shift as people move back to the city for careers, school or relationship.
Kivi says, "I don't think there is a second wave of back to the landers, it's more like a bunch of ripples. I certainly don't consider myself as a back-to-the-lander. I'm more like a forward-to-rural-radicalism type. In terms of the back to the land thing, I'd say I and my land partners have more realistic aspirations and less fantasy. We make the lifestyle work for us instead of us working for it."
It does seem lately as if a lot of people are having similar notions. A recent issue of The Sun Magazine includes a number of articles about living sustainably. An interview with Bill McKibben could have been taken from any number of conversations I've had in my own head. Read it and see if you don't feel like dropping everything in your life and fleeing for the hills.
McKibben agrees with my mother. "It's only been one generation, in which we seemingly lost touch with our farming background. The story of what happened to American agriculture is probably the single most important news story of the last century. We went from 50 per cent of the population living on farms to less than one per cent."
I have a dream
At our family dinners, the imminent demise of society has long been a favoured topic. But lately, our Armageddon fantasies, which used to seem so distant, are composed of one part Little House on the Prairie to two parts Mad Max. Conversation tends to focus on, during some unspecified disaster, what we will need to survive: enough people who know how to do useful things (such as plow a field, skin a cow, or can peaches); enough gas to actually get ourselves back to the family farm, and then enough weapons and fortifications to fend off marauders.
And with each conversation the voice in my head becomes louder, more insistent. I keep asking myself, is it time to head back to the land? And: will the land even have us any longer?
I like to believe that when you winnow human behaviour down to its most fundamental basics, there are really only a few things that matter. You need some place to hole up for the night (preferably some place safe and warm). You need enough to eat and drink. And you need to pass on your genetic material. On these few basic appetites is predicated most of human culture.
I like to remind myself that the most memorable thing about the PBS program Frontier House, which returned a group of families to the 1883 existence of homesteaders, wasn't the daily struggles of pioneer life, but what happened after everyone went back to the ease and comfort of the 21st century. I don't think I've ever seen a sadder sight than the young son of one of the families sitting wanly bored to death in front of the TV in an enormous suburban tract house. The siren call of comfort is offered in lieu of hardship, but hardship and struggle can actually be rather good for people, whereas endless comfort is not.
And last night, I had a dream. It's actually a reoccurring dream that I've had for the past 20 years or so. I'm on the B.C. Ferry, it's always the same. I'm usually missing the boat; sometimes I'm frantically trying to get in line for the cafeteria. There is always a level of anxiety attached. But this time was different. I walked off the boat in mid-passage onto an island, a meadow actually. A great yellow curve of open space, and I lay down and hugged the enormous haunch of the land, like it was a huge warm animal, and the most intense sense of comfort came over me, the purity of feeling that is only available in a dream. Part of me thought, I should get back on the boat, but I couldn't make myself get up and go back, and the boat sailed off without me.