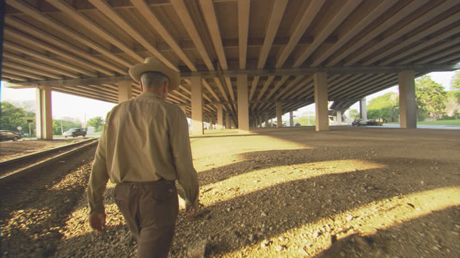 A variety of upcoming film events, beginning this weekend and heading well into the next couple of weeks, are extremely worthwhile and deeply deserving of support and attention. Here's just a smattering of what's on tap.
'Raiders: The Adaptation'
On Friday, May 2nd, Vancouver plays host to Indiana Jones. Harrison Ford won't be present, except in spirit perhaps, and neither will Steven Spielberg, although his lawyers are probably circling like great whites, making certain no pirated copies of this epic pirated film ever see the light of day. The film is Raiders: The Adaptation, a shot-for-shot remake of Indy's first outing as made by a bunch of teenage boys from Mississippi.
In these days of endless YouTube homages, Raiders: The Adaptation towers alone. Even the title is quite clever when you think about it. One should never underestimate the pure power of teenagers when harnessed in a collective obsession. Eric Zala, Jayson Lamb and Chris Strompolos started shooting their homemade epic when they were 12 years old. They finished the project seven years later at the tender age of 19. This is where things ended, until the film was picked up and programmed by that great ball of hyperbolic hairiness known as Harry Knowles.
The rest, as they say, is history. A slew of media coverage ensured that the story became familiar, and the film has since gone on to a strange form of shadow celebrity. Since there is no other place to watch Raiders than in a theatre (no DVD copies exist) this is your golden opportunity to see what many have called the greatest fan film ever made.
Raiders: The Adaptation screens in the lovely Park Theatre from 7:00-10:00 p.m. Tickets are selling very briskly indeed. Get them while they're hot, and help support some small children in the process, and I'm not talking merely about the ones who made the film. The Vancouver screening is to help raise money for Camp Good Times, which gives children with cancer and their families the opportunity to enjoy a bit of fun and relaxation.
Projecting Change Film Festival
Also in Vancouver, on Thursday, May 8th, 2008, The Projecting Change Film Festival opens with a bang with a screening of Flow: For Love of Water. Irena Salina's film bowled over the Sundance Film Festival folk last year, and it is well worth watching.
The film offers more than a few shocking revelations, but its biggest impact comes from sheer scale alone. This is a truly a global documentary that sets out to reveal the worldwide impact of a lack of clean drinking water. From the Ganges River in India, to the city of Cochabamba, Bolivia, that fought back (hard) against water privatization, the stories of poor people having their right to clean, safe water stolen from underneath them go beyond injustice. The actions of Nestlé and Coca-Cola, to name but a few companies involved in the war over water, are nasty business indeed.
Despite the presence of Canadian writer/activist Maude Barlow, the author of Blue Covenant: The Global Water Crisis and the Coming Battle for the Right to Water (featured in a Tyee review not too long ago), there is little mention of Canada in the film. This is unfortunate, given that we Canadians will certainly not be spared in the coming blue gold rush. Maude Barlow does provide a voice of sanity and tenacity in a world seemingly gone mad with greed. You might feel a warm little glow when she confronts a French executive from one of the world's biggest water corporations, and tears him a new one.
If you take no other information away with you other than the fact that bottled water is completely asinine, that's probably enough. The film advocates strongly for small measures, localization and simple solutions to enormous problems. One of the most ingenious of these is an invention devised by Dr. Ashok Gadgil that uses ultraviolet light to purify drinking water. It's a cheap, easy solution that has already been implemented in villages in India, and could easily be adapted to countries around the world that suffer from water-born diseases. These small moments of thoughtfulness and personal action help to offset what might otherwise be complete and utter despair when considering the implications of mass global water shortages. I don't know if hope, that most persistent and pernicious of emotions, is quite up to the task, but it's all we've got.
'Corn' pops
The Projecting Change Festival has programmed a number of exceedingly strong films including We Feed the World, Future of Food, King Corn and Everything's Cool. Of this group, it's hard to pick just one film; you might have to see all of them. (I've done it and so can you.)
But King Corn, which follows two friends who discover they are basically made out of corn, is disarmingly engaging. After discovering their essential corniness, Curtis Ellis and Ian Cheney decide to move to Greene, Iowa, and grow an acre of corn themselves. What ensues is a look at the business of industrialized agriculture from the ground up. Although the film is very much in the Morgan Spurlock-school of highly personalized documentary filmmaking, King Corn contains a considerable amount of information about how the American farming tradition has changed in the last 50 years.
In light of the recent media onslaught about a global food crisis, the film is also extremely pertinent. Trillions of corn plants are planted, "But an Iowa farmer can't feed himself," says Michael Pollan, author of The Omnivore's Dilemma, who is interviewed in the film. Blunt, direct observations made by the farmers themselves are juxtaposed against the science of how being "cornfed" impacts not only on human health, but on other species and the environment.
The subtle horror that runs underneath the film's jaunty approach becomes explicit during an interview with Earl Butz, the former secretary of agriculture, who says cheap food is actually the source of current affluence and "America's best kept secret." That this apparent abundance is in fact responsible for so many enormous problems is almost too painful to contemplate.
The Projecting Change Festival runs from May 8 to 11 at the Ridge Theatre. In addition to the films, there are a variety of other events on offer including guest speakers, panel discussions and activities for kids.
Frames of Mind Mental Health Film Festival
The 5th Annual Frames of Mind Mental Health Film Festival also opens next week May 8 to 11 at Vancouver's Pacific Cinematheque. A few weeks after that it's time for DOXA Documentary Film Festival (May 27-June 1, 2008), which is simply brimming with non-fiction goodness. There are some truly excellent films on offer this year, so mark the date down in your calendar and make a mental note.
If you're looking for something more immediate however, another film about water is screening this weekend at the Vancity Theatre. Director Laura Dunn's film, The Unforeseen, is about a little place called Barton Springs, in the middle of Austin, Texas. The film takes its title from a section of poet Wendell Berry's Sabbaths entitled "Santa Clara Valley." (I quote it at length, because it's so lovely.)
I walked alone in that desert of unremitting purpose.
feeling the despair of one who could no longer remember
another valley where bodies and events took place and form
not always foreseen by human, and the humans themselves followed
ways not altogether in the light, where all the land had not yet
been consumed by intention, or the people by their understanding,
where still there was forgiveness in time, so that whatever
had been destroyed might yet return. Around me
as I walked were dogs barking in resentment
against the coming of the unforeseen.

It's a beautiful film that does justice to Berry's words. Go and see it.
Related Tyee stories: