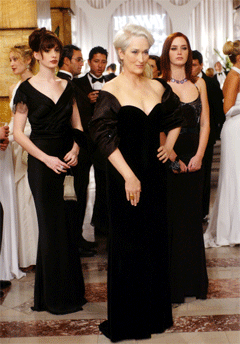 Once upon a time, I had a female boss who took me out to lunch and told me that whenever she looked at me she saw horns growing out the sides of my head. So, yes, I am the devil. I only wish I could wear Prada. It would be worth being the satanic majesty in satin.
Working for women is hell. That is the message of Lauren Weisberger's hatchet-attack The Devil Wears Prada. After working for Anna "Nuclear" Wintour, the editrix-cum-dominatrix of Vogue magazine for little less than a year, Weisberger turned tail and yelped like a beaten dog, fashioning her experiences into a "novel". Well, sort of a novel. More like a breathless poor-widdle-me tell-all in which Wintour becames one Miranda Priestly, the meanest mother to stalk the halls of power. Ain't that just like a woman? No fisticuffs in the streets, just a nasty little book about bitches in command and the whiners who work for them.
This sneaky sabotage act was an enormous success and had the New York fashion world clucking for months. The film version may have softened the original message to "working for women is heck," but the point remains. Work plus women plus fashion equals a battle of the bag hags, the label whores and the various tribes who will kill for the cut of a jacket. Live by the seam, die by the seam as they say.
Sachs meets Fifth Avenue
Into the fashion trenches enters little Andy Sachs (played by doe-eyed actress Anne Hathaway). Andy is a typical college-age dolt who thinks the world owes her a living, so off she sets for a job interview at Runway magazine, where she is assured that a year as the assistant of Miranda Priestly will open doors to journalistic jobs galore. So despite her disdain for all things fashionista, she takes the job and falls down a rabbit hole where one cerulean belt is simply not the same as another cerulean belt.
In this particular wonderland, the Queen of Hearts is played by Her Majesty Meryl Streep. "Off with her head!" screams the Queen. But Miranda Priestly need never even raise her voice; she can do it all with a frozen stare, a purse of lips or a toss of her silver mane. She is all ice queen reserve poured into a frosted glass and deeply chilled in liquid nitrogen.
Streep is certainly something: you forget almost instantly that she is anything other than whom she is pretending to be, such is her art. The rest of the cast pales in comparison, quite literally, with the exception of Stanley Tucci (Nigel) who can hold his own in the thespian camp by camping up a storm. Nigel is second-in-command to Ms. Priestly, and in the high church of fashion he is a bishop: aiming for power, but content to bide his time.
Starring...shoes
The other superstars in this film are, of course, the shoes, the bags and the coats: Chanel, Valentino, Jimmy Choo. Excuse me while I hyperventilate. But despite the presence of the big names, this is still largely a cartoon version of fashion, which is one of the things that incited the New York fashion press to howl like macaques when the film was first released. "Where's the chic?!" they cried, mascara running in dark streaks down their botoxed cheeks.
The film's fashion designer, Patricia Field, who rose to prominence dressing the sirens of Sex and the City, has pulled together some truly curious ensembles. Some of which speak more to a sense of humour than hard-core vogue; although, you'd be hard-pressed to see the difference in the in the opening montage, which depicts a series of lithe lovelies getting their kit on and heading out to stalk the streets of Manhattan, like so many Glamazons. There is lots of S&M wear on display, whiplash girl-childs in thigh-high Chanel boots of leather, oodles of chains and the occasional tongue lash. As campy as Ilsa: She-Wolf of the SS, such posing is all fun and games until some bitch starts bawling. Which happens soon enough. Fashion, red in tooth and claw, chews up these young women and spits them out, but there are always more to take their place, as Andy is reminded throughout. ("There are a million girls who would kill for your job.") Kill, quite literally.
Under Miranda's boot-camp tutelage, Andy learns the hard lessons of style: hemlines go up and down, bags come and go and so do people. When she is given a choice between the right decision and the option of going to Paris for fashion week, Andy chooses the City of Light -- and really, who wouldn't? I would. There isn't anything unexpected here; it's the usual clichés: women are nasty cows who blithely undercut each other for jobs, and men are largely irrelevant to the process; they stand on the sidelines looking on in bewilderment or else resentful of the successful women who run empires of image and issue decrees with the power of monarchs.
Queens and pretenders
Miranda may be evil, but she is not without sympathy. In fact, there might almost be a little too much sympathy here. At the film's screening in New York, Ms. Wintour was said to have given the film a glacial nod of approval, perhaps because of the all of the characters, Miranda Priestly is by far the most fascinating: her wintry style, all the more enticing for being so inapproachable, like a glacier in human form. This is especially so in contrast to her underlings, including Andy with her Chanel and blackened eyes, who looks like a little girl playing dress-up in borrowed finery.
There can only be one queen, the rest are only pretenders to the throne. In this sense, the film gets one fashion dictum correct. True chic, as Diana Vreeland, or some other famous editor was fond of saying, lies in denial; it's not a neck heavy with chains and baubles, but one with no adornment at all. This is what gives Streep's portrayal of Miranda so much panache: it's the whisper not the shout that speaks of power. Restraint is everything.
The usual cant about women and work is never examined in any depth, but that's not what you go to see a fluffy piece of marabou like this for. It's a confection, a spun sugar bonbon that disappears as soon as you pop it in your mouth. Before you can think "Mmm, delish!" it's all gone. Still, it has its moments. It is easy to pooh-pooh what has been construed as woman culture: the dreaded chick-lit lot. But despite the pretty package, Vogue has done some interesting journalism, regularly championing visionary artists and writers. It's easy to overlook its more serious side with all the clothes in the way. This is a play on the old Faustian bargain idea; except here Mephistopheles doesn't have cloven hooves and a tail, she has really great shoes. Of all the things women will do for clothes, selling your soul is only the beginning. "I turned my back on my family and friends," says little Andy at the end of the film. "Yeah, for shoes," answers her wan wiener boyfriend. "And coats, and bags, and belts, and shirts and jackets."
Dump him; take up with Karl (Lagerfeld), John (Galliano), Marc (Jacobs), Alexander (McQueen), Nicolas (Ghesquiere). You can have a whole bevy of boyfriends. And maybe just one girlfriend, Miuccia (Prada) I love you!
This is a "Holly would" film after all, and thus we must err on the side of traditional morality, in which the sweetly skinny heroine turns away from temptation and follows her heart into working for the alternative press. She even gives back her fabulous wardrobe. Honey, I'm here to tell you, grab the goods while you can. If you want to be a writer you'll be poor and Prada-less forever.
Dorothy Woodend reviews films for The Tyee every Friday.
Related Tyee stories: Dorothy Woodend wrote about how clothes make the me, and about the thrill of thrift hunting as part of the GladRags series, and about the lethal power of prettiness.