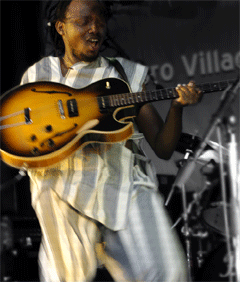 For the Mighty Popo, this year's Vancouver Folk Music Festival is about more than the music. It's about playing host to African guests, the Batwa people who used to be known as "pygmies."
Several years ago, Popo Murigande, the leader of the Ontario-based band, visited Rwanda and learned about the Batwa people. As part of the mid-90s genocide in Rwanda, the Batwa population was reduced by half, evicted from their forest home and left begging on city outskirts. This year, the Mighty Popo decided to include the Batwa people in its performances at B.C. music festivals. But that plan has proved to be everything but uneventful.
In May, Popo travelled to Rwanda for what he thought would be a two-week trip. He ended up staying two months, trekking around the country to assemble a troupe of Batwa singer-dancers. He held regular practice sessions, but today he still hasn't seen all their complex vocalizations and dance moves. He's overwhelmed by their sounds.
Tree life and passports
He's also overwhelmed by paperwork. It seems bringing people out of their homeland who don't have passports isn't entirely straightforward. One Batwa performer is absent because her exit visa was denied. But after several months of efforts, nine Batwa are now staying at Gage Towers at UBC. In fact, due to some logistical errors, they've been there for three weeks. Popo is finishing touring around B.C. and planned to bring them out to Harrison, B.C., among other tourist stops, just before the festival.
On one hand, it's an untraditional way to prepare for a folk festival. On the other, it's tradition at its very core. And it's also reflective of Popo's history and interests. Popo has been accruing and melding musical traditions since his first Canadian musical gig, more than two decades ago.
At the time, he had only played harmonica and guitar -- and only for his own enjoyment. But when he arrived here in Canada, he joined a series of bands, playing "afro music" of all genres -- "rhumba, blues, jazz, reggae, funk," which he lists off easily, trailing off to indicate that the list goes on.
The list does go on. And it includes something he considers a new sound. While performing in his mother's homeland, Rwanda, in 1998, he discovered "the poetry of Rwanda." Since then, he has incorporated Rwandan techniques and styles into his most recent music. Despite the new musical style being labelled "more African" than his previous, more reggae/bluesy recordings, Popo insists that the sound is not cultural, national, or continental, but just very much his own. "Finally," he says, "I have found my own sound."
That sound, he says, is "like if you were walking barefoot in downtown Manhattan wearing pants that are on one side blue jeans and on one side is African fabric -- just walking straight up as a proud African. I don't try to fuse anything." The incorporation of Rwandan and Burundian influences was entirely organic to Popo. And the Batwa style integrates extraordinarily with his own.
Life of change
That's why he's excited to be working with the Batwa not only for political reasons but for musical ones as well. Popo is struck by how quickly the Batwa adapt to audiences and change their style. His personal style has been changing since he began playing, so to play in the company of musicians who morph their sound and motion so quickly, "reminds me why I like their music in the first place." Though he rehearsed with them three times a week in Rwanda, the Batwa continue to break out moves he's never seen before. "Singing-wise, dancing-wise -- I thought I'd seen all their moves, but they can improvise, they can adapt, according to the vibes of the audience." Their ability to find the soul of a crowd and internalize it has, in ways, re-inspired him.
Popo has always liked music that reflected culture. "I can't write anything not about my people," he says. "It's my only purpose in music." But though the political undertones in his music are ubiquitous, they are not deliberate so much as inherent. He has devoted himself to becoming educated about Africa and passing on the knowledge to his audiences. Mental images of Rwandan genocide dominate the western perception of the country, and Popo hopes to elucidate the causes for that civil strife and also reveal another side of Rwanda -- one of beauty, culture and art. His songs, he says, "paint another picture of Africa."
But Popo says he knows that Africa's problems and cultures are bigger than he can encapsulate. "I don't pretend to be the one to change anything at all," he says. But he's changed three things at least for the Batwa people: they'll return with a few dollars in their pockets, memories of Canadian travel, and some new sounds.
The Mighty Popo will be playing at the Vancouver Folk Music Festival on Saturday at 10 a.m. and 4:15 p.m. and again on Sunday at 10 a.m., 1:45 p.m. and during the Sunday evening concert. To listen to a few of their songs, go to the Mighty Popo's website and click on "music" or watch a performance on CBC's "Zed".
Kendyl Salcito is on staff at The Tyee.
Related Tyee stories: Jackie Wong explains Afrodizz, another band performing at the Vancouver Folk Music Festival; Charles Campbell introduces the godfather of the Fest, Utah Phillips, and Dugg Simpson and Sarah Kim pick the best from this year's Festival.