Since he was old enough to want anything, long-time American political cartoonist Matt Bors has wanted to draw comics.
Comics were an accessible medium, he told The Tyee. "I could draw comics, as a young kid, by myself, and they would be done."
As he watched his country's actions following 9/11 and in the run up to the Iraq War, he began making political cartoons, drawing two or three every week. He did that for 18 years, until he quit in 2021.
"I felt like I'd exhausted everything I could do or say with political cartoons and I wanted to tell longer stories," Bors said.
For the last couple of years, Bors has been working on something different — a comic book series called Justice Warriors, which he co-authors with artist Ben Clarkson. The series tells the wild, satirical story of a police force tasked with serving and protecting the citizens of a "perfect" society from the crime and decay of the mutant-riddled "uninhabited" zone.
"I find that it's maybe better to put political content into a story with characters and a whole world, rather than a political cartoon where you have much more limited space and you don't actually have a story," Bors said. "You have to be very blunt about making your point otherwise you'd be misinterpreted."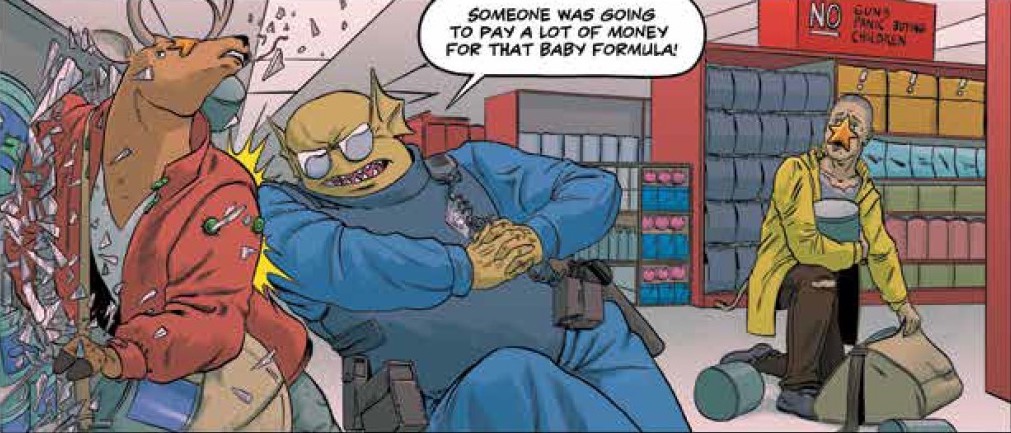 Bors has also edited and published the Nib, a magazine dedicated to comics non-fiction, journalism and political satire since 2013. It will shutter later this summer after a decade.
In other words, it's a transitional time for Bors, who also moved from the U.S. to southern Ontario three years ago.
He's still figuring out Celsius and the U.S. to Canadian dollar exchange rate, he said. "I do gotta say that not having to worry about school shootings, or, you know, going into medical debt, it just takes a lot of the load off."
We caught up with Bors last month to talk about Justice Warriors, editing a comics magazine and what it's like to have your comic panel go "viral." This interview has been edited for length and clarity.
The Tyee: How long have you been working on Justice Warriors?
Matt Bors: Justice Warriors started with Ben Clarkson getting in touch with me. I hadn't met him before. He actually created the Justice Warriors characters in the setting which is Bubble City — this domed city in the future that is crime-free inside and everybody is prosperous and nice and has all sorts of forms of entertainment, and then outside is a vast, endless slum of mutants and crime. The main story follows the police who have to deal with this world.
That type of stuff is really up my alley. I love mutants and ultra-violent satires. We call back to Robocop a lot when we're describing what it's like. It's in the satirical vein of Robocop. Those types of '80s and '90s action movies that are self-aware and have something to say about the genre itself are appealing to me. So, we started working on that together in 2020, doing a pitch, and I think we sold it to Ahoy Comics in 2021. Justice Warriors came out over the course of 2022 as single issues and now it's in trade.
This imagined world feels comical and ultra-violent, but it also feels familiar to ours.
We're trying to talk about a lot of real issues that we're facing in a way that's actually enjoyable and not dour, and also not trying to really shove the message down your throat in the way that a political cartoon might. I think that what we're doing is not all that subtle, but we're going after a lot of targets with this. Justice Warriors deals with cops, social media, celebrity, economics and also it's just a fun and zany comic. We're trying to mix lowbrow humour and violence with more political themes.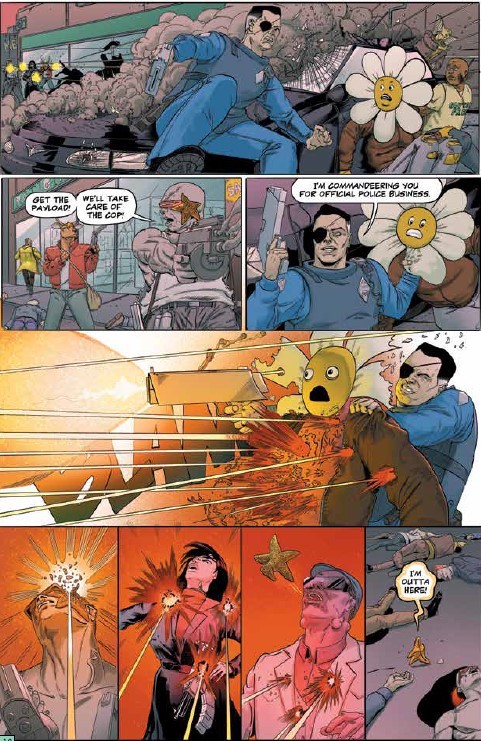 Was there a particular inspiration for the series?
We're obviously critiquing police and capitalism and social media and the way it affects things in our world. We're also doing it through the lens of a buddy cop genre, and we're trying to subvert that. So people's familiarity with that adds to it.
We want the comic to be maximalist. Visually, it's very dense. There's tons of mutants and background jokes, and Ben has drawn all these characters and every panel packed with visuals and in-jokes too. It's an overwhelming world where there's always something going on.
I remember seeing the panel of a frog mutant taking a puff of some kind of joint, it's quite striking. Like, of course the frog mutants in bubble city smoke weed, that makes sense.
They smoke superweed.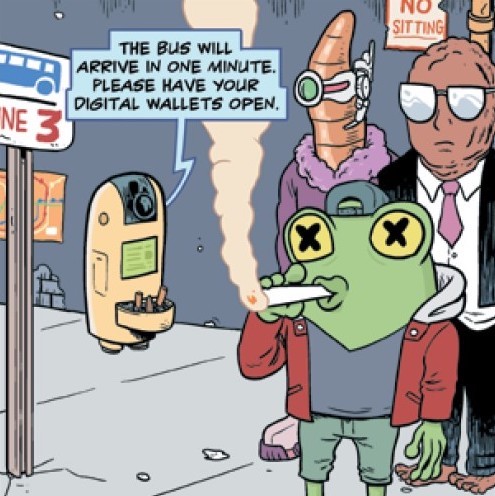 It's interesting how a lot of the characters relate to "the other" and the mutants. Even our protagonist, Swamp Cop, refers to his new partner Schitt as "one of these people" who come from the sanitation dump. Why did you want to focus on that in this story?
Mutants are fun to draw, for one. But they're a metaphor for various things. And in the world of Justice Warriors, everyone who lives inside the bubble appears to be a human being and everyone who lives outside of it is a mutant. So they don't only have an economically segregated society, but they have one that's segregated by however you would define mutants, whether that's their genes or their appearance.
We don't give an explanation for how there are all these mutants that exist, but they can stand in for a lot of different things. Obviously, I think people think of race. The X-Men metaphor with mutants has a lot to do with race.
We see it in a couple different ways. The bubble and then the outside where all the mutants live, it can represent race or class relations, but it's also the "developed" world draining resources from the "developing" world and sending things towards the centre. Everybody who lives in the bubble is sort of a capitalist or an owner of some sort that owns a factory out in the uninhabited zone. And it's really also just about stuff like the normie versus the weird. The uninhabited zone and the mutants represent chaos and also freedom and weirdness and the people who live inside the bubble represent a more tailored, and specific, mannered way of being.
It also feels like there's a tension between appearance and reality, the difference between what we say and show versus what we actually do as a society.
We really wanted to show that systems dictate outcomes a lot of the time, and that you're sort of limited in your choices of what you can do. A lot of fiction, particularly in comic books, is about a heroic narrative. And in Justice Warriors we're following protagonists who are cops that are not particularly good people. Also even the rebellious gang, the Libra gang, is certainly not good in the greater scheme of things.
We didn't want there to be really any heroes per se or really any easy answers to how to solve the problems in this world. I think it would feel a little cheap if we just had good guys come in and then say "Oh, the economy's not working and cops are bad" and, by the end of the book, everything's changed for the better. Not to give anything away, but by the end of the book, everything has not changed for the better.
I've always been drawn to satire and when there are political outrages in the world and in politics, sometimes there isn't anything that you can do except to make fun of it.
Justice Warriors is obviously a worse version of our own world and we see it as almost a sitcom where the status quo is maintained. Just like in The Simpsons, Maggie is still one year old and Homer still works at the nuclear reactor plant. We see that one as a good format for telling stories because we have a lot of stories that we want to tell in this world about different aspects of the society. We want to do elections and sports and what those are like in this world. But also it's a commentary itself on the world that we're telling stories in, that the status quo is very hard to change, maybe impossible to change, and that tomorrow, the prince is still going to be the mayor of the city.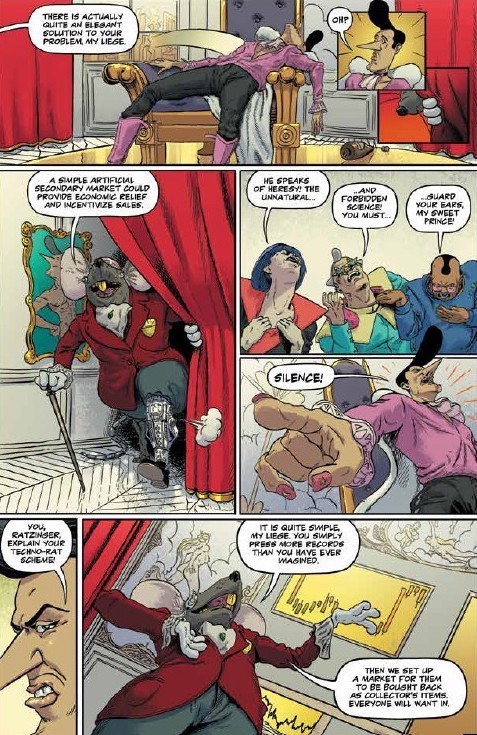 What has it been like to run the Nib, which is, as far as I can tell, the only major magazine dedicated to comics non-fiction, journalism and political satire?
I used to read magazines constantly, a lot of news magazines and lefty magazines. And also, some more like, fancy, more artsy boutique magazines that are real nice. Normal boring stuff like the Nation and Harper's were really foundational. I used to have so many magazine subscriptions it got really absurd. I've subscribed to almost every worthwhile magazine for at least some period of time, everything from Jacobin to the New Yorker.
I always thought that I wanted to do something on par with the best magazines in print, but I wanted to do it in comic form. And I got a chance to start the Nib in 2013, under the website Medium. It was only online then, and we were a daily publication, but I still had this plan in the back of my head to one day do a print magazine, which we got to in 2018. I wanted to showcase the kind of work that I think could be done in comics, and especially in non-fiction.
Political cartoons have been around for a while, but when we started the Nib, there weren't as many non-fiction comics as there are now. It's a lot more common for cartoonists to go that route and there are a ton of graphic novels that come out every year that are really good non-fiction books. I wanted to provide a platform for this type of work that I wanted to see more of in the world.
How are you feeling about the end of the Nib?
I'm feeling a lot of gratitude for my team and the contributors and all the readers. I have been thinking of shutting the Nib down for a while and recently walked up to the line. The hardest part was breaking the news and knowing it would disappoint people. There's been a real outpouring of love for us this week and, while it's a sad thing, I am proud of all the work we did and feel like we can leave it here. We had 10 great years and did things in comics no one thought could be done.
Could you talk to us about what's it is like to have one of your works go viral, or become a "meme" on Twitter? And what do you think of the long life of the "I think we should improve society somewhat" panel?
It's interesting. It's weird because it takes on a life of its own and then it's not really connected to you anymore. Although I guess I should say, it's usually referred to as "the Matt Bors comic," so I feel like I get like a big name recognition lift from it whereas other memes are just known as "Pepe" and "This is Fine." It's been going on for years and it seems to have a staying power. People keep using it. I've gone through periods where it kind of seems annoying, but then also people seem to like it and like that it says something about a certain kind of internet argument that just keeps going.
It's fine and none of it was really taking any money out of my pockets so I can't be mad about that. It's not like some website is ripping it off and selling merchandise. But also, it doesn't really put money in my pocket for it to be popular either. It's just a thing that people see online that's been absorbed into these.... I guess we just call them memes.
I want to do work that eclipses the fact that I had a comic panel become a meme, but maybe I won't, maybe that's the thing that everybody's going to remember, in which case it's alright.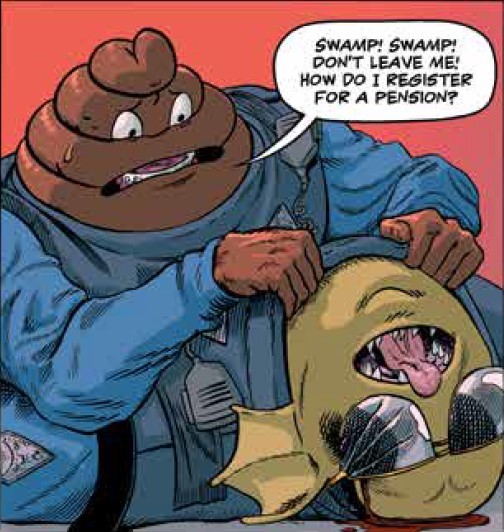 If Bubble City is an allegory, what's the message you'd like to underline for readers coming into this story?
I would say that Bubble City is a city where you might imagine yourself wanting to get inside the bubble. But the fact is that you're a mutant and the only good job left available for you with a pension is to become a cop.
There's no upward mobility here.
There's definitely no upward mobility baked into the system. I think that's a lie. We see a social movement rise up in the book. No social movements are perfect, but there's some huge problems with this one, which is astrology based. And I would say that if I could describe the problem with the Libra gang, and their rising up against the police in Bubble City, it's that they don't have enough solidarity across all of mutantdom in order to accomplish what they want.
Are there more Justice Warriors coming?
We fully intend for this to be a recurring series that we do a volume a year for 10 years, if readers want it. We have a lot of stories to tell in this world and we want to keep it going. We're pitching the second volume now and hopefully that will start coming out later this year.