Subject to Change: Writings and Interviews
Liz Magor
Concordia University Press (2022)
Sometimes art and the general public are friends, waltzing along, hand in hand, gambolling like baby calves in verdant fields. Other times, the relationship is a bit more fraught.
It's a complex picture and one that artist Liz Magor is well aware of.
Magor has been a force in Canadian art for decades, best known for her influential work as a sculptor and educator. Born in Winnipeg in 1948, she grew up in Prince Rupert before moving to Vancouver to study at what was then called the Vancouver School of Art (now Emily Carr University of Art + Design). Over the years, she's accrued a pile of awards and prizes, as well as major exhibitions in galleries around the globe.
In spite of all the accolades, the focus of Magor's work is often deeply humble stuff. Thrift store shoes, moth-eaten blankets, abandoned toys, beaten up old work gloves, cardboard boxes — things that most people barely notice. But Magor's work coaxes a different understanding of ordinary objects.
Magor's recent book Subject to Change: Writing and Interviews is a portrait of her career, but much of the writing expands beyond the visual art world. To this end, the book does interesting things with language, moving back and forth in time, pausing here and there for a deeper investigation with ideas and observations. Many essays in the collection aren't about the creative process or analysis at all, but rather a peek through the artist's eyes at the curiosities of the world.
In his introduction, author and curator Philip Monk sums up what makes Magor's art so compelling. It's not just what Magor makes, but a kind of embodied generosity and a way to see things anew. "She wanted to give back some love 'to restore a range of emotion to these sad things, in order to ameliorate the passionless desire to what created them in the first place.'"
There are the things we use and then junk when they no longer serve. Magor remakes and reimagines them, and they become something else entirely. This act of transformation forces a reconsideration, a change of value. In some way, it is a fundamental act of kindness. Also, attention. Sometimes, they are one and the same.
LightShed, a 2004 installation in Vancouver's Coal Harbour and one of Magor's most recognizable works, is an example of this impulse in action. At first glance, the structure, a clapboard shack inspired by the old sheds that once dotted the waterfront, looks off-kilter and dilapidated. Balanced drunkenly on four spindly legs, it looks like it might fall over in a stiff breeze. But look a wee bit closer and an alchemy comes about. The entire structure, made of silvered metal and gleaming aluminum, captures every rustic detail — barnacles, wood grain, door handles.
'I was nervous, but I needed to do it'
On the phone from her home in Vancouver, Magor is a calm, funny presence as she talks about intention behind the book project. It was a collaborative effort between Magor and editor Geoffrey Little, who helped search out archival materials. As she explains, the process was about "finding things all over the place. Some I'd forgotten entirely that they existed." The result is a collection of interviews, essays, images, notes, lectures and miscellany. It's a magpie midden of stuff, filled with bright shining bits that invite one to look again, and to look more closely.
As much as it is about Magor's body of work, Subject is also a look at how the working lives of artists have changed over the last few decades. As she says, being an artist in Vancouver is not easy, when even the most basic stuff like finding affordable studio space is onerous.
It's a topic that comes up frequently in conversation in the creative community.
Despite Vancouver being a home for many artists (the highest concentration per capita of any major Canadian city) it isn't the easiest place to make art. Creating larger work requires bigger spaces and services. And those are at a premium in the city. In a recent conversation, another artist friend mentioned that working with a foundry requires dealing with people in Winnipeg, because there isn't anyone in Vancouver who can handle larger-scale work any longer. It's an experience that Magor has also encountered in creating her sculptures.
If making the stuff isn't that easy, the presentation of it also comes with some complexity.
Some of Magor's most recognizable public work did not arrive feted right away. The public process to address the concerns of residents about LightShed's installation in Coal Harbour wasn't all that easy. But Magor dealt with people complaining that the work would negatively impact their property values with candour and clarity. As she explains, "I was nervous, but I needed to do it."
The blowback died down when the final installation of the work, in all its silvered, shining singularity was finally revealed.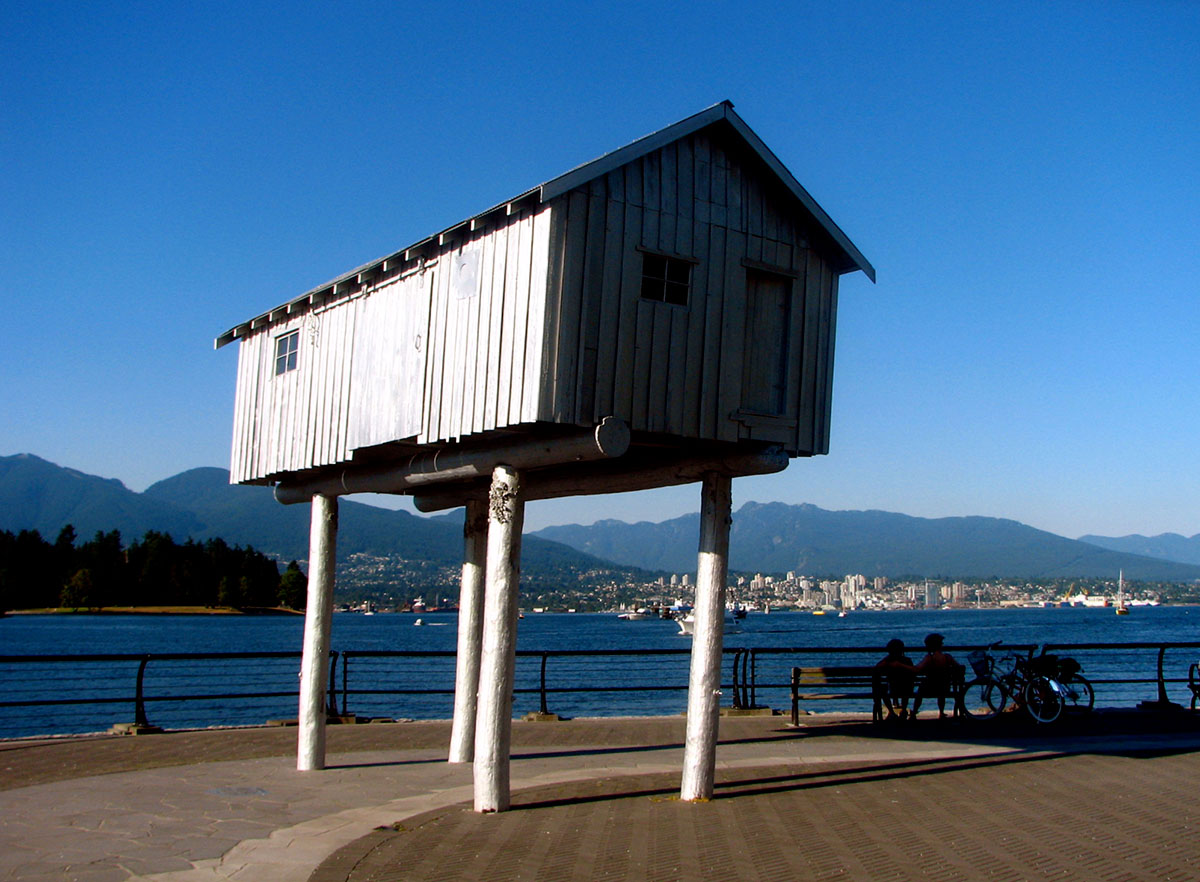 Adding to the endemic complexities of creating and installing public artwork is what, to Magor, seems to be a distinctively Canadian suspicion and hatred of art. The idea is it's somehow not practical, and therefore unworthy of care. "I've endured that my whole life," she says.
More than words
Magor is a fine writer, with a wry, dry way of capturing the idiosyncratic slices of daily life that shape our experiences of memories. She writes of close encounters with poodles and the immigrant family who runs a convenience store near her Toronto apartment. Her book explores Civil War re-enactors, old dogs, high fashion and artic explorers. Each is subjected to Magor's close, but not unkind observation, whether it's men recreating long-ago battles without the ability to articulate in the same style of the period, or older women honing a sense of identity through meticulous attention to how much they weigh.
But there's more than words. The book is also filled with a rich seam of images drawn from Magor's body of work.
Four Notable Bakers intersperses photographs of industrial breadmaking — pillowy dimpled mounds of dough — next to images of babies and children, men and women drawn from medical texts. The juxtaposition of these two is a bit discombobulating, but also compelling. The soft sheen of bellies echoes in rows of rising dough. At first glance, the convergence of these two things appears congruent, but something irks and lurks with repeated viewings of the images.
In an interview with critic Ian Carr-Harris, Magor explains part of the impetus of the work: "It's a sort of book of fears; a book of fears of reproduction, or fears of difference and fears of sameness. They are images of contradiction, social contradiction — of putting a high value on individuality while offering a very narrow range within which we can express our difference. In the book I use bread dough as a material that is valued for its ability to be consistently reproduced; while the people in the book are multiplied less successfully."
The relationships and emotional qualities that spring up between images can't always be contained in language. Like music, you can hammer out explanations or descriptions, but words are often oddly clunky and inadequate when it comes to capturing the more nuanced feelings that arise from a given piece of work. Magor uses words for other purposes. Language is a tool, a means to make sense of it all.
"I write after I've made the work and it allows me to see what other people see," she says. "Perception is skewered by what you want it to be."
What to take from Subject to Change? A greater appreciation for Magor's work? Sure. But a bigger picture begins to emerge of how perception and meaning shift over time. There is also a great deal to be gleaned about the creative process, investigations into the pleasures of looking, thinking and making, as well as the occasional wrangle with critics and other interlocutors.
But some of the most enjoyable sections of the book are about the circuitous, unforeseen ways that life moves and takes you to places you never expected to be.
Of these places, the world of haute couture is certainly one of the most peculiar.
The final essay in the book recounts Magor's experience making a sculptural installation for a fashion show for designer J.W. Anderson.
It's only when the show is done that the value of art in such a context is revealed, as people rise to their feet and rush off to meet friends and colleagues. "In their efforts to be seen and get some viewing distance on each other, the guests are moving backwards onto the stage. In the surge they don't notice that the backs of their legs are knocking over the stacks of boxes that used to be a sculpture. It's all behind them."
It's a curious way to end to the book, but also entirely appropriate. Magor's commitment to the humble, the unnoticed, the no-longer valued comes full circle. The result is a certain sublime satisfaction.