Few words are saturated with greater disdain than the verb "to manufacture." Phony politicians' and Hollywood celebrities' media images are deviously manufactured. Faulty plastic toys and cheap cars are carelessly mass-manufactured. And so on. It is indeed a strange fate for a word — originating from manu- (Latin for hand) and -factum, made — that refers to the very opposite of what it now connotes: handmade.
Though it has the same literal meaning, "handmade," unlike "manufactured," gives off warmer, cozier feelings. Handmade is something made well, authentically, respectfully, and deliberately. Add to "handmade" the qualifiers "here" or "locally" and the picture intensifies. Now the connotation is that of a passionate artisan working with old-fashion manual tools, using locally sourced materials. But what exactly does "handmade here" — here on the B.C. coast — actually mean?
It's a warm August Saturday in the Gulf Islands. Locals and visitors alike begin their morning shopping routines while catching up with each other at a farmers' market. On Gabriola Island "the market" isn't just for farmers, though. Artisans, artists, and makers join growers every week, selling their handmade goods for buyers of all tastes.
No one among them draws a larger crowd than Paul McEwen, of Slow Rise Bakery. Paul is a bread-maker. There are scones, focaccias, and baguettes lined up next to about a half dozen varieties of organic loaves baked in his woodfired oven. Paul greets most of his local customers by name. I know he's busy, and understandably tired, so I keep my small talk to a minimum and quickly remind him of our filmed interview in the upcoming days. As he hands me my rosemary and Kalamata olive loaf I tell him the documentary now has a name: A Time for Making. I sense that he's both excited and nervous.
Sixty-six hours later, at four o'clock in the morning, I turn the camera on right as Paul flicks on the interior lights of his purpose-built post and beam building on the south end woods of the island. As I set the tripod he begins to mix the ingredients by hand. "You can taste the fermentation," he explains as his eyes remain transfixed on his working hands, "you can taste the grains, taste the different flours. The big thing is that human hands go into making this; there aren't the conditioners in this bread that would be in other breads. At its worst, commercial bread is more like a meringue or a marshmallow, because it's got so many different elements in the dough to make it do…" he pauses his speech, as he turns around to feed more wood into the stove, "...to make it do what time takes to do." There is indeed a good reason why his business is called Slow Rise.
Paul was a cook and chef for 25 years. He wanted to find a way to work and live here, so he bought a second-hand oven and an old mixer from a couple of islanders and started baking in the basement of his rental home. Our conversation soon turns to the politics of craft. Industrialization was the downfall of a lot of things, he says. "And bread as a utility that is square, and fits in a toaster, and toasts quickly and efficiently, has become the norm for so many people that anything outside that box is foreign. Like, the idea of having to cut bread as opposed to having it pre-sliced. It takes away a certain connection with the product that you have. I can't imagine many people taking a loaf of store-bought pre-sliced square bread and smelling it. Whereas if you take a loaf of bread that's been handmade, you've got to cut it. You first have to touch it and you probably look at the loaf. There's a deeper connection that you have with the product." Indeed, hand-consumed is just as important as handmade.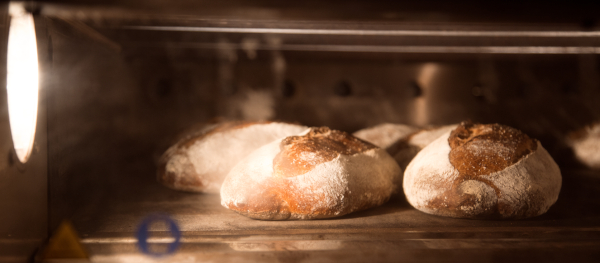 A few weeks later, across the road from the Gabriola Farmer's Market, I meet Nina. Nina Turczyn moved from Ontario several years ago. Just like Paul, she wanted to work here, not off-island. Tired of commuting to Nanaimo by ferry, one day she suddenly sought mentorship from her mom, a silversmith. "I've learned so much from her, just watching her in her studio when I was a kid," Nina tells me from behind the counter, "she used to take me to her studios when I was two years old and through osmosis I've learned how to be a jeweller. I literally just called her out of the blue and I said 'Mom can I come and just learn from you" and she said 'sure.'" Eventually, Nina's silversmith business, Paprika Design, was born.
Many artisans learn their craft through personal connections with mentors who instill a sense of respect and pride in tradition. Uniquely, scholars around the world have found that craft and artisanship share remarkably similar characteristics across international borders. Craft is a form of individualized work that blurs the boundaries between leisure and labour, lifestyle and occupation, passion and work. Artisans' professions are marked by flexibility, creativity, personal choice, and the linking of personal lifestyle and taste.
Ever since the growth of the "Arts and Crafts" movement throughout the late 19th and early 20th centuries, artisanal practices have been valued for their intentionality, individuality, creativity and for the way in which artisanship as un-alienated labour functions as a counterpoint to corporate capitalism and mass production. In the present time, artisanal making and consuming are also valued as a better balance between life and work and a re-discovery of the value of working with one's hands and with three-dimensional materials in the face of the growing digitalization of everyday life. Something that Nina knows all too well. "I make handmade silver jewellery using traditional methods. I don't assemble store-bought pieces," she tells me with a hint of pride in her voice, "I do it all from scratch."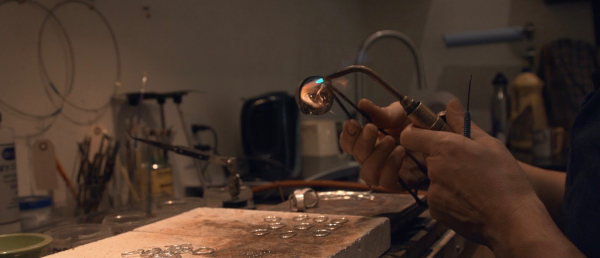 I ask her what is unique about what she makes and the way she makes it. "I am a purist in what I do. I do all my own designs. I use traditional methods of silversmithing and traditional tools. The process of traditional silversmithing has really not changed in hundreds of years. We're still using the same kinds of tools and same techniques as they did in the old days. Actually, traditionally silversmithing was a man's job. Women doing that is kind of a new thing."
I wonder what it's like to work with her hands, in a craft that has traditionally seen male hands at work. "A lot of blood and blisters involved," she tells me as she laughs. "We go through a lot of Band-Aids. It's definitely not as glamorous as you'd think to work with your hands. A lot of injuries. But it comes with the job. I'll never have nice nails." Unlike machine manufacturing (an oxymoron, as we've seen), artisanal practice unfolds in the interface of knowledge and practical application, or in what sociologist Richard Sennett has more elegantly described as the "intimate connection between hand and head."
Unlike line-assembly production, artisanal work is also resolutely vernacular. Working with your hands is only part of the story, Nina explains, working in this place is inseparable from that. "I think if I lived in a big city, somewhere more metropolitan, it would definitely influence my work," she reflects. Here she doesn't have those influences. "I am not competing with Pandora or all the made-in-China stuff. There's Internet and everything here, so I can get ideas from there, but I am more secluded here and it gives me time to not have to compete or be bombarded with what is new and popular and trendy. It's quiet. I have time to make up my own mind about things."
On tiny Gabriola arts and artisanship accounts for a large chunk of the island's gross domestic product, so much so that the local taxpayer base is ranked sixth in Canada for the highest concentration of individuals deriving income from creative labour. Something similar can be said of other Gulf Islands or communities on Vancouver Island, the Sunshine Coast, and the Lower Mainland. Regardless of where artisans are situated on this coast, a unique "Made on the B.C. Coast style" has emerged and consumers have taken notice.
Something made on the B.C. Coast is infused with the land- and seascapes that envelop us, with the seasons and daily and weekly rhythms of this place, with the materials that can only be found here, with the values of coastal people and their relations with their work and each other. Made here, Nina tells me as our conversation begins to wind down, "means made by hand, made well, fueled by creativity, not by money or... I mean it is, everything is, but it's not the main thing. The people here doing art are here because they love doing it."
A year goes by. The seasons bring different challenges and opportunities to coastal artisans. Grey days bring brooding moods and the time to be creative in quiet workshops. Christmas craft fairs bring new sales and a great deal of stress to make deadlines. Spring gives life to new materials, a new vitality, new sources of inspiration, new possibilities. Summer ferries unload tourists seeking for unique reminders of this unique place and through their eyes we all learn once again of the community we have made here.
Some things don't change, though. It's summer once again and I see Paul unload his van in order to set up for another Saturday market. I am hungry for a loaf of focaccia. After a few minutes waiting in the long queue I get to say hi to Paul. He thanks me. I recall his words from last year's interview. "Baking bread" he told me, "is a very fundamental way to give back to the community. I've never had a job or done anything where people thank you on a weekly basis if not more for doing what I do." I thank him for my bread. It's this sense of connection between maker and user — and more broadly this unique way of making community together through a handmade object — that making something here is all about. A Time for Making is officially available to rent or purchase online on Oct. 27. More details here.