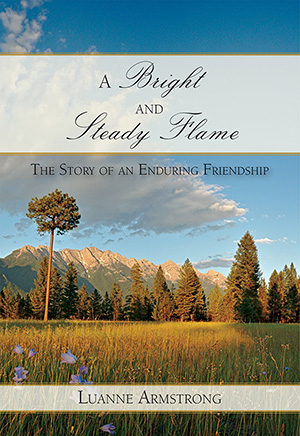 A Bright and Steady Flame: The Story of an Enduring Friendship tells the story of a 45-year friendship with my friend, Sam Moore. We saved each other when we were young single parents on welfare.
Now we are aging and dealing with grief and pain, but still meet weekly for fierce argument and joyful debate over how to live our lives and what really matters.
Woven through the story are many historical threads, such as the impact of the back-to-the-land movement on small rural communities, as well as the impact of the women's movement, the peace movement and the environmental movement within rural B.C.
And woven all through the book is my determined, sometimes crazy, and somewhat magical story of becoming a writer.
Below is an excerpt from A Bright and Steady Flame, followed by details of the Vancouver launch on Nov. 7.
***
Victoria was a revelation for my kids and me. I had never lived in a city before, except for the brief period in Vancouver when I went to the University of British Columbia. I had lived in student housing then, and I rarely left campus. I thought I would get lost in the city. I thought the kids would get lost or kidnapped. I had no idea how to take advantage of what cities offered, and I was terrified of driving in traffic, especially of going downtown. And I was even more terrified of going back to university — a place full of smart people who knew about universities and books and writing, which I did not.
Obviously, I was in way over my head.
I had done well in my three years at UBC, but I also regarded it as a Golden City to which I could never really belong. I had never taken a writing course, and I knew I didn't know how to write. And now I was 29, with four kids and a new boyfriend. I was old.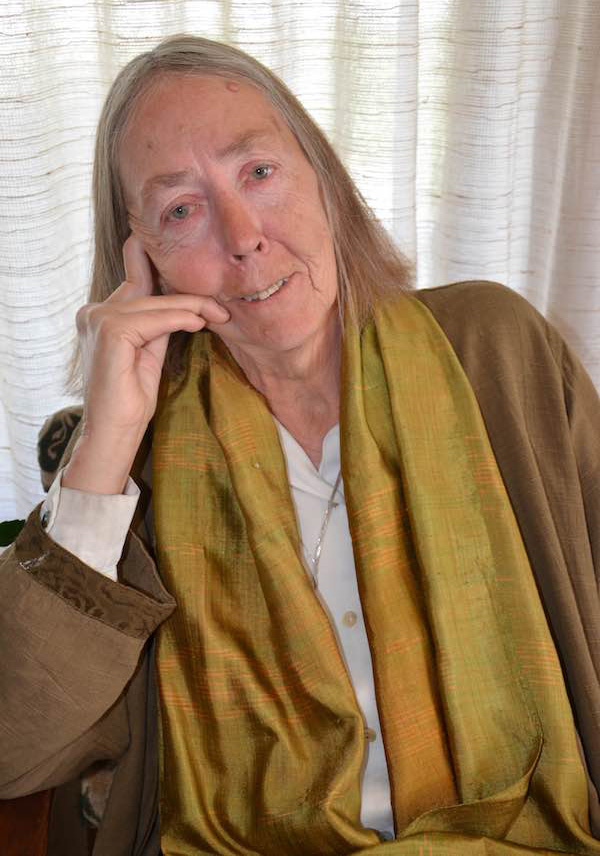 I met Nadene on the first day of classes. I have no idea how we connected. We were in the parking lot. Perhaps we both looked and felt lost. We were the same age, and everyone else walking briskly around us looked like teenagers.
Perhaps she asked me for directions or I asked her. Somehow, we figured out we were going the same place, to the same class, and that we were both so scared we were blind with it, and instantly, on that spot, we adopted each other as sisters. We staggered off to that first class, laughing and breathless and holding each other up, and got lost several times until we found the right floor in the jagged maze that was the Clearihue Building. At that time, the creative writing department was run by Dave Godfrey. The other professors were Bill Valgardson, Richard Skelton and Derk Wynand. They had just hired a woman, Cherie Thiessen, to run the co-op department. I was afraid of all of them. I was afraid of authority in general. I was afraid of the university. I was afraid that the smart people would finally find out the rural numbskull I was. But the need to hear what they had to say was greater than my fear.
I thought I was most interested in poetry. I had been writing poetry in secret since high school. All through the bad marriages and disruptions and poverty and boredom, I wrote poetry. Poetry had saved my life in high school when I found a whole shelf of it in the school library. I had been reading poetry almost religiously for years. I had discovered Leonard Cohen in my first year of university and realized for the first time that there were actually Canadian writers, Canadian poets and even a very few Canadian women writers.
We had to hand in our poems for workshopping anonymously. I took my most elaborate T.S. Eliot imitation to the next class and handed it in. The next week on my way to class, I drove through two red lights and was stopped by a cop; he walked up to my window and I cranked it down. He walked around Dirty Gertie, my truck, and came back.
"Please," I said, "I'm going to poetry class and they are going to critique my poem."
He started to laugh. "Lady," he said. "You got two bald tires and a broken tail light and you just drove through a red light. I could give you about five tickets right now."
"I have to get to class," I babbled. He wrote a warning, tore it off his book, handed it to me and walked away, still laughing.
During class, Derk picked up a poem that I recognized as mine. He began to take it apart, piece by piece. At one point, he said something about "just a really bad T.S. Eliot imitation." My ears roared; my face turned red. I knew I absolutely had no right to be at this university. I was contemplating dropping to my knees and crawling out the door, but something caught my attention. What he was saying was right. I had seen it myself. I just didn't know it could be fixed. I didn't know that poetry had structure and strategy. I sat up and listened and then, shame-faced, reclaimed my terrible poem.
From then on, poetry with Derk Wynand was the most revelatory class of all the classes I took. Derk's particular skill lay in taking a poem apart and showing us how all the pieces worked. He told us we couldn't put anything in a poem — a word, a punctuation mark, a line break — without an understanding and the ability to explain why it was there. Not everyone likes this approach to critiquing poetry, but to me it made sense. At last, I had some idea and some logic about what I was doing. I began to look at poetry, look inside poems, listen to them and see the techniques that made them work.
Poetry ran through my head constantly. Poetry class was a shining light. I studied poetry. I pulled stacks of poetry books out of the library, hauled them home and read myself to sleep.
And then there were the other classes: short stories to write and novels to read and books about writing to read — and there was the library, the huge and wonderful library. I was a monkey turned loose in a fountain of food, a junkie wandering through halls full of heroin. I was lost and amazed.
Plus there was the weird delight of the cafeteria, and the ability to drink coffee and eat doughnuts without a kid on my lap, to feel at home and alone within the white noise of people talking. That had its own peculiar freedom.
Nadene and I figured out quickly that the way to the heart of the creative writing department was through the secretaries. We brought them flowers and the occasional cup of coffee. They did the paperwork. If you wanted something to happen quickly, you were nice to the secretaries.
The creative writing department had just bought a computer. It was huge and sat inside its own room, glowing and clicking. I was terrified of it and didn't go near it, but other people were experimenting with it. They talked about how everything could now be "digitized," but computers were only a hazy blur on the horizon and seemed to have more to do with numbers than words. I was having enough trouble with carbon paper and my Royal typewriter and endless bottles of smelly white-out correction tape, trying to make enough copies of my work to hand out in class. Len and I went to a workshop on computers and came out mainly puzzled. I couldn't see a future for them.
The book launch for 'A Bright and Steady Flame' (Caitlin Press, 2018) takes place Nov. 7 at Book Warehouse on Main and King Edward in Vancouver. Doors open at 6:30 p.m., reading at 7 p.m. There will be music. All are welcome.