Film is not dead. Turns out it was only sleeping!
The debate about whether the rise of episodic television and the continued triumph of Netflix have effectively killed the cinema is pretty boring. So we won't be having that anymore. Good old cinematic presentation appears to be doing perfectly fine at the moment. More than fine, in fact: it is positively pink-cheeked and full of blossoming new life and energy. You can cheerfully skip away from the television and computer screens this weekend, as there is much goodness on offer in actual movie theatres.
In Vancouver, the Vancouver Asian Film Festival is chock-a-block with films, panels, and parties aplenty.
And the Cinematheque theatre continues to be its weird and wonderful self. Going to see films at the Cinematheque can feel a little like being part of a club or an extended family. You see the same folk, sitting in their favorite seats. The popcorn comes with nutritional yeast, and the artisanal fountain pop is homey and comforting. But it is the terrific programming, like Uncanny Relations, that keeps people coming back.
And over at the Vancity Theatre, you have your pick this weekend of documentaries, music videos and animation (Gimme Danger, Render Music Video Festival, KONELĪNE: our land beautiful and Miss Hokusai). Of the genres currently on offer, animation is the most curious of the bunch.
Miss Hokusai, based on the manga by Hinako Sugiura, depicts the life of Japanese painter O-Ei (voiced by Ken Watanabe's daughter, Anne Watabnabe). O-Ei is the daughter of renowned artist Katsushika Hokusai (Yutaka Matsushige). Everyone in the known universe is probably familiar with the man's most famous work, The Great Wave of Kanagawa, but is probably less familiar with the work of his daughter.
O-Ei narrates her own story, explaining in blunt fashion the nature of her life, her family, and the city and time she lives in. Despite her obscurity, O-Ei is as talented as her father and almost as cantankerous. But as a woman she is confined to a minor role as her father's assistant. When he refuses to redo a commission, she does it for him. The pair live like vagabonds with another painter named Zenjiro (Gaku Hamada), whom O-Ei refers to as "Brazen" for his habit of ripping off the work of other artists.
The film is a curious mixture of everyday life in 19th century Japan and weird supernatural spookiness. We are treated to sequences like O-Ei feeding her obsession with fire. In a late-night race through the streets, she runs to catch a glimpse of a house fire, watching with almost lustful avidity as flames consume timber and plaster. In this scene it is the specificity of the firefighters battling the blaze that snags the attention. The men are hosed down so that they are soaking wet before they attack the flames.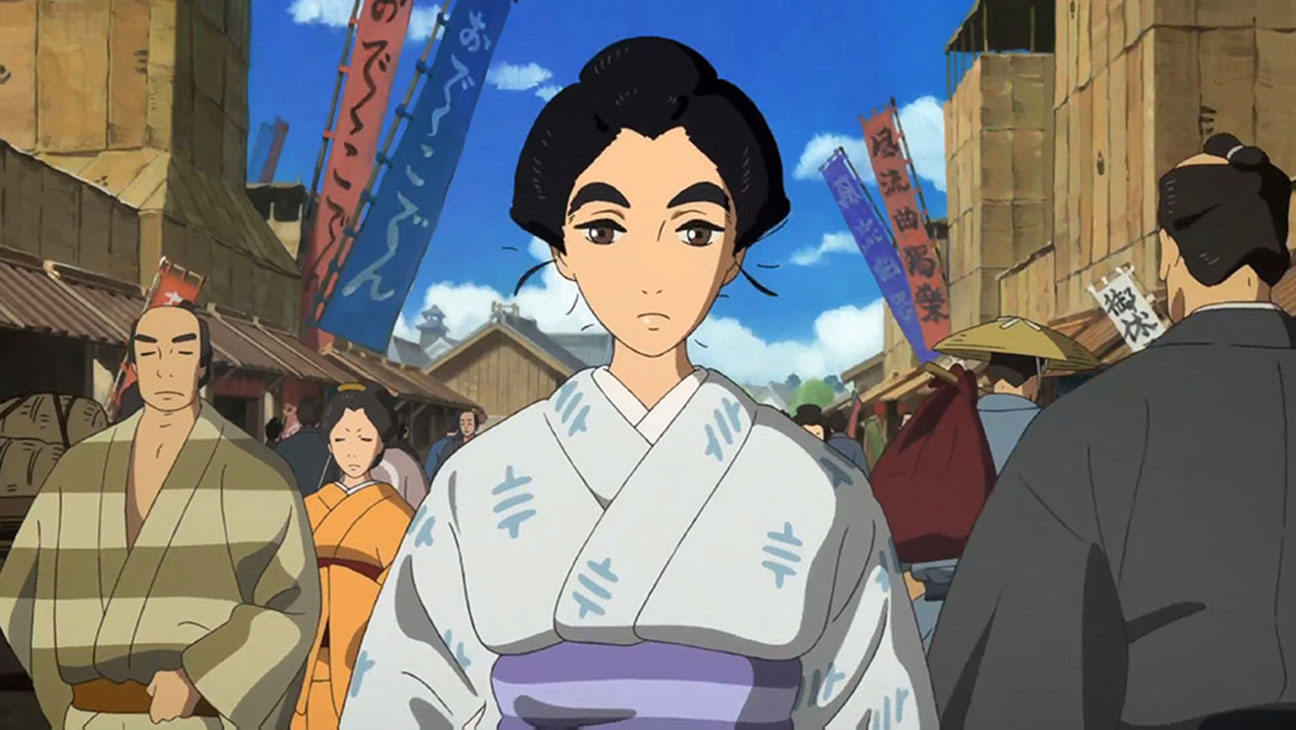 Other details of ordinary life are depicted with the same precision and care, particularly the role and function of the erotic. In a series of matter-of-fact scenarios, the film sketches out how sex is used, or not, in Edo-era Japan. When O-Ei decides that she is going to learn about sex so that her erotic pillow book illustrations can be more accurate, she visits a local courtesan who falls asleep on top of her before the pair can actually get up to much sexy business. The tactility of animation is able to capture the sensorial nature of experience in ways that are profoundly different than live-action cinema. This is especially evident in how things like food and touch are depicted in the film. The rustle of a geisha's silk kimono speaks volumes about the power of erotic imagination with only a whisper of sound. The coexistence of the quotidian with the supernatural is also simply a given, whether it is a dragon in the clouds or a courtesan who is able to astral-travel at night when her spirit erupts out of her face and goes wandering about. No one in the film apparently thinks this is too weird. They treat it with the same straightforward assessment used for the ordinary business of life — food, work, sex, and art.
The episodic nature of the film, derived from the original manga, takes some getting used to. Occasionally the connections between the different sequences seem at best a little thin, and at worst, nonexistent. There are a few other jarring notes. Director Keiichi Hara does odd things with music. The opening scene unfolds in turn-of-the-century Edo (later Tokyo), but it is set to a rock music score that sounds a lot like Bachman Turner Overdrive's Canadiana anthem, "Taking Care of Business." Still, the film is well worth seeing for gorgeously rendered scenes that evoke a tactile, physical reality. In one sequence, two kids shake the snow from the bare winter branches of trees. In another, the clattering passage of humanity, in all its colour, flavor and cacophony, is captured over a red bridge that spans the city. The smell and taste of this film lingers. It just might tide you over until the rerelease of Tampopo hits theatres.
'Thank you, movie'
There are a number of other interesting films opening this weekend, but perhaps none so touted as Moonlight. Barry Jenkins's second feature film took eight years to come to fruition but it was apparently worth the wait. The critical assessment has been near orgiastic with praise. Hilton Als, writing in the New Yorker, had a particularly poetic assessment of the film, graceful, impassioned and also strangely grateful.
This quality of gratitude strikes me. When audiences spontaneously burst into applause at the end of a film, it is a way of saying thank you. "Thank you, movie, for giving me this experience." But it still takes me by surprise when it happens nowadays. Even when there is no filmmaker present, no human person to collect this form of gratitude, if a film is powerful enough, people are still prompted to clap. It is wonderful, charming and oh-so-human.
In the case of Moonlight, it is also word-of-mouth that is most curious. It is "the film" that everyone is suddenly talking about, and passing along like a precious thing. Everyone wants to share the experience because it offers something new, or maybe a potent and powerful reminder of something we forgot. You see this quality also in a film like Toni Erdmann. The notion that people would go slightly mad for a three-hour German comedy might have the consultants and prognosticators scratching their heads a wee bit, but I think it speaks to something else at work. Some desire, long-simmering and deeply banked, that is suddenly flaring up in open need.
I'm not quite sure what to call this thing, this desire for change, for something new, but you can feel it, pushing its way out like a baby crowning. I thought about it, and am still thinking about it, after watching Adam Curtis's new film HyperNormalisation. A number of reviews and extended features about the man and his work have come out in the New York Times and the New Yorker. All of these articles affect a similar tone of discovery. This seems a little odd, as Curtis has been toiling away for the better part of a few decades in England, perfecting his craft, grooming his obsessions, and becoming something of an institution himself. There is even a game of Adam Curtis bingo that lists off his various motifs and favoured gambits.
The man is having a moment. This is fine. It is curious to me that it is HyperNormalisation that has drawn so much attention. The film certainly has its flaws, but there is something about it that feels like a splinter in the mind. It stays embedded and says, "Think about me, contend with me, try to understand what I am saying to you."
The main critique of the film is that after charting a winding, fractured course through decades of human history, looping back and around, spinning in circles until one is positively dizzy with information, at the end it offers no resounding conclusions. As my mother said, in mock indignation that was actually closer to real horror, "Even Adam Curtis has no answers!" Instead of providing closure, the film ends with a lingering sense of absurdity.
Which brings me back to Toni Erdmann and the final resounding coda of that film, when the lunatic spirit of humanity, in all its weird and protean power throws off the shackles of grey corporate control and runs away, naked and desperate, searching for a way out. The moment does not last in Toni Erdmann, but there is no denying its cathartic existence either.
The feeling has popped up randomly in different ways and in different films. I thought about it while watching HyperNormalisation. I thought about it while watching a documentary about a new political party in Spain. I thought about it while watching person after person "check in" in solidarity with the Water Protectors in North Dakota on Facebook.
Like Curtis says at the outset of HyperNormalisation, "We live in a strange time." The movie theatre is as good a place as any to witness this moment, when something different finally pushes through, and a new age is born.