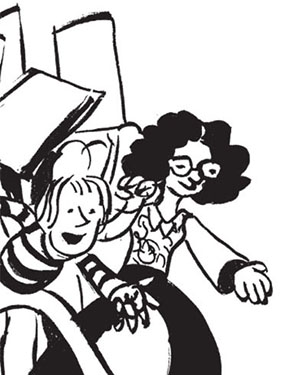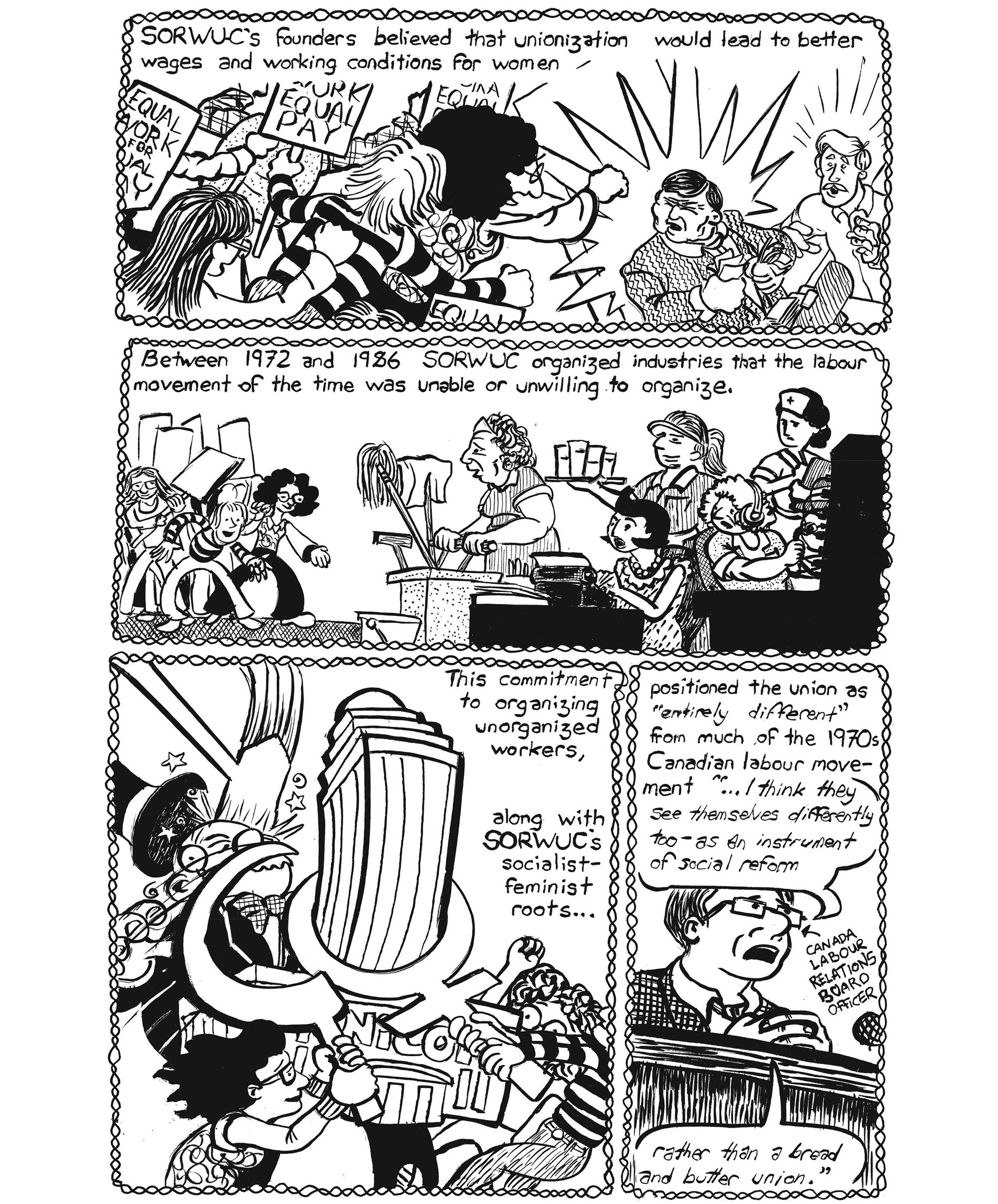 [Editor's note: This Labour Day week The Tyee is daily publishing excerpts from Drawn to Change: Graphic Histories of Working-Class Struggle, a new comics-style collection of stirring moments in Canadian labour history. Today's offering is from the chapter "'An Entirely Different Kind of Labour Union': The Service, Office and Retail Workers' Union of Canada," written by Julia Smith, Robin Folvik and Sean Carleton and drawn by Ethan Heitner.


In 1972 feminists in Vancouver, B.C. aimed not only to counter gender inequality in the workplace but harness Canada's labour movement to social reform. The union they founded was SORWUC – the Service, Office and Retail Workers' Union of Canada. They sought to represent workers in marginalized, low-paying, largely female sectors that weren't necessarily high priorities for big "bread and butter unions." SORWUC's early successes came in organizing offices, social service facilities and daycare centres. The union went on to make history by breaking down legal barriers to organizing bank employees. The page excerpted below signals what made SORWUC's approach and mission so "entirely different."
SORWUC's focus on the grassroots hard-to-organize workforces took a toll, however. Resources were stretched and strikes were exhausting. By 1986 SORWUC had disbanded – a victim, some might say, of being too far ahead of its time. As Canada's labour movement looks for ways to revitalize today, SORWUC offers examples and lessons.
For more context, farther down, read Gender and Women's Studies professor Joan Sangster's essay "Socialist-Feminist Union Organizing in Canada." The work of Smith, Folvik, Carleton, Heitner and Sangster is excerpted with permission by Toronto-based publisher
Between the Lines
.]
SOCIALIST-FEMINIST UNION ORGANIZING IN CANADA
Essay by Joan Sangster
The fact that the Service, Office, and Retail Workers' Union of Canada (SORWUC) no longer exists may have contributed to a regrettable amnesia about its history. This is unfortunate, since SORWUC's successes and failures still offer timely lessons for the contemporary labour movement, despite the very different economic and social context we face today. SORWUC was a unique experiment in grassroots organizing, a militant attempt to unionize marginalized service workers, and a social or community-based union dedicated to radical social change. The socialist and feminist vision of a more equitable society that animated its founders may seem hopelessly utopian in today's neoliberal climate, but it remains relevant to those committed to building a labour movement as one pathway to social transformation.
The history of SORWUC stands at the crossroads of a number of forces of social change in 1970s Canada: the increasing post-World War II participation of women in the labour force, the growth in service and white-collar jobs, the revitalization of a feminist movement, and radical, leftwing challenges to the politics and practices of the existing trade union movement. SORWUC's dedication to organizing workers in white-collar, retail, and service sector jobs was one response to the changing gender makeup of the labour force in the post–World War II period. While women were discouraged from continuing in skilled, better-paid jobs at the end of the war in order to concentrate on raising families, the long-term pattern of female work for pay was actually quite the opposite. Between 1941 and 1971, the percentage of women in the paid labour force nearly doubled. Women were pushed into the labour force by families' need for two earners to make ends meet, and they were pulled in by employer demand for workers in expanding areas of the economy, particularly jobs resolutely typecast as "female" in nature, including clerical work, retail selling, and serving labour.
In other areas, such as bank telling, women had been slowly increasing their presence for decades. New jobs in hospitals, child care centres, schools, and government offices emerged in the expanding public sector, but the bureaucratization and professionalization of large enterprises in the private sector were also factors in this expansion. Women's increased labour force participation rate may have been ideologically obscured in the 1950s and 1960s by the prevailing "June Cleaver" images of female domesticity in popular culture, but the actual changes taking place would have a significant, long-term impact on ideas about appropriate gender roles, the nature of the family, and social institutions such as the labour movement
By the 1970s and 1980s, women were more likely to remain in the labour force for life; they also increased their educational attainment. Women born after World War II — the famous baby boomers — were more likely to secure a secondary school education, and a minority also began to break through the existing gender barriers and secure a university education. Due both to a limited democratization of secondary and university education for all (as it became available to more children of working families) and changing expectations for females, young women in the 1960s and 1970s began to question the rigidly structured gendered division of labour and lack of job options which they faced upon graduation. If they were to be confined to white-collar and service work, women wanted to know how they could improve their workplaces and working conditions. These social and economic changes stimulated and supported political and ideological change. The women in Vancouver's Women Working Women's Workshop who founded SORWUC had already been "schooled" in radical ideas as part of the New Left and the student movement of the late 1960s and early 1970s. They subsequently moved away from university politics into the community, setting up an organization dedicated to organizing women as workers, particularly women whom they believed had been ignored by existing unions.
New union born of the New Left
Like the revitalized New Left, SORWUC women questioned old, Cold War fears of communist and socialist labels: they were not afraid to articulate their view that capitalism needed a major makeover and that socialist ideas of co-operation and equality were preferable to exploitation and competition. Influenced by both old and new socialist texts, and by New Left organizing, they developed new definitions of socialism that incorporated ideas about grassroots decision making, rank and file democracy, and also gender equality.
Feminism was also part of this heady mix of political change. Feminist organizations and ideas had existed in Canada since the 19th century, and the movement was never unitary and singular in its politics: it had always been divided by different goals, strategies, and visions of what feminism meant. Since the earliest socialist and labour parties emerged in the 19th century to later communist women's organizing in the Depression, socialist-feminists had very different solutions to inequality in mind from feminists who believed that lobbying and integration into Liberal and Conservative organizations and parties were the answers. Feminism also went through periods of revival, retreat, and reinvigoration; sometimes these coincided with periods when feminists created coalitions across political differences, built around key issues like suffrage or reproductive rights. All of these forces produced an explosion of new ideas about organizing, in which socialism, feminism, and democracy figured prominently.
The latter was a key element of SORWUC's new thinking. The existing labour movement was both male-dominated and dominated by large, industrial (often international) unions. The postwar "accord" between labour and capital — an unstated, informal accommodation that led to enhanced legal rights for unions and labour peace and stability for employers—did provide some stability to large, industrial unions, and, in 1956, two major union organizations combined to create the Canadian Labour Congress (CLC), minus expelled communist- led unions. Although the percentage of female union membership was increasing through this period, women were still a minority, only 16 per cent in the 1960s, though their number grew to 30 per cent by the 1980s. This impressive growth was in large part due to public sector organizing and the growth of unions like the Canadian Union of Public Employees and the Public Service Alliance of Canada, which significantly changed the landscape of labour.
However, when SORWUC was founded, many women felt deeply pessimistic about the interest of the labour movement in new organizing, and indeed, there was a prevailing view within the union movement that women, perceived to be more "transient" workers in and out of the workforce, often working in smaller service or white-collar workplaces, were simply hard to organize. Despite some attempts by the Canadian Labour Congress to set up white-collar organizing campaigns in the 1950s and 1960s, few significant gains were made. Questions were also raised in the late 1960s and 1970s about the dominating power of American international unions on the Canadian movement; head offices, research budgets, and priorities, socialist and nationalist critics argued, were American-centred and reflected American political priorities. A Canadianization movement was afoot, and though the number of new, independent Canadian unions created was small, they had history on their side: increasingly, Canadian-based unions became more powerful within the CLC, in part because of the growth of public sector unions.
These intersecting critiques, of labour's apathy about organizing women workers, the highly bureaucratized nature of the labour movement, and the need for Canadian perspectives, convinced SORWUC members that workers had to experiment with something new: a union committed to equality, grassroots democracy, and independence. SORWUC union officials were not paid more than workers, members were encouraged to make and shape union policies, and the union reached out extensively to other community groups for support.
That SORWUC was able to organize so many locals of child care workers, bank tellers, waitresses — and more — speaks to both their dedication to workplace organizing and the success of their grassroots strategies. SORWUC not only showed that these women could be organized, and in fact that they wanted to be organized, but it also promoted a broader view of unions as vehicles for social change, a means to better the lives of working people through improved child care for society, enhanced dignity in the workplace, and especially equality for women.
Like many upstart organizations, however, SORWUC faced immense obstacles: the lack of understanding and hostility of the existing labour movement toward their project resulted in attempts to raid SORWUC locals, and later, better-funded parallel organizing efforts. The regulatory power of the state, through Labour Relations Boards and other state machinery, was immense and seldom favoured the interests of small units trying to establish first contracts. And never should we forget employer opposition to union organizing: SORWUC was a threat on many levels. While all these factors eventually led to its demise, considering the forces arrayed against it, SORWUC might also be considered a resounding success.