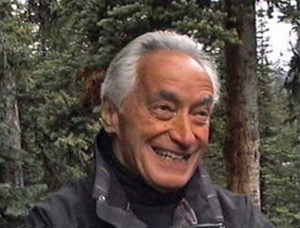 Mel Hurtig, the renowned Canadian nationalist who has authored eight books critical yet hopeful about the country he loves, was determined to track down a fact. He wanted to know whether Stephen Harper, in all his time as prime minister, had ever, in speaking to Canadians, uttered the word "poverty."
Hurtig, who is 83 and published The Canadian Encyclopedia, is not one to be thwarted in pursuit of a good info nugget. And so he scanned what speeches and remarks of Harper he could find. The more he looked, the more it seemed that "poverty" was not in the PM's vocabulary. Just to be sure, Hurtig contacted the prime minister's staff and asked them to resolve the question once and for all. Had Canada's leader publicly mouthed the word "poverty" or not? Harper's people never got back.
That story, for Hurtig, sums up why he wrote a thin, razor sharp book with the title: The Arrogant Autocrat: Stephen Harper's Takeover of Canada. His rebuff by the PM's handlers says as much about the nature of Harper's rule as it does about his ideological priorities.
Why does Hurtig suppose Harper's people weren't able, or could not be bothered, to dig up their boss's words about poverty?
"Because he is not interested. It's just like his attacks on our scientists. He doesn't like scientists, in case any of them might mention the words 'climate change' or 'global warming.'
"It all goes to the main theme of my book: the destruction of democracy in Canada. What kind of country," he asks, "can have a democracy whereby your elected members of Parliament and elected cabinet ministers can't go to a backyard barbecue without getting permission from the boys in short pants from the prime minister's office?
"Stephen Harper has destroyed the House of Commons as the centre of democracy in this country. With his omnibus bills and other measures he has downgraded the House of Commons to nothing more than a nodding response to what is decided in the PMO.
"For a long time people were worried about Stephen Harper's hidden agenda. But once he got majority power there was no question about his agenda. It was to centralize control of the country in his office."
What Harper has done with that power is efficiently detailed within The Arrogant Autocrat's 140 pages. Fact-filled chapters cover Harper's "wars" on the environment and the scientific community, and his premeditated "datacide" and "tax police" assaults on organizations who don't share his right-wing aims.
Hurtig does, as it turns out, find the word poverty quite useful and apt in his chapter titled "Neglect of the Poor and Vulnerable."
And he gives two chapters to "Mismanagement of the Economy," which The Tyee has carved into five excerpts that start today and run through Friday. Hurtig makes his case with devastating statistics, many from the 34-nation member Organization of Economic Co-operation and Development, that show Canada's slide under Harper whether measured by employment, productivity, trade balance or other benchmarks.
A Canada-first 'democrat'
Hurtig once chaired Pierre Trudeau's Foreign Affairs Policy Committee and counted Tommy Douglas and Jack Layton as friends. He co-founded the Council of Canadians and in the early 1990s started and led the short-lived National Party of Canada. Today he calls himself, simply, "a democrat."
In The Arrogant Autocrat, Hurtig worries that Justin Trudeau will wilt on the campaign trail, citing "one egregious gaffe after another." He is more enthusiastic about NDP leader Thomas Mulcair, who "has unquestionably out-performed both Trudeau and Harper in this pre-election period, challenging Harper's evasive obscurity on a range of critical issues." But he deems it essential, should the Conservatives win a minority government in the fall election, that Trudeau's Liberals and Mulcair's NDP forge a coalition to end, at long last, Harper's reign.
Hurtig's latest book may be slim yet he calls it his "hardest." It was several years in the making, backed at first by a five-figure advance from a Canadian publisher. But when that firm was bought by a U.S. publisher, Hurtig faced a dilemma. "I, for years, led the battle against the takeover of the Canadian publishing industry by foreign interests. It would have been incredibly hypocritical for me to have my book published by an American conglomerate."
Hurtig says he went to one Canadian publisher who turned it down because he was "frightened by what Harper would do to his company." Another "wanted me to be less unkind to Justin Trudeau. I said, 'Are you kidding?'"
"After a while," says Hurtig, "I decided to publish it myself." From his modest Vancouver townhouse he and a small team of friends dived into the brave new world of "print on demand," haggled with booksellers and spread the word.
Less than two months after launch, Hurtig reports, "the book seems to be selling very well," gaining glowing reviews, online vendors and shelf space in Chapters and smaller bookstores across Canada.
'A marvelous country'
"Every day, from every province," says Hurtig, "I get emails from people thanking me and congratulating me for this book." A sample came from Dr. Janine Brodie, Canada Research Chair in Political Economy and Social Governance at the University of Alberta, who cheered: "What an accomplishment -- well written, widely researched, accessible and to the point.... It is like the old fable of the camel in the tent, isn't it? Your book demonstrates so clearly how camel Harper is almost fully under the tarp."
Mel Hurtig has been on the Canadian political scene so long that his sparkling eyes, silver mane and ready smile are known to many. Over four decades, whether taking on nuclear proliferation or free trade deals, he has relentlessly professed faith in Canada's potential to be a beacon to the world. Now, however, his famously can-do message, in his latest book and in our interview, has shifted to must-do urgency.
As Hurtig writes in the late pages of The Arrogant Autocrat: "The most critical message I wish to convey to readers of this book is that we must defeat Stephen Harper and the Conservatives at the polls, and then begin work immediately to reform the dysfunctional electoral system that allowed him to wreak such havoc in nine short years."
Hurtig wraps up our conversation on a similar note. "I always, always believed that we are incredibly lucky to live in this country. It's a marvelous country. A beautiful country. It has resources that are the envy of most people in world. It has vast space, water supplies and other benefits such that other people can't believe how fortunate we are. We have a relatively well educated population that can accomplish anything we put our minds to. Why should we allow a really rotten government to squander it all?"
Read the first of five excerpts from Mel Hurtig's The Arrogant Autocrat by clicking here. Find the whole series to date here.