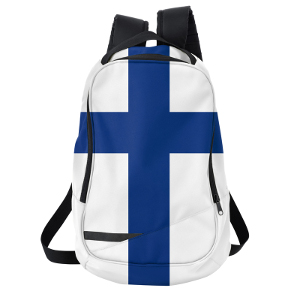 Finnish Lessons 2.0: What Can the World Learn from Educational Change in Finland?
Pasi Sahlberg
Teachers College Press (2015)
Real Finnish Lessons: The true story of an education superpower
Gabriel Heller Sahlgren
Centre for Policy Studies (2015)
Pasi Sahlberg, a Finnish educator, has been evangelizing about his country's schools for years. He speaks to teachers worldwide, and the first edition of Finnish Lessons was an international bestseller. Now he's updated it, including a great deal of new material -- especially about Finland's perplexing decline in global learning scores over the past decade.
This time, he's getting some pushback: a United Kingdom think tank, the Centre for Policy Studies, has published a 66-page monograph by a Swedish economist, Gabriel Heller Sahlgren. Heller Sahlgren is research director for another think tank, the Centre for the Market Reform of Education, and that reform is diametrically opposed to the egalitarian, collaborative Finnish model.
Heller Sahlgren is a strong advocate of private schools, competition between schools, and ranking schools based on standardized tests. He attacks Sahlberg's book as "a firework of high-level correlation" offering "fashionable explanations" but "little rigorous analysis." He describes Finnish schools ironically as "the rock star of education" and a "one decade wonder."
It's disappointing that Heller Sahlgren offers little more than such rhetoric to try to discredit Finnish education. His key thesis is that Finland scored well on the first Programme for International Student Assessment (PISA) exams in 2001 precisely because its education reforms were not yet in place, and that scores have been declining ever since.
Heller Sahlgren argues as if Finland's old centralized education system vanished overnight sometime in 1999 or 2000, before the new egalitarian system could dumb the kids down. But it's a matter of historical record that those reforms were incremental through the 1980s and 90s, when the first cohort of PISA test-takers were in school, and reforms have continued through the decade.
Dubious evidence
Heller Sahlgren's evidence is dubious. He cites a study by the Finnish Government Institute for Economic Research, but fails to explain why its findings should be credible, and why the study didn't influence Finnish educators and politicians. One of his sources is Finnbay, an anonymous website.
He also mentions a study of male army conscripts that found no improvement in their arithmetic or logical reasoning test scores, and leaps to the conclusion that this discredits the reforms. He doesn't mention that Finnish boys tend to do worse than Finnish girls academically. A recent report by the Brookings Institution showed a 62-point gender gap between Finnish boys and girls in reading literacy on the 2012 PISA exams. (It's a worldwide problem: Canada's boy-girl gap was 35 points, and the OECD average was 38.) This gap has worried Finnish teachers, and Sahlberg in Finnish Lessons 2.0 suggests that it helps to explain declining Finnish PISA scores. Even so, Finland was ranked #6 in the world in a recent OECD tally -- behind five Asian countries. Canada ranked #10.
Heller Sahlgren, meanwhile, resorts to conjectural language to make his case against Finnish education: Teachers "appear to have joined their colleagues worldwide on a journey toward pupil-led learning... this be a reason... increasing diversity in pedagogical methods now seems to be materialising... may have unintended consequences... both society and school practices appear to have changed in ways that might be harmful for pupil achievement..."
He even resorts to anecdotal evidence from a visit to a Finnish school: rather than studying on their own without teacher supervision, pupils were "playing with their mobiles." (My own Helsinki school visit resulted in different anecdotes.)
'Obedience' in decline
Significantly, Heller Sahlgren is alarmed that "obedience" seems to be in decline in Finnish schools, and worries about the "danger of throwing out authority in schools." And there he gives away the game.
The Centre for Policy Studies is one of the oldest right-wing think tanks in the world, boasting Margaret Thatcher herself as one of the co-founders. It deserves respect; like the Fraser Institute and scores of others, the CPS has steered political discourse into very different channels over the past 40 years.
It is no coincidence that income gaps in the western nations began to widen in the mid-1970s, after the postwar golden age when working families could actually buy their own homes and send their kids to college. When wages began to stagnate, those families began to fear what would happen to their kids if they couldn't climb the social ladder.
The CPS and other think tanks have fed the media with seemingly factual evidence about what climbing the ladder requires, and a brutally competitive education system is fundamental to the right-wing vision. It's an embarrassing relic of 19th-century social Darwinism, promising the survival (and rule) of the fittest test-takers.
Finland, completely absorbed in real survival for the past seventy years, ignored the Thatcherites' ideology. After all, Thatcherism assumes an economy fuelled by cheap, obedient labour, a frightened middle class deferring to authority, and rulers smart and cynical enough to stay in power indefinitely.
The Finns saw that would get them nowhere. They chose a fully educated working population that could build a knowledge economy. The population would include professionals' kids from downtown Helsinki and Sami reindeer herders' kids from the far north -- and no one could predict who would invent the gadget or app or service that would conquer the world.
The free market as God
To Heller Sahlgren and his neoliberal colleagues, the free market is a god like Marx's history or Abraham's Jehovah: Only by obeying it can we enjoy real freedom. Only by cutting our classmates' throats and stepping on our colleagues' faces can we climb the ladder to neoliberal glory -- and like the residents of a medieval heaven, we can then enjoy watching the sufferings of the damned in hell.
It's striking that Pasi Sahlberg's Finnish Lessons 2.0 offers more serious, and better documented, criticism of Finnish education than his right-wing critic. (He has also rebutted Heller Sahlgren directly in a recent Guardian article.)
Sahlberg notes that many Finnish educators think PISA is a lousy way to judge an education system in the first place; they trust their own professional judgment more than standardized test results. But when such tests do show problems like boys' lagging literacy, those same educators look for new and effective ways to get the boys reading as well as the girls do.
In the past century Finland has gone through a bloody civil war, two wars with the Soviet Union, and countless booms and busts. The Finns understand that change is the only constant, and our kids will have to deal with it using the skills we've taught them (the facts we teach them will soon be obsolete).
So today's Finnish education is itself no model for Canada or any other country -- the Finns are already changing their own model.
Finland's lesson for the world is not to follow the Finns in every detail, but to work for a more egalitarian society where highly professional teachers give every kid a sound education. How we achieve that is up to us, but we can be sure that Gabriel Heller Sahlgren's "market reform" of education is precisely not the way to go.