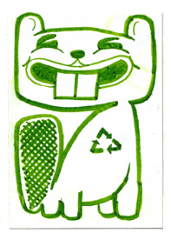 The election of Stephen Harper marks the end of the phase of managerial politics that Jean Chretien elevated to its bland pinnacle in Canada. By "managerial politics" one governs in order to meet needs rather than to engage values.
Harper will tread carefully in order to try to preserve his minority government, but his party is chock full of MPs who hold strong views on what Canada should be, who are just waiting for the right opportunity to assert themselves. Canada's Right is also laying the foundations to engage and win the debate on the future of Canada, as we will see below.
Meanwhile, the Liberals must now seriously clean house if they are to regain the trust of a majority of Canadians, and will need to clearly define a new and positive vision of Canada that gets them well clear of the rut of their scandals. Mere tinkering will ensure they remain on the opposition benches.
And the NDP can't survive on the margins forever, having influence only when luck gives it a voice in a minority parliament. After all, the Labour Party has held the Promised Land for almost a decade now in the UK. To get there, the NDP also needs to articulate a vision of Canada that speaks to the majority of voters and moves beyond its last-place brand.
Once lonely in this regard, the Green Party will therefore be joined by the big parties in the conversation about vision and values.
The Canadian dream
This values/vision debate will drive public policy in this country for the next two decades, and as such is a massive opportunity that our community must seize hold of. Alternatively, we run the risk that true sustainability will again be shut out of the Canadian dream at a time when our climate and our species most need a sea change in human action.
But how do we do this? How do we insert ourselves into the coming vision debate such that true sustainability becomes a core driver of public policy?
There's no easy answer.
It's telling that for all of the smarts that went into the DoE paper, Nordhaus and Schellenberger bail on outlining what a new vision could be to drive positive change in the US. They point to one initiative as an example of the type of thing they think is needed - the Apollo Alliance 2 and consultation for the bigger picture.
The big picture
This gets to the heart of how big picture visions actually get generated and implemented on a scale as big as an entire country. It is currently in vogue to talk about the huge investments made by the American Right over the past 40 years to engineer the US drift towards "exclusion and intensity" that Adams talks about and to support the current Republican dynasty.
We may not have known it at the time, but we too went through a visionary and values-enhancing period when Trudeau pursued the various elements of his "Just Society" such as the charter and multiculturalism. The entrenching of these values not only provided the foundation of the federal Liberal dynasty of the past decade, but also once made Conservatives "progressive," and even forced Harper to campaign to the left of what he actually believes in during the recent election.
That is how powerful big picture vision initiatives can be in driving national political agendas.
So, where will the action in this regard be in Canada over the coming months and years and how do we ensure true sustainability is a core part of the debate?
Canada's Right seems first out of the starting gate. Preston Manning has raised millions for his Manning Centre for Building Democracy with the mission of shaping conservative Canadian values and training conservative campaign workers.
Right co-opting
And somewhat ironically, just before Harper's election, Tasha Kheiriddin and Adam Daifallah released their book Rescuing Canada's Right: Blueprint for a Conservative Revolution, in which they lament repeated losses by Conservatives at the ballot box.
Interestingly, both Manning and the Rescuing authors have identified the environment as a key part of their strategies, although it's not clear whether what is intended is a genuine concern for putting Canada's economy on a sustainable footing or merely co-opting the environment in order get some people under 50 years old attending Conservative party meetings.
The credibility problem that Canada's Right has on the environment will continue as long as its marquee intellectual clubhouse - the Fraser Institute - continues to sell itself out to the highest bidder to deny the existence of environmental problems or to argue for ongoing inaction.
Otherwise, it's interesting to note that the words "conservation" and "conservative" share similar roots and there is no fundamental reason why right wingers should not also be worried that their kids and grandkids will face an ever increasing threat to their life-support system with ongoing climate change and species loss. That's security and family values right there.
The anti-science denial shtick characteristic of the Right, though, has got to go and this will be hard with certain regressive corporate interests continuing to throw their money around. But if we can get past that, then the green profit outlined above could fit nicely into the Preston Manning worldview.
Leftless?
The fact is also that, regardless of where you stand politically, the authors of Rescuing have basically got the gameplan correct. Invest in the long term. Invest in values. Invest in organizing.
The Right is doing all of these things in Canada right now.
What about Canada's Left? Well, there's not much new to talk about. Those on the Right would characterize much of Trudeau's vision as Left, even though it's probably more centrist.
Then again, the left-right-centre axis is constantly moving and it's indicative of Trudeau's legacy that he would still be characterized by most as in the middle.
But the Trudeau legacy is fading. Chretien largely surfed on the values Trudeau shaped, adding a dose of fiscal conservatism along the way. Pepper spray and golf balls were his legacies, leaving Canada's centre hollowed out and up for grabs.
Meanwhile, Canada's traditional Left seems fossilized. In the recent federal election, the NDP stuck with echoes of Marx, appealing to "working families" as if that is how the majority of Canadians identify themselves (they don't), or else speaking to "ordinary Canadians," as if people want to be mediocre (they don't). This is a recipe for a repeated last place finish.
The 'vision game'
Part of the challenge is that the organizing bedrock of Canada's Left - labour unions - are as needy as Canada's environmental groups for a fundamental moment of self- reflection and reinvention. Just like we environmentalists won't succeed by scaring people into sustainability, unions won't progress by clinging to the assumption that most people derive their identify from the workplace and want to talk about bargaining rights.
Like us, unions need to pioneer ways of reaching out to wider circles of people with new issues, of organizing these people even if they are not members of the union - and of mobilizing them at the right time. The needed shift of Canada's Left is away from people as just "workers," and towards people as "citizens."
If Canada's Left wants to keep up with Canada's Right in the vision game, it must examine its core assumptions and language and embark on a similar project of investing over the long term in new ways of reaching people, reinforcing and shaping their values and recruiting them into a political dynasty. This may be happening someplace around kitchen tables and at union halls, but there would yet seem to be nothing to match the scale and sophistication emerging with Canada's Right.
What does in mean to be Canadian?
What is our role in the vision game as environmentalists? Unless we insert ourselves forcefully and make the case that true sustainability lies at the core of any new Canadian vision project whether left or right, we risk being marginalized on the sidelines for another quarter century. By then, it will be too late.
If we can get our house in order and begin to recruit ever larger numbers of people into our work as outlined above, the good news is that visionaries and political parties will court us, rather than us courting them. But we can't afford to just wait for that to happen.
Ok, so here's the inevitable pitch to environmental funders: we need a well financed Canadian environmental values project that brings together public opinion specialists, conservation leaders and well-connected political consultants to both define a suite of values that would reinforce a fundamental shift to sustainability in Canada and achieve penetration of these values into the foundations of our political parties as they go through the visioning debate over the coming months and years.
And we need it now while the window is open.
The good news is that Canadians already identify strongly with their natural environment as a fundamental part of what it means to be Canadian. And the best way to respond to the dire ecological challenges we face is to make a virtue of the needed change as heading in a better direction, rather than being forced there out of sacrifice.
So, we already have a head start. The trick now is to have decision makers reinforce this value by acting on it as part of core vision for Canada.
In May, my partner and I will have a child - our first. We thought long and hard about the decision of whether to bring a new being into a world whose life support systems are being dangerously eroded in full view of the decision makers who continue to let it happen.
But we came down on the side of hope.
After all, if we didn't, why are we working for environmental organizations? If we had no hope, we'd get a vasectomy and move to Vegas.
With a child on the way, I've never been more motivated to win on our issues.
The hard news is that we won't win as big and as often as we must if we do more of the same as a community. The good news is that reinventing ourselves to be more powerful is not as hard as we think it is.
We can debate the finer points, rationalize the status quo, or wait for somebody else to make the first move, but none of that will get us where we need to go.
The first step is just to start doing it. Things will fall into place once we do.
This article is the last in a series of four. To read the rest of the series, click here.
This series is from a paper authored by Matt Price titled 'Greening the Beaver: Power, Profit and the Canadian Dream' which can be downloaded as a PDF here.
Matt Price is the Coordinator of the Conservation Voters of BC.