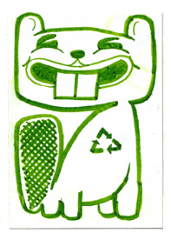 Perhaps the biggest barrier to making positive change is that we Canadian activists are ambivalent about power. Our comfort zone is to cling to the Enlightenment ideal that if we simply tell the truth, then everyone will join us. Eventually. We hope.
This is partly related to Canadian identity, itself. Canadians are comfortable being the humble underdog, and if we win at hockey or other things, it's not because we are entitled to it, but because we worked hard and got some lucky breaks.
Unfortunately, the decision makers who have control over the issues we care about must be convinced that it is in their interest to act a certain way, and if it's the right thing to do, then that's a nice bonus. The truth may set them free, but it's power that gets them to move.
And, in rationalizing why we are losing, we admit this. We point to the lobbying prowess of industry groups like the Council of Canadian Chief Executives who are in the face of decision makers consistently on every issue that affects them - and our issues almost always do.
Meanwhile, we show up with decision makers only occasionally, and usually with no means to reward or threaten - no means to convince decision makers that it is in their interest to act the right way.
Cash poor, people rich
Meanwhile, when industry lobbies, they threaten to close plants and lay off workers. Decision makers generally believe them - even if it's not true - and act badly. The Enlightenment doesn't matter in this equation, but power does. We've known about this problem for a long time and it affects almost everything that we work on. So why haven't we done something about it?
The main reason we give is that we simply can't compete. That's not correct.
We are never going to have as much lobbying money as industry, but while we are cash poor we are potentially people rich. Another word for people is "voters" - those who hire and fire decision makers and those who polls show are increasingly distrustful of industry and concerned about the environment.
Building power is fundamentally about reaching, recruiting and activating people. It is something our community does well occasionally in NIMBY-like battles, yet something our community does badly on a proactive, consistent basis.
Why is this? There are a variety of reasons, more of which we'll get into below, but the main one is straightforward: we simply don't invest enough in the logistics needed to make it happen. Our people who interact with our members and supporters are usually our database people, junior in our organizations to campaigners, and working independently from them. And, our supporters are mainly valued for their resemblance to ATM machines - a one-way street, with thanks, of course.
Talking back
It's true that some of us have begun to offer supporters an opportunity to do more to write letters at key times on our campaign priorities. This is particularly true of web-based work where this is relatively easy and cheap to do and where we don't have to leave our offices or actually talk to people.
Yet, having power means we need to reach out to and recruit a whole lot more people and get them active, and the only way to really do this is by doing more face-to-face contact and by investing considerably in properly organizing the information we glean from such contact in order to form long-term relationships of support and activity.
This isn't rocket science. It's what we used to do back when long distance phone bills made us groan and when Al Gore hadn't yet invented the Internet. We had no choice other than to talk to people in person and send around sign-up sheets at public meetings so that we could follow up later.
And a funny thing happens when we talk to people face-to-face. They talk back. We begin to learn how they feel about the issues we are talking about and get to improve our positioning on them. Then, given the opportunity, they talk to us about issues they care about and want to see action on, and we get the chance to design campaigns that can bring in whole new circles of people.
This more ground-up organizing is the bread and butter of building ever-wider circles of people who can be encouraged to hold decision makers to account. The main reason we aren't doing this is that we just aren't - we don't prioritize it. That's good news, since the first and relatively easy step towards building our power base is to change our attitude.
Parks will follow
But, there are other barriers our community faces on this front.
A strange one is that we are funded not to do this. This isn't intentional; it's just that many of us take foundation money carefully earmarked for creating protected areas or saving critters; whereas the majority of the public is more concerned with things like clean air and clean water.
The mistake here is that many people would find environmental organizations more directly relevant to their lives if we worked more on issues like clean air and clean water. And relevance breeds engagement. And, engagement on clean air forms a relationship of common cause that can be leveraged into engagement again on other issues - like protected areas. But protected areas alone misses the people who won't find that an appealing first date and that's a lot of people.
The lesson for foundations is this: fund power and parks will follow. For our organizations, this is win-win, since over time we bring in more supporters and broaden our funding base to go beyond the resources that foundations alone can provide.
So, assuming we successfully reorient ourselves towards building our base of supporters, how do we leverage this power to hold decision makers accountable?
Even without crossing the line into endorsing or opposing candidates, elected decision makers are very responsive when they feel like somebody is organizing their specific constituents to target them personally on issues. This isn't hard to do for us once we collect information in a way that allows us to identify our supporters by electoral riding, segment our lists and target our outreach accordingly.
Clean solution
Yes, this is legal to do, even with charitable monies, as long as it amounts to less than 10 percent of the budget of the last registered charity to touch the money.
What isn't legal to do with charitable monies is to support or oppose candidates or parties during elections. This is too bad, since there is no time that decision makers are more responsive than during election campaigns. But rather than not do this, the lesson is that we can and should do this, just not with charitable money.
The cleanest solution is to establish stand-alone organizations that can participate in elections from an environmental perspective and to fundraise for them seeking non-charitable dollars. The Conservation Voters of BC has been doing this now since May 2005 with some good early success.
And while this isn't the right place to explore this fully, some would argue that we must go beyond trying to merely influence power into the territory where 'we' are the ones taking power. How many of us are running for office and becoming those who are the ones that, after the lobbying is over, are actually making the decisions? If we're not willing to take this step, then do we have the right to complain about always being on the sidelines?
Tomorrow: Top priority: Change the game for corporations.
This series is from a paper authored by Matt Price titled 'Greening the Beaver: Power, Profit and the Canadian Dream' which can be downloaded as a PDF here.
Matt Price is the Coordinator of the Conservation Voters of BC.